Dressage experts!! input please!
---
I decided to go into dressage and showmanship for 4-h this year, im considering western showmanship and trail but thats something different. my main concern is, there is only one other girl in my 4-h who even rides english, and shes only doing jumper this year. everyone, and i mean EVERYONE else in y 4-h does barrels. so needless to say, they are really no help. so im just hoping for any pointers advice and training techniques!! i recently started working with leg cues, and im hoping to get a dressage saddle this week! ( the only one i have now is my western :P)
also, my horse is walker/qaurter mix, but i love her gait, and ive read that you have to tell judges ahead of time if you want to be judged as a walker in dressage? so anything on walkers is helpful to!!
thank you!!
This will be quite a challenge for you. I mean , will there be anyone to teach you? it's hard to learn on your own. But I dont' have any advice particular to gaited hroses. IN any case, I applaud your courage to do something different.
Personally I'd look for the trainer. Tiny said it's hard, but I'm not sure if it's possible at all to do successfully without one.

Is your horse gaited? I know there are special dressage shows for walkers. I'm not into gaited horses, but couple people from my local forum used to show "gaited dressage", so there is such a thing out there.

In any case good luck! :)
---
"Life isn't about waiting for the storm to pass: it's about learning to dance in the rain..."

"When we are no longer able to change a situation - we are challenged to change ourselves."

"How people treat you is their karma; how you react is yours."

Lindy, while I wouldn't call myself an expert and I don't know anything about Walkers, I will weigh in....

Its very difficult for a beginning dressage rider and a beginning dressage horse to get going. That being said, it is not impossible but it will take alot of trial and error. Like the others said, your best bet is to work with a trainer. You can read tons of books and watch lots of videos but until you have the extra one on one with another good set of eyes, it is difficult to put it all together.

Not trying to discourage you, just giving you my experience.
This may help until you can find a trainer. There's a book called "40 Fundamentals of English Riding" by Hollie McNeil that comes with a DVD to illustrate the topics. I don't ride dressage, but it really helped me understand some of the basic fundamentals of english riding that my instructors were trying to teach.

- Adrianne
Read, read, read.
I've owned enough TWH crosses to know that your horse IS gaited.
Here is an interesting article to chew over:
Direct Contact And Neck Reining With A Gaited Horse
An instructor is best, BUT, if that's not possible you can train yourself to direct rein your horse. Direct reining is STILL the way every horse gets broken in. It won't seem unnatural to your horse.
Here's a simplified primer:
WALK--horse bobs his head, every other step. Count the steps and follow the forward and backward movements. It may help if you hold your reins as if you are driving the horse.
TROT/RUNNING WALK/AMBLE--horse maintains the same head position. Post the trot (if he trots), rest your hands with light contact in front of the pommel.
CANTER--Like at the walk, horse puts head forward to "grab" when the back feet hit the ground, then moves head backwards, completing this motion when the leading foot hits the ground. Practice feeling the motion on a loose rein, then practice following it.
It isn't rocket science. Somebody videoing you will help, too.
One more thing, get your horse desensitized to your legs constantly resting at the sides. MANY western riders try not to touch their horses sides so that their horses remain super light to cues. English-ridden horses can be equally light, but learn to ignore the legs when there is no cue.
Hope this helps!
Here is a picture of our horse, "Tyke" (1970-1998, RIP) He was a QH/TWH cross and we did practically every discipline with him and rode him all over the place at home and on vacations.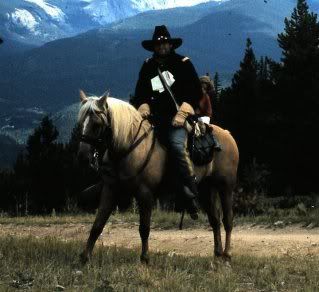 thank you everyone for the advice!! i do have my mom to sort of help me, she used to ride saddleseat and showed dressage but with her arabian in alaska. but its been 20+ years since shes shown so its a work in progress right now. she does remember alot though, and when she actualy got on my horse you couldnt even see her giving cues. were thinking my horse has had some training because my mom had almost no trouble going through basic walks side passing( not sure if thats what its called but she faces straight and criss crosses her legs to walk diagnolly across the arena). its just a matter a teaching me to know what to do with what she knows im thinking. im planning on buying a few books to help me learn more about it, and actualy gaits and stuff with walkers, because no one in my 4-h likes gaited horses and my mom never rode them :/ sooo the challenge begins!!

and thank you guys for all the encouragment! im sure ill be making more posts later on with more questions:)
I know exactly what you're dealing with, lindy. I've just gotten into dressage in the last couple years, basically self-taught out of necessity (took years of riding lessons in Western and Hunt Seat when I was a kid) and working with a fairly green pony. Dressage simply does not exist in 4H in my area; I was a member for 7 years and this is my third year as a club leader. Outside of 4H isn't much better in terms of finding a good dressage trainer, or even an opportunity to ride a judged test. The dressage instructors in the area tend (generally) to be prohibitively far away, prohibitively expensive, or of the "kick and pull to get that headset" sort. It is truly the land of rodeo and WP, although I was talking to the local tack-shop owner a couple of weeks back, and he says that his English/hunt seat tack sales are fantastic and there's a lot of interest growing there recently.
Be a sponge. Read any and every book you can get your hands on. Watch online videos (judiciously!!! some of them are truly horrible...), go to clinics, take advantage of every opportunity to learn more. Look especially for books and resources that focus on improving "you" as a rider. I can't stress enough the difference that comes out in the horse when you make a little change in yourself that allows you to be more effective in communicating with the horse. It's very hard to do it without experienced help in-person, and its a heap of trial and error, sometimes rebuilding from mistakes made earlier before a "lightbulb moment." If you are able to find a good trainer or instructor, even if you can only take a lesson or two, that lesson or two is better than nothing at all and can really show you the gaps in your knowledge and technique. Even one lesson on a trained schoolmaster can be an absolute godsend.
I can't say much about gaited horses and dressage. I had a gaited mix pony (read: paced like a demon when he didn't want to trot under saddle) a few years back, but I was doing good to master the very basics of riding well with him, not trying to seriously compete at anything but showmanship and halter. I've seen exhibition dressage rides on Walkers, so I know it's doable in that sense, but I've never seen a traditional test ridden by a gaited entry. I'm curious to see if any of the gaited folks could shed any light on what goes into competitive dressage with gaited horses.
Feel free to PM me if you want to "talk dressage," bounce ideas around, or anything. Dressage is tricky enough when you've got pro help; when you're mostly going it alone, it can be a lot harder, especially if, like me, you're not naturally gifted and need to fiddle and tweak and occasionally be smacked upside the head before something clicks properly.
Good luck!!
---
A stubborn horse walks behind you, an impatient one in front of you, but a noble companion walks beside you ~ Unknown
I have never seen a gaited horse showing in a regular recognized dressage show. I do know that there are separate classes and shows for gaited dressage. I don't think it is an option to just advise the judge that you will be riding a gaited horse, as few rated judges have much knowledge of gaited horse movement.

I may be totally wrong for your area and the local shows may have made some sort of accommodation for the gaited horses. I rarely get the opportunity to show anything but rated shows.

Gaited dressage demo




---
Last edited by Allison Finch; 02-22-2012 at

12:41 PM

.