Yay I hope so but i also hope that i learn consistently and gain that "experienced" seal :) I'm really open to anything whether it be to just ride, compete (but i cannot afford it and it's not really at the top of my list), or experience every aspect of horse riding, whether it be western or English I would love to try both. So far I have been more interested in English and I think I have the ability to do well in it. I'll try not to get in over my head lol
---
"All we see or seem, is but a dream within a dream..."
Congrats on your first lesson! How exciting. I'm a new rider myself (9months total riding and 6 months English).
Thanks MsKibibi :) Its good to meet another beginner.
Posted via Mobile Device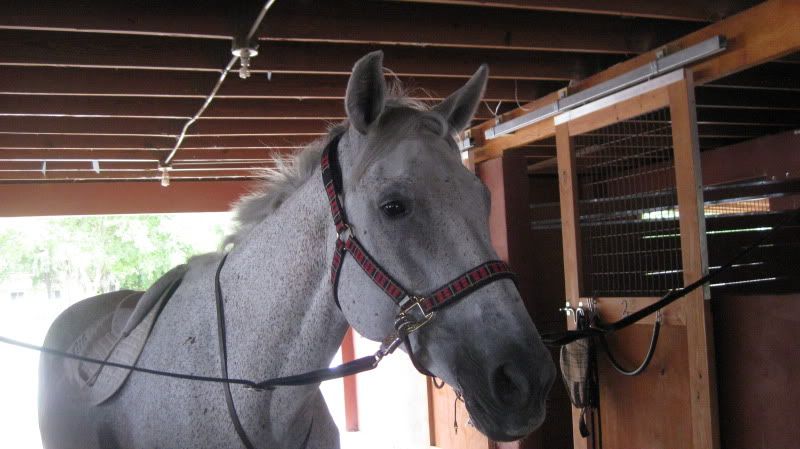 Here is a better picture of Abby :) Apparently she was a 3-day eventing horse. She's over 7 yrs so I guess her new job is teaching me to ride :)
---
"All we see or seem, is but a dream within a dream..."
Beautiful horse! She has a sweet and "kind" face (as my mom would say).
Thanks :P she's a real riot. Before I left I was telling her how good she was and she was about to press her nose against mine and so I kissed her nose and she just pinned her ears back and backed away and shook her head in disgust as if to say "eew! HUMAN germs! Yech! This violates our contract! I'm calling my lawyer!" LOL
Posted via Mobile Device
Here's a clip of my first lesson you guys! Sorry it wasn't the best, my boyfriend deleted the better quality video. Girl in the pink shirt is my trainer <3


---
"All we see or seem, is but a dream within a dream..."
Hey thats awesome! Is this at that Arabian farm!?

Oh and I have to add, my pony has the exact same halter.
---
~If horseback riding was easy they would call it football.~

---
Last edited by Tamibunny; 06-04-2011 at

10:54 AM

.
Nope, its actually behind the arabian farm. Its an equestrian center :) check out my blog again I have updated it.

I am on my way home and my boyfriend found the better quality/longer video of my lesson! So it should be uploaded by now since I had edited it. But when I post it up you can see the farm from where the arena is in the video.
Posted via Mobile Device
You look very comfortable on a horse
---
"When Nature made the Thoroughbred, she made no mistake."
"when riding a horse we borrow freedom."