How to get the shoulders, hips, and heels aligned? (And stirrup critique?)
---
I just got back in the saddle today after having the winter off. Being out of shape
sucks
. lol I've had that dreaded chair seat for years and it refuses to go away, even when I
am
fit. I ride very forward and I have a lot of trouble sitting back while keeping my legs from slipping forward. My horse is just as out of shape as I am at the moment.
I know there's not much to critique from these pictures, but anything you can give me is appreciated. Also, how's my stirrup length?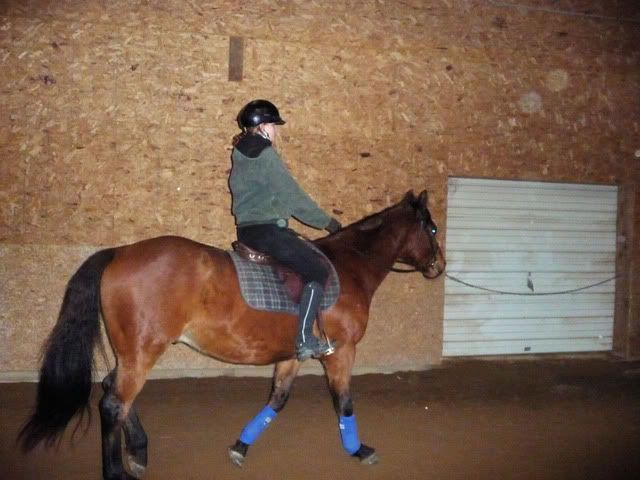 And just for laughs, I put gloves on Norman's ears and he looked like a moose.
---
"A musician must make music, an artist must paint, a poet must write, if he is ultimately to be at peace with himself.
What a man can be, he must be." Abraham Maslow, 1968

It may be that the saddle does not fit you. It may also be that you use the wrong muscles to stay in the saddle. It may be that your hips are not flexible enough. It may be that you are placing your weight incorrectly down your leg. It may be all of the above.
I don't think it's the saddle because I have the same problem in every saddle I've tried. I think it's a combination of the second and last one you mentioned. It's so frustrating.
---
"A musician must make music, an artist must paint, a poet must write, if he is ultimately to be at peace with himself.
What a man can be, he must be." Abraham Maslow, 1968

Quote:
It's so frustrating.
Of course it is! Anything worthwhile needs to be fought for.
Your best bet is good ole under-utilized (nowadays) longe line lessons. You'll learn to retrain your muscles in a real hurry, or you'll be eating a lot of dirt.
And has every saddle you tried been a CC?? It looks to me like the back of the saddle is sitting down on your horse's back, causing you to sit too far towards the cantle and your leg to push forward. Personally, I would try a gusseted panel and/or a saddle better shaped to your horse's back to provide support to your seat and help you sit more towards the front of the saddle.
Also I would shorten your stirrups to allow you to bring your leg further back and remain stable.

Good luck!
Weanling
Join Date: Jul 2009
Location: The great, white expanse of Maine...ugh!
Posts: 400
• Horses:
3
I have the same problem - although, for a long time, it manifested itself as leg forward/upper-body perching. Then I fixed both problems while I was a working student, and now that I'm home and riding alone, the upper body is fine, but my **** chair seat is back! It's MUCH worse when I'm riding in my dressage length.
What helped me when I was a working student was abusing myself, haha. Basically, my trainer put me through position bootcamp, and it was my responsibility to keep it up. What you don't want to hear, and what I will advise, is to take your stirrups off your saddle. Take 'em right off, and leave them off, for a month. Do everything you usually do - jump, flatwork, trail-riding - and you will be surprised how much your foundation changes. You'll become more stable, because you won't be relying on your stirrup. Ride as much as possible, and without stirrups on all! (Unless it's like, a barely trained baby. Use judgment ;))
When you're comfortably situated, pull one leg up so your thigh is pointing down and your foot is up near your butt. Grab your foot and pull it your thigh. Then, without moving your thigh, let your calf fall back down and hang. Do it with your other leg. This will streeeetch your legs out and put them in a correct dressage position. At the trot, do a lap around the ring sitting. Then one posting. Then one in half-seat. Do "frog-legs" at the walk, trot, and, once you can figure out the timing, the canter. A frog-leg, if you've never done it, is a little tricky to explain - you pull your legs out to the side, so they're not touching the saddle, lift your knees, and push out your legs, like a swimming frog. That's all about timing.
Like I said - abuse. Your body will hate you for a few days. But it DOES work, and as Mercedes said, anything worthwhile needs to be fought for. Plus, at the end of the month when you're a total DQ (as my two CCI**** and Olympian trainers took to calling me) you can impress people with your fabulous stirrupless sitting trot. SO worth it.
---
And now, the men of the Second Armored Division with their famous close-order swanning about.
Thank you everyone, this was really helpful.

Dante- Thanks for your advice, I will definitely take my stirrups off. I don't care how painful it is as long as it works. :)
---
"A musician must make music, an artist must paint, a poet must write, if he is ultimately to be at peace with himself.
What a man can be, he must be." Abraham Maslow, 1968

Yah, I was going to say ride bareback. Without stirrups is almost as good. You can get into the habit of bracing against your stirrups without realizing it.

Also, try to keep in mind that your horse could magically disappear out from under you, and if it did, would you land on your feet?
May be it's just me, but you look like sitting very much back with legs too forward. Are you sure it's a correct size for you? Because the size will depend not only on butt size, but also on leg length. I'm not really good at explaining that, but there are some threads on this forum about it. This is one
How diff is a 16 1/2 to a 16? English saddle
. My A/P is 17 and fit nicely, but my CC is 17.5 with long flaps. Short ones didn't fit me (I'm 5'9 with long legs) - I was sitting too far back.
Also what does your instructor say (if you use any)?
Get Sally Swift's book, Centered Riding. Get her DVDs, too. She has tons of exercises and suggestions for visualization to help with your position.