Jointed - flexy stirrups
---
Any one have them
I LOOOVEEE mine =D these are what i have
Horse-S Jointed Stirrup Irons - Dover Saddlery.
they certainley help keep my heel and calf in a better stable position than my old stirrups =]. Plus the new paddock boots i got to ride in are great.
jointed stirrups + new riding boots = heaven ! haha
any one have these? pros cons? why you do or dont like them?
I have the herm sprenger bow balance stirrups.... To be honest I don't usually notice too much of a difference except when I'm really sore or cold, then it seems to ease some of the pain as opposed to regular stirrups. I think I could have stayed with traditional fillis irons and not been unhappy.... But since I have them, and already spent the money-- I like them.
I have those! I absolutely LOVE them. I cannot ride in regular stirrups EVER again. Regular stirrups make my knees hurt since they don't really give when you are posting and stuff. But since these ones bend you can flex your heel down and become more stable. I don't think there is anything bad about them at all. =)
I've ridden in them for years. I honestly don't think there's a huge difference, but I do notice a little less stiffness in my knees.
My saddle came with them but I had to replace them. I just replaced them with some classic cheap used ones from a tack shop. I didn't notice a difference either.

One of the pins fell out while I was going over a jump with my horse. It made for an awkward landing for the both of us with my weight suddenly being thrown to one side. Make sure to check that the pins are tight every week or so.
Love my MDCUltimate Stirrups (spring and rotation). I need the 90 degrees for my knee too. So it might be more that in the spring part. The rubber over the springs is starting to deteriorate (cracks, esp at the bend) tho, after 5 years but only like 5 months of use. So that's sad and I wonder if there was something I could put on it from the start to prevent it, or that's all they last.
MDC Corporation - MDC Intelligent StirrupsŪ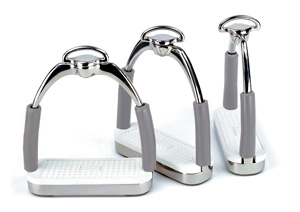 You know, an interesting topic. I think it's one of those things where you either like them or hate them, or you have problems adjusting to them. I suggest borrowing a pair off someone before buying them tho. You may not like them and they are a lot of money(the nice ones).