Just wanted to brag =)
---
This is the first lesson on my 3 year old OTTB filly. This was after her third time away from the house in two years, first trailer ride in a stock trailer (hour and a half haul), first time she's been ridden away from the house since her racing career, her first time ever seeing a jump, and ive only been riding english for 4 months. I think i picked the perfect horse to begin my english journey with.
Feel free to critic however i pretty much know what we need to be working on. Me keeping my legs where they need to be and her working on her transitions mainly... but man do i love this little filly!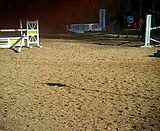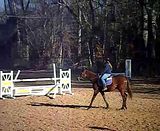 Click to load videos =)
I love that your hands are so quiet :) That's a good habit that's going to be really helpful for both of you. Just out of curiosity, were you riding her western a little bit before? She seems to have that slow western jog. But she also seems very nice and calm, which is great considering her racing past and her young age! Congrats on such a beautiful mare, I'm sure you will have an amazing time together :)
Thank you! Ive spend YEARS getting my hands quiet while riding and it REALLY helps that she's as soft as she is for me. She's unlike a LOT of green horses ive ridden. She just seems to get it all already.

I did restart her western however that slow job is her natural pace. She's been that slow from the first day i got on her. Most people dont believe she's 3. Then when they find out she's an ex racehorse they think im joking with them. Ive actually taught beginner riding lessons on her before because my kids horse had burrs in his mane and i didnt have time to pick them out.
She looks great! And so cute!!