I've clipped my horses every winter for the past 7 years, and thier summer coat comes in just fine. :]
I actually prefer thier summer coats when they have been clipped in the winter, the hair comes in super soft. And if you spray conditioner on the clipped parts throughout the winter, it also is really shiney when it grows out. :] :]
Robbie is much more comforatble when he is clipped, he cools down and warms up much faster and we can have more intense rides without waiting forever for him to dry. I'd like think he enjoys not getting drenched in sweat after trotting for 20 mins. :]
I couldn't get a full body shot, but I got his neck and purdy face hehe. He got a really high trace clip. :]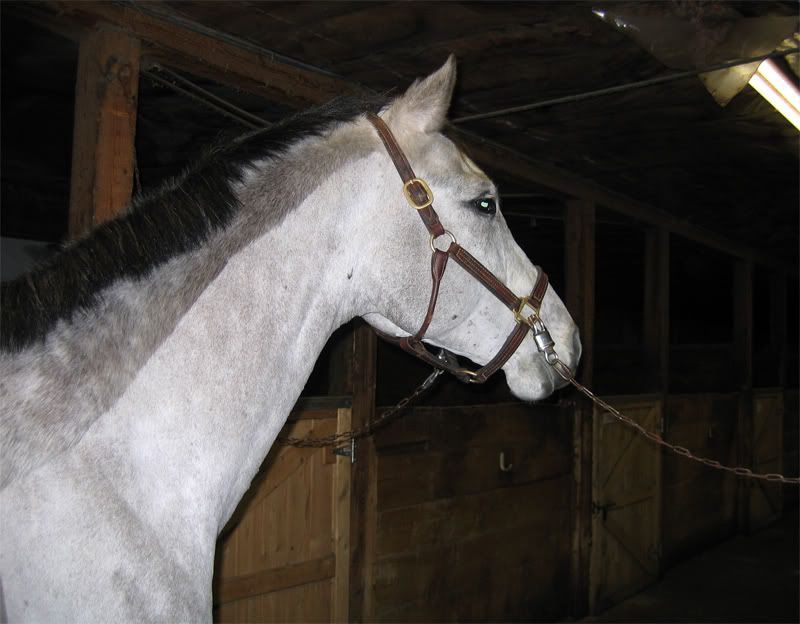 ---
:: rachel && robbie ::
::
http://www.youtube.com/user/blushedx3
::
Blush, he's gorgeous...if he goes missing, I didn't do it okay??? Lol!!!
---
"The ideal horseman has the courage of a lion, the patience of a saint, and the hands of a woman..."
Maddy's body clip is growing out but here are some recent pics
---
:: Karley ::
Tucker WB/TB- 11 yr
Speedy QH/TB- 22 yr
Quote:
cute clipped ponies !!

do you guys think that body clipping will ruin their summer coat when it comes in ? thats what someone at my barn told me today & i had never heard it before. this is a legit question so no funny business....
clippingonly effectss their summer coat when it is done to late (like, when the tipes of their summer hair is coming in) but im almost positive it doesnt effect their summer coat other then that. beautiful horses btw everyone!
---
If there are no horses in heaven... im not going.
Oh i forgot to add- clipping only has an effect on the coat if you do it too late. I clipped in Oct. and i keep her blanketed as well as well groomed and i use vetrolin shine spray
---
:: Karley ::
Tucker WB/TB- 11 yr
Speedy QH/TB- 22 yr
Quote:
How did you go about clipping if she was a little freaky about it? The lady I bought Caleigh from said she'd been clipped only once and when I ran the clippers (really quiet and cordless) she tensed and backed away. We were going to have the vet sedate her a little but the sedation did nothing when we had her teeth done and the vet doesn't want to experiment with more.
You could work with the horse every day for a while with clippers. First get her used to you petting her all over her body, including her ears and nose. Then get her used to how the clippers look. After that rub the clippers over her body without them being on. Then rub them with them on, but without actually clipping her... she could then feel the vibration. Last, clip her .... :)
Quote:
I love your photos stencilbum. Please come to Canada and clip my girl?
Gypsy, I'm curious about that as well, I was told the same thing. Could it also have anything to do with when the horse was clipped??
I'll have to get some photos of my mare tomorrow. She's got a body clip at the moment, and is super cute!
I'm not that good at clipping
My daughter is the one who has done most and that last photo was one which one of my customers sent to me a couple of seasons ago.
Anyway, I've got loads of them here and there
Here was the first designs we cut for our own horse's when I started the stencil business
And here is the all over star pattern half way through clipping it on
Quote:
Blush, he's gorgeous...if he goes missing, I didn't do it okay??? Lol!!!
Haha, thank you! :]
I'll make sure to lock him up tight at night then. ;]
---
:: rachel && robbie ::
::
http://www.youtube.com/user/blushedx3
::
I've decided not to clip my horse afterall this year since he's so fresh and its been sooooo cold.

His winter coat actually doesn't look too bad this year, his new heavy blanket weighed it down and smoothed it out. He never really grows a bad winter coat, he just usually gets stinky in the winter but he's staying pretty clean this year. Probably the new blanket at work!
---
Gordon Wright once told a student to take up swimming because he would never be a good rider, that rider was George Morris.
Quote:
Yeah I don't get why people clip...Poor ponies,they look naked
well if you excercise them a lot during the winter they get sweaty and thats not nice when they are really hairy.
---
Keep your feet on the ground when your head's in the clouds.