Let's See Your Cross Country Jumping Pics and Videos!
---
Hi there! I love watching videos of cross country courses and looking at pictures because I want to do eventing so bad someday! :) So load 'em up and bring 'em on!
here is a video of gypsy and my last event this season, we got first place =]


---
Gypsy & Scout <3
Everybody is a genius. But if you judge a fish by its ability to climb a tree it will live its whole life believing that it is stupid. ~Albert Einstein
Here's Turly & I.... think we have videos somewhere, I shall find them!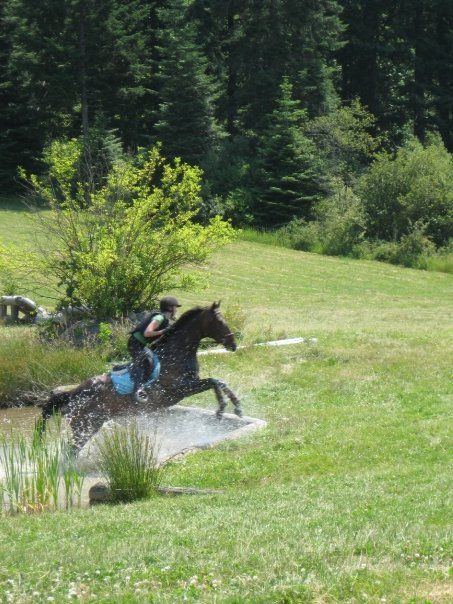 ---
~A Cowboy's Chance~
1977-2011
Rest in Peace
Here's Fitz and I going XC, including at my most dreaded jump... the staircase.
Oh, thank you guys for sharing! I would LOVE to do cross-country (okay, eventing) and I might be able to next year when I go to university!

I'm hoping it's a new activity my horse and I can do together.

Keep 'em coming!
If you can, go for it! i love eventing, esp. coming from the hunter-ish style of riding, its AWESOME!

heres some pictures of my horse and i's first events (BN) the good, the bad and the ugly!

sorry no videos, we tend to do crosscountry a little.....fast....LOL
Actually, Rusty and I would be coming out of the hunter ring, too. He's just so darn brave and will jump about anything though that I've always wanted to see what he can do. Unfortunately, he doesn't have the best conformation for an eventing horse - his head ties in a little low to his neck and he's very long period...but I don't see myself going anywhere too fast so we could learn together, like we've always done.
I've only been in one eventing competition- way back when I first started riding. I did something like 6" cross rails in the jumping portions and no jumps in the XC
But here's a pic just for fun!
Here's some photos of Candy and I:
(this one she looks like a super-hero horse with her legs!)
Sorry about the massive-ness.
---
"Good things come to those who wait… greater things come to those who get off their ass and do anything to make it happen." - Unknown