Morgans?
---
I've heard the "park type" of morgans are bad at jumping and dressage. Is this true?

I hope not, because there are some really nice morgans in my area for sale, and I was thinking about getting one. They haven't been trained yet, but their bloodlines are really good in the park discipline, or so I'm told...

I realize that these morgans are probably not going to do grand prix, but I don't want them "really bad" at my "normal" activities either. I'd love to do at least novice level eventing on a little morgan :)

I would try to get one that doesn't have park bloodlines, but I can't find any in my area.

[I originally posted this in the "breeds" section, but thought it might be fitting here also since I'm asking about use in english disciplines. Sorry for the multiple postings.]
It depends on the horse. Remember, there's a massive difference in park-style/Saddleseat training and riding and jumping or dressage riding and training. Form and function can really feed off of each other. A horse bred like a park horse might look and move a lot less like a park horse if he's conditioned like a dressage horse. Conformation probably won't help you if you go for a very type-y park Morgan, but with basically good overall confo you shouldn't have any problems going through the motions with good riding/training. The biggest issue would be undoing or laying over any existing training or conditioning, but if they aren't started yet that shouldn't be a huge problem.

It depends on the specific horse and his/her personal attributes, but in general Morgans are amazingly versatile.
---
A stubborn horse walks behind you, an impatient one in front of you, but a noble companion walks beside you ~ Unknown
Thank you Scoutrider! That gives me some hope. He has a few for sale, so maybe I'll go for the least 'parky' one I can find and do my best with it!
GOSH! Who told you that? Man, that is totally not true. Yes, they are bred for like fancy parking and crap but they can jump like you can't believe. Some people say gaited horses can't jump and that is untrue. They CAN jump but if you want to jump alot and such I mean why focus on just morgans try like a hanoverian or a tb or even a morgan x
I will say that a horse who has saddleseat breeding may very well not be built like a saddleseat horse at all..
For example, Alice (my black mare), is very modern-bred, but is not modern-built.. though she has retained some height. See below: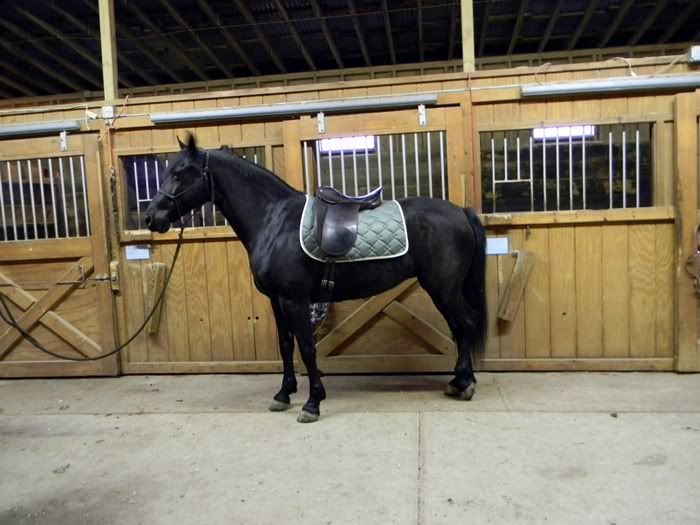 And for another example, my dressage mare (who passed in 2007) was also saddleseat-bred.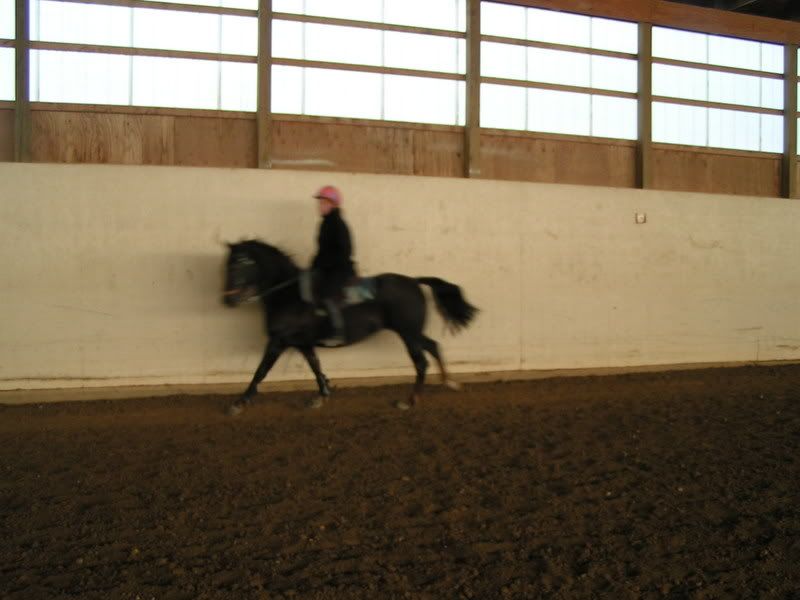 Another thing, the park type Morgans are NOT necessarily horrible at jumping. A lot of ex-saddleseat horses have been wonderful jumpers! I will say for dressage though, meaning mid-upper level, a lot of the saddleseat bred Morgans will not do well. This is because, in general, Morgans do not have an ideal walk or canter - they are a trotting breed. Sport bred Morgans (be it english sport or western) tend to have nicer canters and walks, however I do suggest not counting out saddleseat bred Morgans. I've been told repeatedly by upper-level dressage riders/trainers that Alice would be a wonderful dressage candidate. The trick is to be able to see the potential through the different way of training.. which, yes, can be hard for a lot of people.
I don't know what sort of search area you have, but I'd be totally willing to try to help you find a suitable Morgan. They're my passion and I've been involved in the breed for the vast majority of my life.
---
Last edited by aneternalflame; 04-29-2011 at

10:50 PM

.
Morgans are NOT horrible jumpers! I showed this one morgan named clarence for 3 yrs straight when I was 10 yrs old, and did ONLY showjumping (2.4) with him, I won first place 2 yrs running and 3rd place my final year, and only because the numbnut that was opening and closing the gate to let the riders in and out, opened it too fast, clarence spooked, and I hit dirt lol. He was lovely, jumped like a bunny, and was SUPREMELY comfy lol.
I bought a 4yr old Morgan in December to do Dressage with. His breeder intended him to be his next stud, he wasn't suitable for that so he was gelded and sold to a Hunter trainer who lightly started him and then I bought him. He absolutely LOVES trot poles (my trainer leaves 3 poles set for him in the arena and if given a choice, he heads straight for them) and we are sure he's going to love jumping as well but are waiting to start him on that as he's still too young.
He most likely won't go above 3rd level in dressage and that's fine, my lil kiddo has her sights set on him and when I "outgrow" him, he's going to be hers for hunter/jumper.
He's a once in a million horse that is not only very versatile but very calm, level-headed and full of personality. Not many 4yr olds out there who while still extremely green will happily pack a beginning kiddo around and then happily turn around and work very hard for a non-beginner. Everyone who has ridden him has told me to call them should I ever decide to sell, which I never will.
He does "park out" when extremely nervous, he was trained to show in halter before they realized he wasn't stud material. The longer I own him, the less he does though, he's slowly just giving it up.
Thanks for the encouragement everyone! I really loved the pictures posted as well :)

I decided to pass up the Morgans I looked at initially, but I'm still very interested in the breed, and would love to own one.

In answer to Aneternalflame's question, I'm currently looking within 100 miles of 84651, and my budget is embarrassingly small...

...that is unless I sell the horse I have now first, because then I'll have a larger budget, and could expand my search area. I can't decide if I'm going to sell her or not though. I like her 50% of the time :)
Similar Threads
Thread
Thread Starter
Forum
Replies
Last Post
Morgans?

petitepyromaniac

Horse Breeds

5

04-11-2011

05:58 PM

Morgans!!

VictoriasHeart

Horse Breeds

10

11-22-2010

07:14 PM

What do you think of Morgans??

IcePony

Horse Breeds

32

08-07-2010

12:15 PM

Morgans

english_rider144

Horse Breeds

27

09-05-2009

06:55 PM

Morgans anyone?

Sneak_Preview

Horse Breeds

11

03-04-2007

10:13 PM