Is my saddle too small?
---
I think my saddle is to small, but I am no expert on that. What do you think? I am a very small person so I need a small saddle, but I think this one is just getting to be to small. It is a 15 I believe? I'm not sure exactly what size, but that sounds about right. Should I switch to a 16? I bet there is one somewhere in the tack room; most of the are 17's but a 16 would be okay do you think? A lot of people my age and a little younger ride in my trainers old 17 because it is super comfy and nice. I probably put in to many pictures, and people that have more experience with buying saddles could probably tell by the first picture... but oh well. =)
It doesn't look too small to me. How tall are you, if I might ask?
I'm really short. 4 foot 11, but I'm not done growing yet either.
I had to look at this several times and it does look a tiny bit too big. You will probably be good in a 16"
The saddle looks like a jumping saddle and so is not putting you in a great position for general riding, it also looks out of balance and tipping back which is far more serious. It doesn't look too small for you, but in some pics you are sitting too far back on the cantle. 15" is usually only used on very small ponies and for children (my 11.2 cannot take anything bigger than a 15").
To measure a saddle you put a tape on the stud at the pommel and measure diagonally back to the centre of the cantle - this will give you the seat size
This saddle is 17"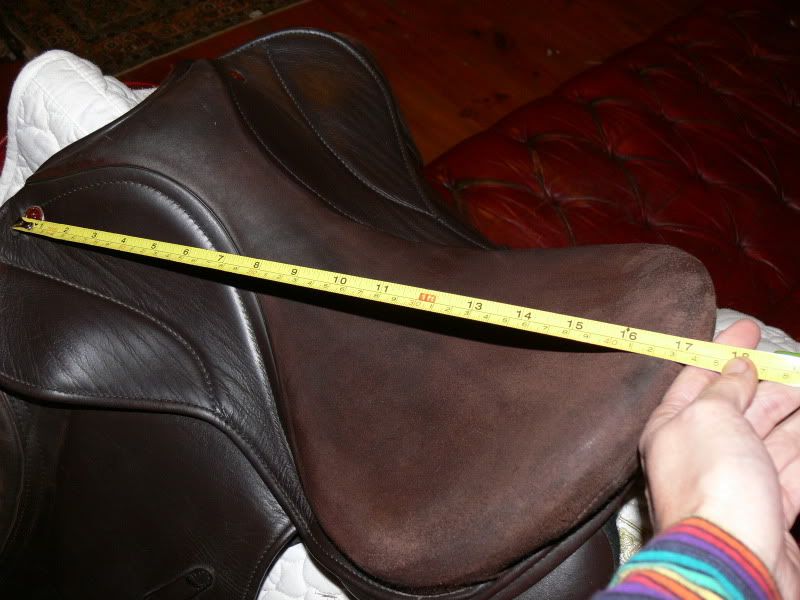 ---
Last edited by Clava; 12-07-2011 at

03:43 AM

. Reason: added a bit
I don't think the saddle is too big for you, but I do think it doesn't fit you. The saddle puts you in a tipped back position with gives you a chair seat, causing your knees to look to small around the leg flap(I'm having a brain fart about what this is called lol)

If you do get a new saddle, look into ones with a leg flap not so rounded and large, and I think a 15" is fine for you.

To do a personal test, when you sit in it, you should be able to put 4 fingers flat from your body to edge of pommel, then in the back, from your butt to cantle. Noticably more or less fingers needed will determine if the saddle is too big or too small seat wize.
Posted via Mobile Device
I agree with the others postings that 1.) the saddle is not too small and 2.) you're sliding too far back in it. A closed cell riser pad, or in a pinch, a folded towel under the cantle to shift the balance point forward would a big help.

Here's a couple of general ways to check rider/saddle fit. If you're sitting normally in the deepest part of the saddle without slouching, and you put a hand on the saddle behind your butt, fingers touching each other you should have room for an entire palm's width. Less than that, the saddle is likely too small. The other concern is the length and position of the flap. (Riders tend to outgrow the flap of a 15" saddle before the seat.) Knee rolls and blocks should be well in front of your knee, not *under* the knee. You should be have a range of three to four holes in your stirrup leathers, and should be able to raise your stirrup a hole or two from your flat length without bumping into the knee or thigh blocks.

Again, think it would look fine if the cantle were raised slightly.

HTH
So you mean one of these? We have a bunch of riser pads at the barn, so I will ask if I should use it, thanks!
That doesn't really look like a riser pad, as it looks to be the same thickness all the way through. You want something that's built up just in the cantle, like this:
or this (the one in front):
Just make sure the added thickness in front doesn't interfere with the fit of the tree, I have trimmed a pad like this so I have just a piece running down the gullet in front of the riser.
No, that is a riser pad, but it will lift the front up higher and is not suitable. Really, it would be good to see some photos of your saddle without you in it to see how it sits on the horse. Personally I would get one which isn't so forward cut (jump seat) unless you want to do a lot of jumping.