Please Review? My Invention
---
Hey Everyone! I have to get feedback for an invention I designed in school for a grade, and since I don't have a mass of horsey friends to ask I was wondering if you lovely people on this forum could give me some feedback? It would be so awesome, I'd be eternally grateful, and i would forever owe you. Here's a brief description and photos of it, but its rather rough in looks...(please bear the horrible photo resizing, I have no clue how to work it!)
WHIP SMART: DRESSAGE WHIP HELPER
The Whip Smart: Dressage Whip Helper is designed to help you correctively use and hold a dressage whip without interfering with the contact of the horse's mouth. (And before there' any scrutiny, I don't believe in gimicky products to improve riding, I needed an invention and this is what I thought of =D) It can be used by beginners, pros, trainers, and anywhere else you may be in your riding career. This is made possible by the design: at the base, a stretchy yet strong fabric is attached by handy-dandy sewing work to a wooden black, which raises the whip past the hip and makes it easier to access. Then, mounted by a bolt to the block, is a "Kwik Klip." Basically, it opens and closes on a series of notches that close around the handle of any whip and crop up to maybe 1/2 inch in diameter(?). This secires the whip tightly. Since taking the pictures, I've added elastic to help hold the weight of the block and the whip on the fabric. There are also holes for the fingers (because otherwise there would be no use of the fingers or the holes...) and an outer elastic design. The wrist closure is velcro, and the wristband is elastic. The glove is made for the left hand.
Ad:
Pictures: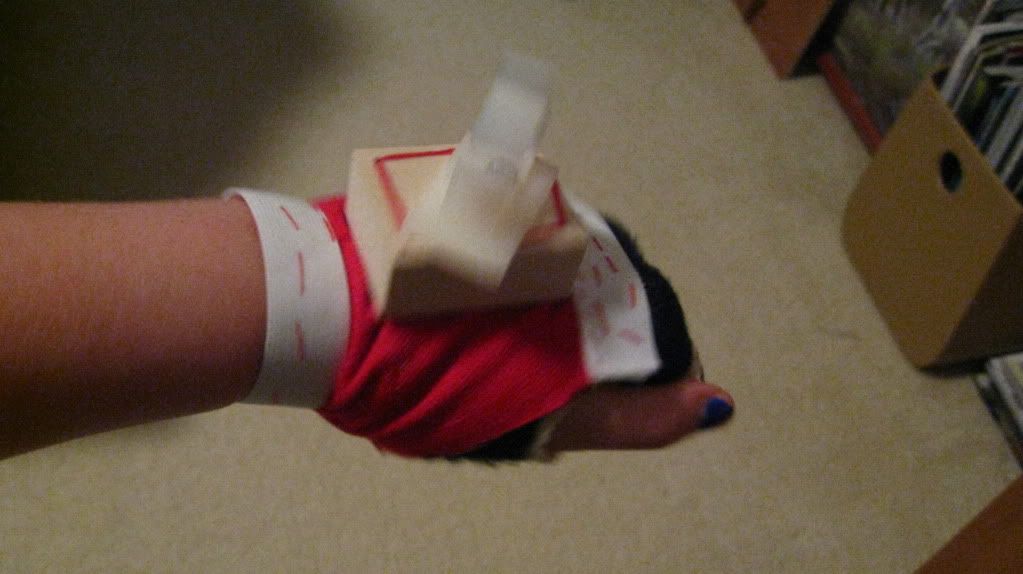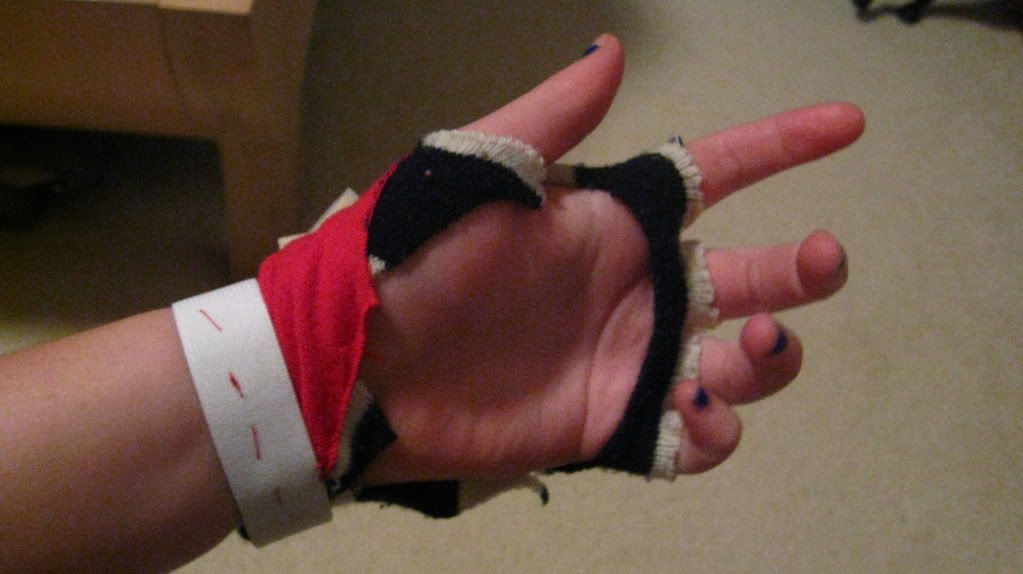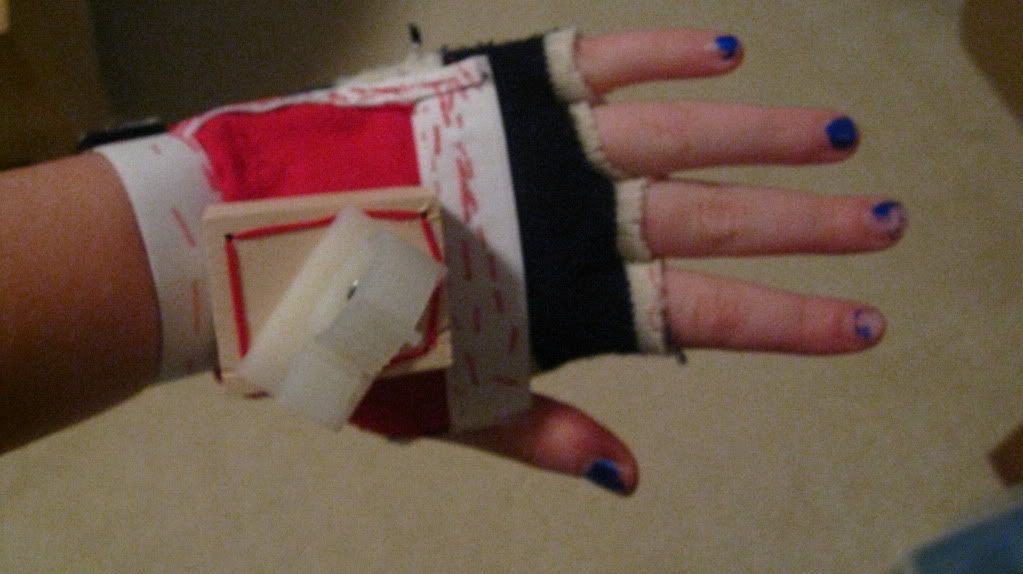 THANK YOU SO MUCH FOR READING!!!!!!!!!!!!
Oh, and I'm not trying to sell my product or anything, I just need people to voice opinions on what they think of it. It isn't actually available for sale or rent or loan or anything. Once my science fair is done, itll probably sit in a drawer until its fished from my closet =D
It's very clever!

However, it seems to me that the movement required to actually whip the horse might be awkward, uncomfortable, and difficult to put enough "snap" into to actually contact the horse. In addition, I think the motion of your arm would be just about the same whether it was in your palm or on top of your hand and having it in your hand may allow for more "feel" as to how gentle or harsh you want to whip the horse.

Finally, I like to be able to switch which hand I'm holding the whip in depending on which direction I'm going, and this wouldn't be easy to do that with. I also use the whip to cue the shoulders as much as the haunches, which the invention would also be questionable for allowing me to do.
I think for a school project it will be good and your video was interesting. Did you mispell word on purpose? Not sure because of the style of video. I do not think the product is marketable but good for a school project.
Thank you! I wouldn't sell it, just doing it for school =D The video I rushed as I am an over-procrastinator and it was due the next morning, so I didn't spell check it.
Thanks for reviewing! Those points really helped me to try and advance the design some more. I don't think I'd actually use it either, just an invention idea for school.
I think it's pretty cool idea for the school project!
However talking seriously (off-school) as Eolith already mentioned such a system doesn't have enough flexibility. Often you need to touch the horse on shoulder, behind the girth, on side of the bum, on top of the bum, PLUS you have to alternate the whip as you ride (which is impossible at all with this system
). And the last thing I'd like to have is falling from the horse with the whip sticking right into my eye (because it moves with my hands as I fall)...
Have one on each hand LOL!
Posted via Mobile Device
I am not knowladgeable in the dressage ring, but I ride with a crop every now and then and with a hot horse like mine I enjoy the freedom of dropping the crop! This looks like you would not have that freedom...but I guess thats why its for dressage and not h/j
Clever, great idea, but It would be difficult to tap the horse on the shoulder or other places, and switching hands would be hard. also I like being able to drop the crop when i no longer need it :) But great idea, Its a good thought, just a few defects :)
Thank you so much everyone for replying! The crop will come out as the plastic thingy does break off (which I goes is both a plus and a minus, hahaha) in case of a fall, and its adjustable too. But all these are awesome points, thank oyu so much!