Quote:
i always thought dish soap was a great shampoo! i heard once that it is less harsh on their coats and skin than even human shampoo. who knows if that is true or not....
Dish soap is great for when you need to get rid of build up in the hair, I use it once a month versus salon brand build up remover (sunlight ftw!). And no it isn't gentler then human shampoos, mind you there are some out there that are just terrible (pharmacy brand shampoo) nevernevernever use head and shoulders, I have it in my salon and use it to remove color from the floor, counters, and it even helps to "scratch" off a level of pharmacy brand color when a client comes in and has a "mistake" on her head lol.
I assume since we can use it on ourselves (dish soap), it's ok for horses lol.
Yall these are awesome!!! And I'm getting some good ideas heheh
Posted via Mobile Device
I have my tack hanging up but anything expensive I don't want anyone to think about gets locked in a rolling cosmalotogist caddy XD it was free. The door unlocks and inside are things like spare bits, mtg, iodine scrub, bute, smb boots, bell boots. Plus my grooming tote sits right on top :) it's perfect with pullout drawers and an empty lower half where all my shampoos and such are kept.
Posted via Mobile Device
Quote:
Dish soap is great for when you need to get rid of build up in the hair,
My old trainer would also use sunlight. Just a a small squeeze in the bucket and the horse was all clean. ;)
---
A ride a day keeps the worries away!
For really extremene weather we have a spare old duvet for under ruby's rugs and a woolly blanket for under riley's!
I used baby shampoo instead of horse shampoo, as its just as if not more gentle than horse shampoo.
My tack box is a over sized tool box and my first aid box is a smaller tool box. My bandages live in a chocolate sweety tin.
Posted via Mobile Device
I bought my show coat for $2.50 at a thrift store. I just needed to remove the shoulder pads and add 2 buttons. SO worth it!
---
...you will be more disappointed by the things you didn't do than by the ones you did do. ... Explore. Dream. Discover."
–Mark Twain
I got a complete show outfit for $45! (including the tall boots) All because I have the bestest friends EVER! xP Haha. And Nothing helps save money more than your imagination. When looking at any thrift store, i bring mine along! For example: 5 tiered cd rack- Hang it on the wall and BAM!!! instant polo rack!(got for half price too ;D)
Also nothing like being handy either. Nail gun, clearence wood ($20 for good size 4x4 about 12), paint(I use spray- color, then clear) and a good 2-3 hours. You can get a pretty nice wall mount for saddles!
Used the same directions for a tack box, but with thick ply-wood!
I'm also constantly on the look out for tack meets. being 16 and working a crud job. Im always low on cash. Most people know a good find, even if the piece needs TLC. My double bridle $20 at a tack meet and it just needed oil! My australian saddle bought it for $35 (retail about 10x more) because the lady didn't know what she had. I almost felt bad buying it for soooo cheap. and it is NICE!

I also make some of my saddle pads. though they aren't the nicest still. but its trial and error for me. I get fabric at goodwill (sheets) then i have to use the foam webbing, because the sheet will bunch with the other cotton webbing. still not good enough to give real advice to those who want to make them. I also make my fly veils by knitting (trial and error). And I find all my yarn at garage sales.

This post has got me all excited!
Show blanket, made by hand from a throw I found on sale at Walmart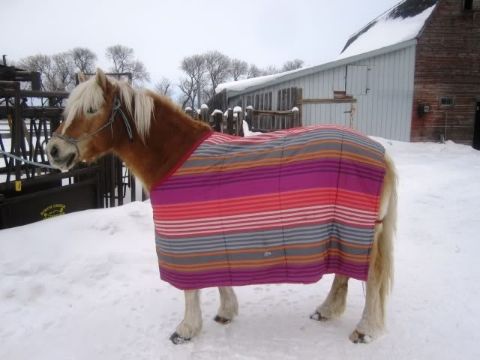 Even better, this one was made from a blanket that was in my mums house when we were clearing it, must be 40 years old, Oh and an old shirt for trim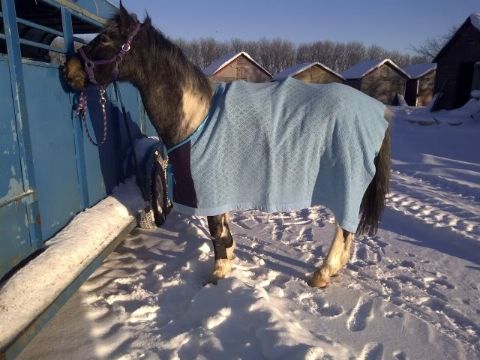 My bridles that came out of an ebay $35 bargain box, just needed cleaning and oiling, hanging on a dollar store hanger.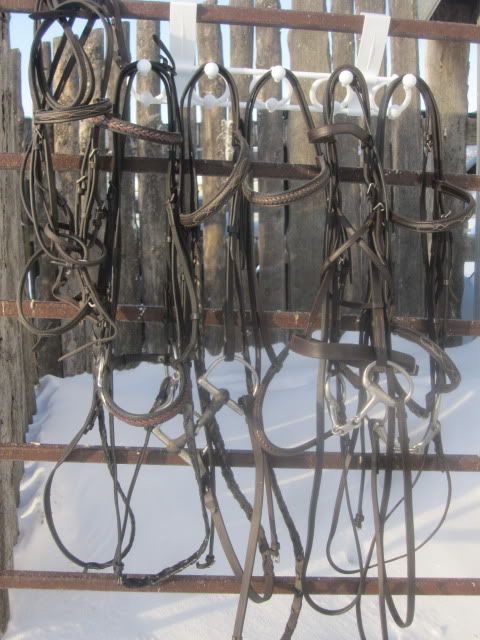 This is what turned up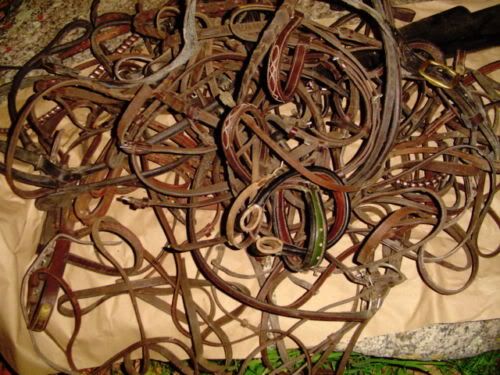 and there were breast collars and other stuff
Now we have a cat, all my halters and bridles have hangers, just nail clean cans to the wall and hey presto!
Woot to all the savers!!!!
Posted via Mobile Device
You guys are amazing! I'm getting so many ideas!

PS - I LOVE the tuna can bridle hanger. So awesome!