Annie update :) [photo heavy]
---
Where to begin?
My last post was in October, and so much has happened since then! Annie did her first recognized horse trials (BN) at the beginning of November and finished in 6th place. Her dressage score was not what I was expecting, but she was steady, quiet, and got the correct canter leads the first time. I had ridden her once earlier in the day for about 45 minutes to let her get out and take everything in, so she was a little tired by the time dressage rolled around. I had elected to ride sans spurs/whip and looking back I probably should've had a pair of spurs, but she was so relaxed about the whole thing that I really couldn't complain. At the time, I was happier with her being a little behind my leg because my earlier ride included some airs above the ground. She was super brave in both jumping phases. Pulled one rail in the show jumping when she lost a bit of focus and got distracted by the horses out on XC, but all the jumps were definitely a little scarier and more colorful than what she's used to and she powered around the course like a rockstar. She was foot perfect on XC and it was only her second time ever doing cross country, so I was thrilled! Here's a few photos from the XC phase.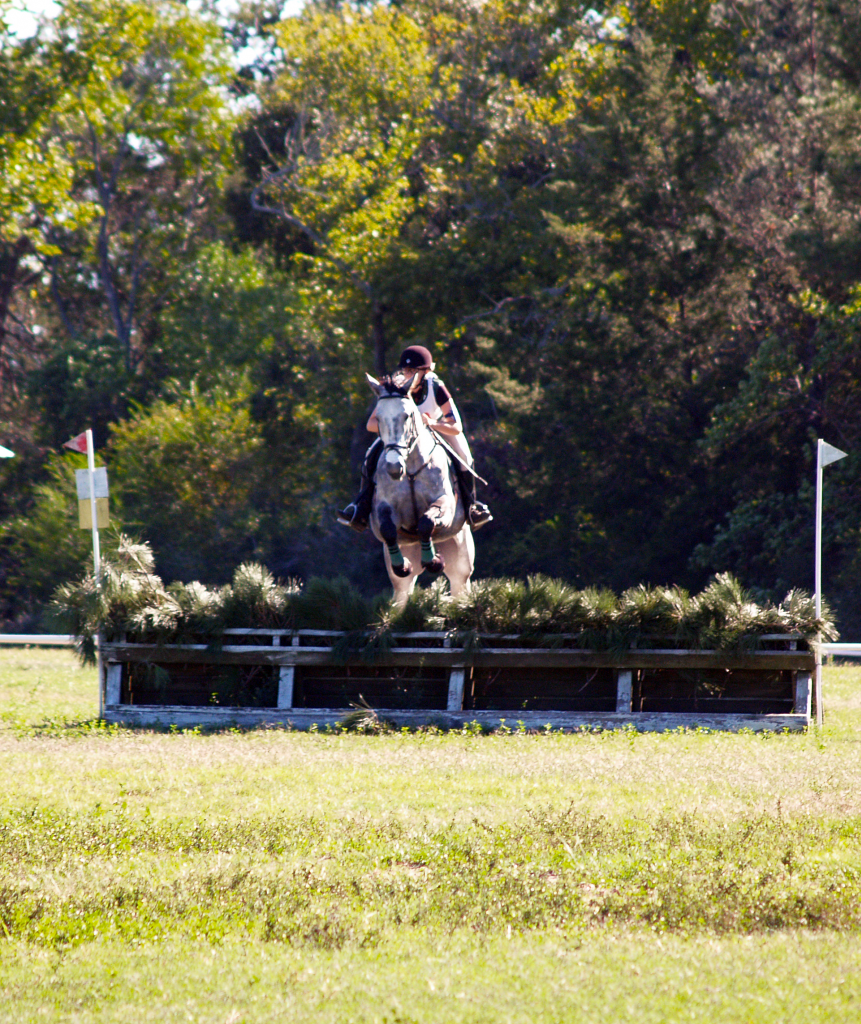 Her flatwork has really been coming along as well. After the show we ran into some cantering issues that I tackled head on with lots of canter poles. She learned pretty quickly that running around like a giraffe was really hard when there were poles she had to manage to get over without tripping and falling on her face. Here are a couple of video stills from some flatwork in November, followed by a few photos of her flatwork from December.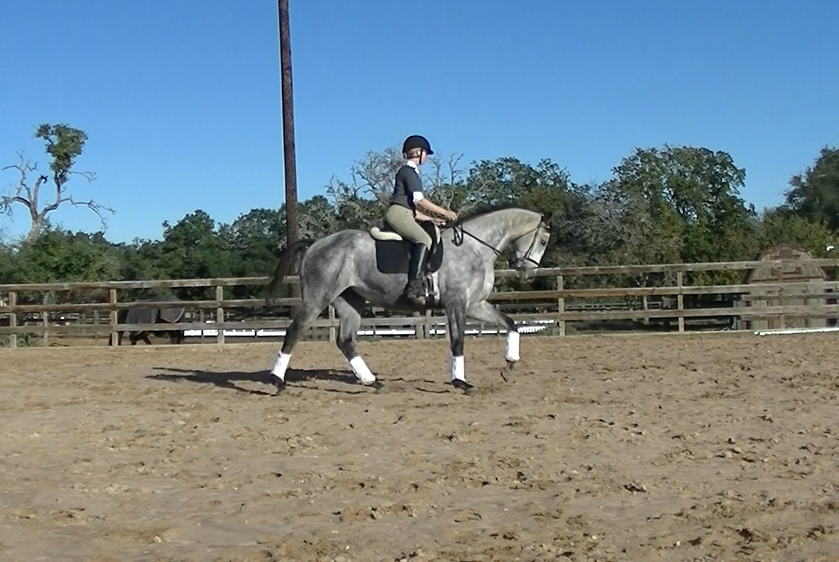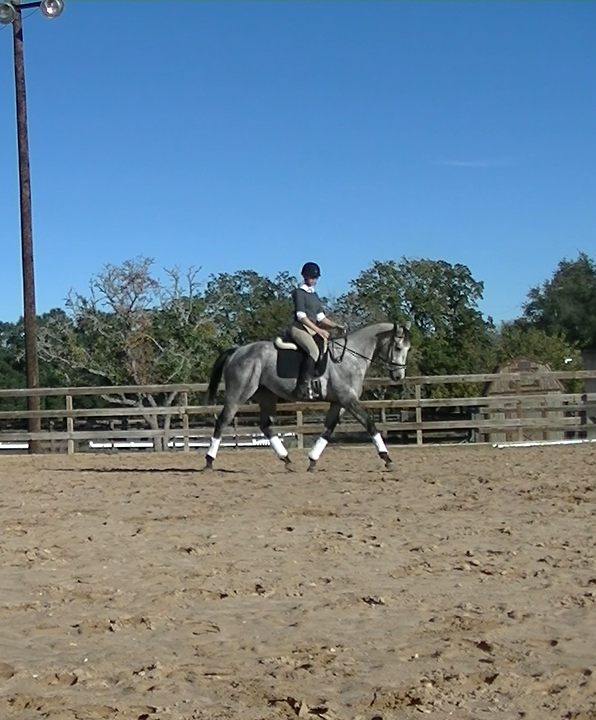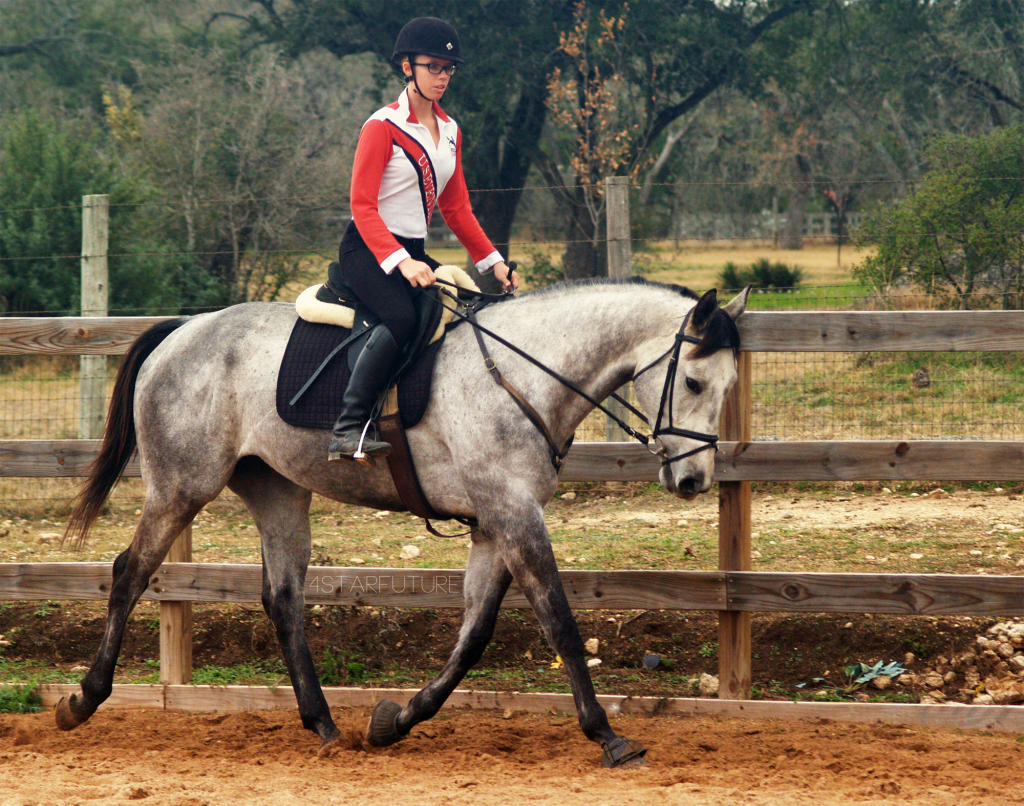 Annie and I participated in a Buck Davidson clinic in December as well. I don't have any photos, unfortunately, but she was really good! Buck had a lot of great input on things to work on with her in the jumping phases, since that's where she's the most green still. We've been taking what he said to heart and she's really coming along nicely. She's been filling out and putting on muscle and looking really good lately. I dragged my younger sister out to the barn with me today and she took a couple conformation photos of Annie for me. :)
---
"Always be yourself. Unless you can be a unicorn. Then, always be a unicorn."

---
Last edited by Strange; 01-11-2014 at

09:29 PM

.
What a beautiful horse and lovely rider! I salute you!
Thank you! I can't believe how much progress she's made and how much she's filled out in less than a year! She's such a fun horse to work with. I feel like she's going to really be something special. :)
---
"Always be yourself. Unless you can be a unicorn. Then, always be a unicorn."

You both make quite a beautiful pair!
I love Annie :) She looks great!