Weanling
Join Date: Feb 2010
Location: Bunbury, Western Australia
Posts: 323
• Horses:
1
australian cheeker / australian noseband??? has anyone used one??
---
Hi everyone!!
i have a new eventer that i've had since april and started eventing him, he's really strong in the jumping fases and is a really bad puller, i have decided to remouth him at the end of the season so i was thinking of trying him in an australian cheeker / australian noseband in the mean time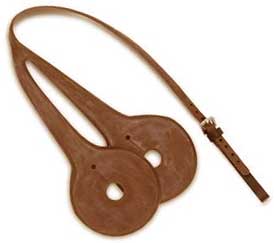 i need to know what the people that HAVE PERSONAL EXPERIENCE with them because i want to know if it will work.
thanks in advance!
ps. if you haven't used one please please please don't give your opinion i just want personal experience, sorry
---
:::THIRD TIME A CHARM:::
Elly ::: Diam ::: Ozzie
~~~Introducing Barney~~~
sorry i have never used one, but what is the purpose ?
---
Gypsy & Scout <3
Everybody is a genius. But if you judge a fish by its ability to climb a tree it will live its whole life believing that it is stupid. ~Albert Einstein
Im australian.. should I have ever heard of this before? lol
Weanling
Join Date: Feb 2010
Location: Bunbury, Western Australia
Posts: 323
• Horses:
1
Quote:
Im australian.. should I have ever heard of this before? lol
australian invention. they use them for some race horses, they are pcawa legal for xc and sj. suppose to stop a horse from pulling, just wanna know if it works on a horse for xc and sj rather then racing
---
:::THIRD TIME A CHARM:::
Elly ::: Diam ::: Ozzie
~~~Introducing Barney~~~
Used them on race horses and no. does not stop pulling.

It lifts the bit up so it is harder for the horse to get his/ her tongue over the bit. But only works if they are "mild" with getting the tongue over.
some thing that does look like it (kinda) is a Norton bit, you have to have the lifters for to work. used this one on the really really bad pullers and it worked. would not recommend unless last option and you have someone that knows what they doing with.

what are you riding in right now?
Yes, they are for keeping the tongue below the bit...not pulling as said above. A great noseband for bad pullers is a kineton noseband.
Kineton Noseband < Bridle Parts < Horse Tack|Dover Saddlery.
The bit fits in the metal rings to that when you pull the reins, it pulls pressure on the nose, too. I have one but have very rarely needed to use it.
I would be looking at specifically how your horse is pulling. The aussie noseband will help stop him getting his tongue above the bit but it wont stop him crossing his jaws, opening his mouth etc, so you need to look at what he is doing when he pulls. But yeah the aussie noseband will not specifically stop him pulling, just lift the bit and stop him getting his tongue over it.

My mare tends to cross her jaws and pull when she gets hot and I find what works for her is a high ring grackle - which are comfortable and excellent for eventing because they don't restrict the horses breathing. BUT it wont work for every horse. She doesn't pull with it on, and it works for her.

Is your horse opening their mouth when they pull? Tongue over bit? Crossing jaws? It's pretty rare for them to just straight out pull, mouth closed etc.