Bootss???
---
what boots do you use for cross crountry and show jumping?
i have a younger horse like hes gonna be 4 then he will start jumping lightly so i would like some support and protection
but do you like SMB boots? or what brand do you like? what kind? and how well do they work for you?
any kind i should stay away from??
i just wanna protect my horses legs. they are gold to me :)))
Green Broke
Join Date: Mar 2009
Location: Kansas in the summer, Kentucky most of the time
Posts: 3,028
• Horses:
3
Woof brushing boots are what I use. the single lock ones.

I'd stay away from SMB's because they are easily water-logged on XC.
---
Look like a SUPERSTAR, Ride like a FOUR STAR, Win like a ROCKSTAR
Eventers: Making BAD Dressage look GOOD!
I use Woof too. The single lock brushing boots for XC, and the open fronts for stadium. I would stay away from SMB's just because of what Drew said
---
Jumping a horse = Getting wings!
Why live on the edge when you can jump off?- Greenwood Horse Trials Tee-Shirt
i agree with the above !! woofs are great, i have both the single lock & the double lock & they are both great

also smbs can get a lot hotter.
---
Gypsy & Scout <3
Everybody is a genius. But if you judge a fish by its ability to climb a tree it will live its whole life believing that it is stupid. ~Albert Einstein
I use Nunn Finer brushing boots on my horse, and we have woof single lock boots for my sister's pony. No complaints about either of those from me.
Started
Join Date: Jan 2009
Location: USDF Region 1, USEA Area 2, USEF Zone 3 - Maryland
Posts: 1,903
• Horses:
3
I use either double-locking woofs or nunn finer american style boots:
For stadium I have a cheapy set of romas for wet/muddy conditions and a set of nunn finer open fronts: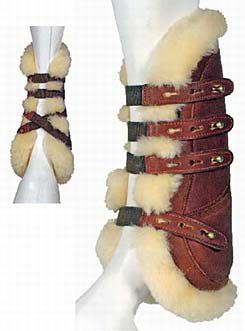 I actually have a TON of other boots, but these are my "go-to" boots for now. And I agree to avoid SMBs if you can- they aren't made to event in.
---
-Melanie
Mom to 3 bays: Beau, Daisy & Cavalina
do the woofs offer support too? like are they neoprene??
Started
Join Date: Jan 2009
Location: USDF Region 1, USEA Area 2, USEF Zone 3 - Maryland
Posts: 1,903
• Horses:
3
The woof boots you linked supposedly offer support according to the product description. But I haven't used that style, so can't tell you for sure.

Don't know if you can use that style on the hind legs, maybe if you go a size up, but you should check with a rep.
---
-Melanie
Mom to 3 bays: Beau, Daisy & Cavalina
My Coach, whom compeates Prelim and her Coach who is a 3 star competator who just got scouted by David O'connor, loves SMB's. I also heard Jim Graham say how much he really likes SMB's.

To each their own. Either you do like them, or you don't. I personally, love them. I use them pretty much the majority of the time, but I also have Woof Boots and I really do like the Nun Finer.

I suppose it depends on the area as well, because SMB's are very popular in my area, in many disciplines. Eventing, Hunters, Jumpers, Dressage, Gaming, Reining, Endurance and the list goes on. They serve there purpose well.

I use SMB's and I compete Novice, which includes water. I see quite a few Eventers in my area compeate with SMB's on. I personally like the brand spankin' new SMB's that just came out onto the market, the Ventech Elite Boots or their Endur-All Spot Boots. I oogled them at the tack store last weekend, very nice looking boots.

The Woof CC boots, are just like SMB's.

Studdies show, that our horses legs and joints take alot of shock when they land off of a fence - especially out on CC because the footing isn't deep and groomed like the footing in an arena.

So, that is why you see alot of CC boots lined with neoprene, because neoprene has been proven to aid in the absorption of that shock, to reduce the impact on our horses joints and legs. SMB's, are made to really target that shock.

~~~

Any boot lined with neoprene for CC will help with the absorption of shock. Get whatever you can afford. Basic Davis Splint Boots will do just as good of a job as Woof, or Nun Finer or whatever else is on the market. A splint boot is a splint boot regardless of the brand name on it.

Stick with what you can afford, and use whatever works best for you and your hores.
---