well it can be hard for an out of shape horse to properly use himself no matter what you are trying to acomplish...and as for being out of shape this goes for a to fat or to skinny horse or one that is just undermuscled.

You need to build up his muscles so he can use them properly. Try hill work for his hind end. Lots of long low collected trotting to help his topline and do alot of flexation to help his neck. Once you have him built up a bit i bet he tracks better.

Also as for a XC course, which i am by no means an expert an this is just a personal opinion, perhaps map out a short section of trails and ride it at a fast pace to help his stamina. Then you can add jumps an hazards to it to form a XC course. This way you build your horse up to it slowly. You would be surprised how similar a XC course is to a trail...its just done at a higher speed with more obstacles.

But im by no means an eventing person...I just know how to help build a horse up muscle wise...these are just ideas...they might be totally whack to someone who has done actual eventing.
---
Horses Will Listen...Even When No One Else Could Possibly Understand...
Quote:
My friend helped me with it and its like I have to go 400 miles an hour till he learns to track up.
This is not a technique I would recommend using. All that really does is rush the horse out of his natural rhythm, thus losing the expression of the gaits. Generally speaking, rushing the horse is also going to cause him to become tense. When he is
relaxed
over his topline and using his back properly, he will be able to track up.
well what she has me doing and it seems to work is give my reins push with my calves or squeeze close my stomach then i feel him track up i slowly take my reins back and he drops his head while tracking up but we are going fast.

Maybe he is just out of shape - will he track better when he gets more work??

My friends tb tracks naturally after 3 months off - I'm jealous
It's typically harder for a horse to trot slowly than quickly, so slow trotting will build up the muscles more than rushing along will. Also, when they're rushing they're usually on the forehand and not using their rear...has your trainer/friend taught you about getting the horse on the rear yet? This helps immensely, but it's sometimes difficult for an out of shape horse to use their rear properly until the muscles are more built up.

Slow trotting is always helpful though, Sandie and I did a LOT of that when I first got her and she was really out of shape...it's been a year and we're only now really focusing on getting her back on her rear now that she has the muscle toned back end to do it more easily.
---
"The times when you have seen only one set of footprints in the sand, is when I carried you..."
guess im in a catch 22 then he is on the forehand when we are slow and he doesnt track up
he actually likes going at a slow pace - it feels nice when he is slow and bundled up compared to a fast trot
my friend says he is weak in the rear so when we speed up the trot and push him forward he drops his head and lifts his back and uses his rear more - i dont know how else i should do this


I guess work at exercises at a slow trot - help him build up the muscles in his butt first before asking him to track up? I'd like him to track up at a slower trot but maybe that just comes in time
I've never seen your horse so I can't really say how he moves, all I know is what I've been taught from trainers and seen in my own experience. So I may be wrong here
But normally when a horse is already out of shape and on the forehand, and you push the pace faster and faster they kind of "fall forward" onto the forehand more. I was always taught not to go TOO slow, but to maintain a steady pace and not get quick at the trot. If he needs to build up his back end he's probably going to carry himself on the forehand for awhile just because he lacks the balance to really be on his hind without having the muscle built up.
So I guess the best advice I can give without actually seeing him myself and how he moves, is to try to get a nice forward pace but one that isn't too rushed. If you feel like you're on a "pacer", you're probably moving too quickly!
Do you have any videos you could post of him working on the flat?
---
"The times when you have seen only one set of footprints in the sand, is when I carried you..."
Nothing recently - I think I took my videos all down from youtube because my riding was HORRIBLE at the time lol...

I'll try and get a video if I can get a working video camera. I'm not sure if I suscribed to your videos or not on youtube. I'll have to check when I get home- Thanks for your advice!!
Funny picture I thought I'd share - he likes to jump the creek!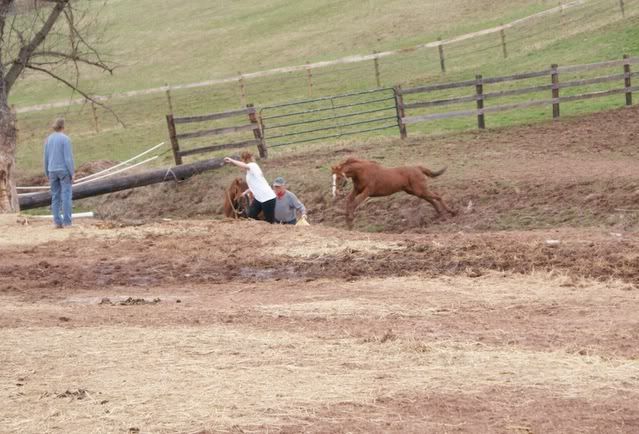 Shortly after this I caught him and was walking him back to the gate and he jumped a puddle in hand with me lol..
Quote:
I'm not sure if I suscribed to your videos or not on youtube. I'll have to check when I get home- Thanks for your advice!!
Well don't use advice from some of the earlier ones haha!! I was just learning and Sandie used to be REEEALLY on the forehand and rush at everything (and my form is most of the jump videos is bad because I just started last summer haha!)
It's still quite a challenge to get Sandie to carry herself more on the rear, because she is built so downhill, but in the moments I get it, it's awesome!!
How are things coming with your horse?
---
"The times when you have seen only one set of footprints in the sand, is when I carried you..."
Lol its okay I understand you guys have really come far!!
I think I have the same problem with the down hill stuff I cant get hero to use his hind at all...

We just moved to a new place - long story but I wasnt riding at all because I was so discourage by the BO..
I'll hopefully get started soon here with riding!!