Fox Hill Eventing - IMAGE HEAVY
---
So, I arrived at my new working student position last Friday afternoon and I've finally managed to get some pictures! I swore to myself I wouldn't update you all without pictures, after all those are the best part!
Things are going VERY well! My body is adjusting to all the work and this morning was the first morning I didn't wake up aching and sore! We currently have 10 horses on the property (going to be 9 soon, one is leaving today) and I got pictures of all of them, including some other pictures of the facilities themselves! My days have been long, but fun, and I've already started learning so so much! It's nice to be able to take lessons on some of their been-there-done-that horses, because I can really get the right feel and I can work on myself a whole lot more!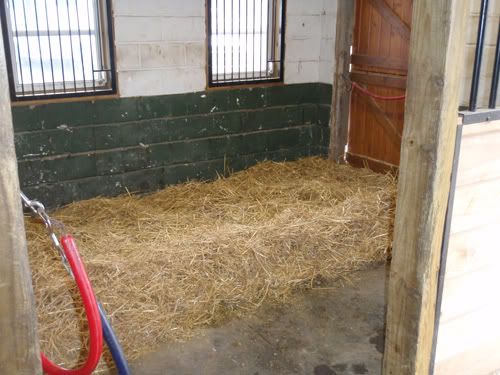 Clean stall! By the way, mucking out straw-bedded stalls is a lot harder than it looks. There's definitely a certain technique!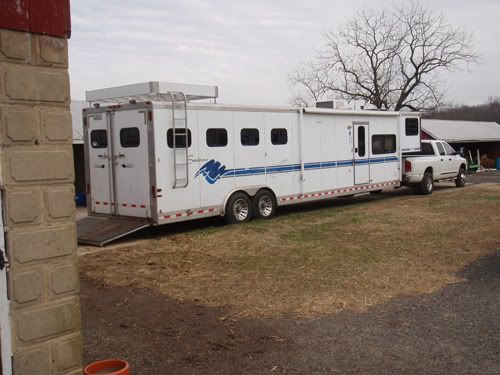 The beast trailer! 4 horse + living quarters, tackroom in front and smaller storage area in the back.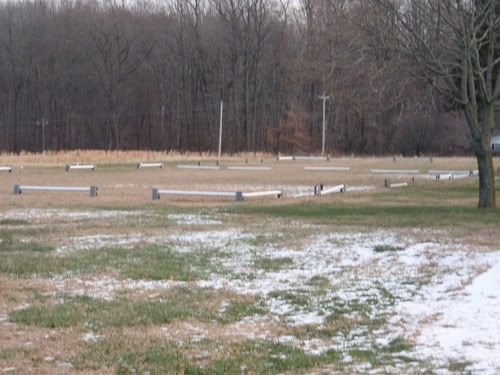 Dressage arena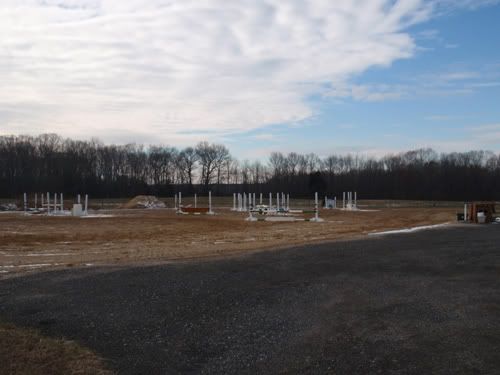 Jumping arena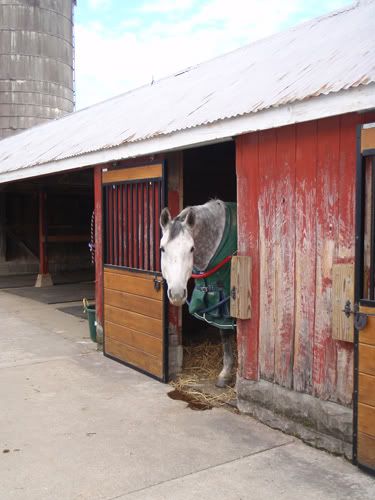 Hannah! 7 y/o, I think Thoroughbred crossed with something. I don't actually know. This is her cute face, usually she wears her dinosaur face...
This is why I call her Hannasaurus Rex. She really does not play well with others. On the ground she's a raging carnivore much of the time, under saddle she's wonderful though!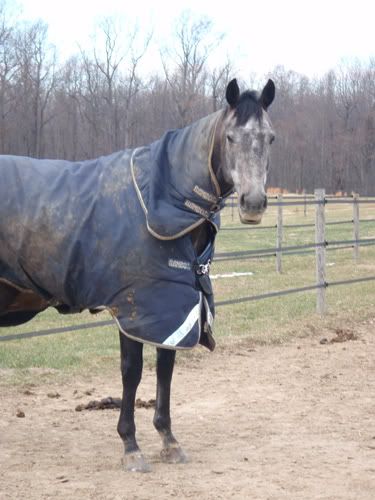 Coke, aka Waitangi Double Click. 6 year old Holsteiner x NZ Thoroughbred. He won the New Zealand Young Event Horse Championship as a 5 y/o and was imported this fall for a client. He is being trained with us and will eventually be sold as an upper level prospect.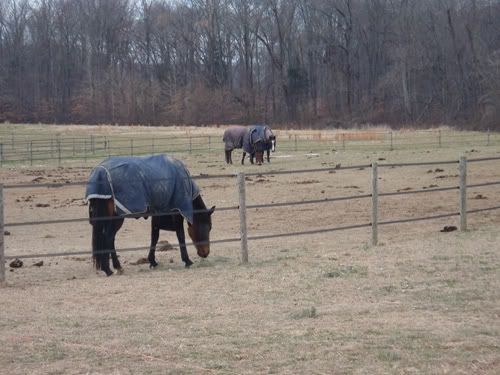 The retired ones.
In front is Mogie's recently retired CCI**** mare, Lexie (Select) who is currently due to foal in May 2011, next closest is a lighter bay named Kanga, a retired CCI* mare, and the dark bay with a stripe is Ace (Spaceman) a retired CCI*** gelding (my favorite, he's such a super fun ride!).
Nissi (Omniscient), 8 y/o NZ Thoroughbred mare. She was imported with Coke this fall. Another very, very fun horse to ride. She can really jump and her gaits are all so smooth! Also for sale and in training until she's sold!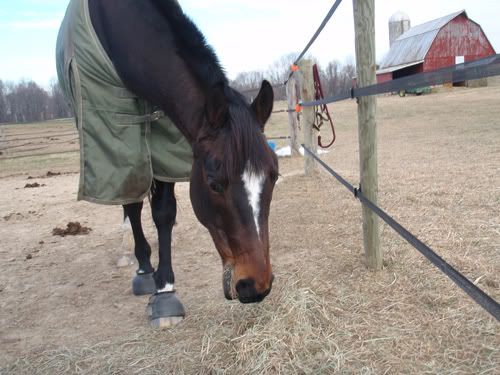 Murphy! He's currently being boarded with us until we leave for Aiken. Such a little tank, but he's all Thoroughbred! Super sweet boy.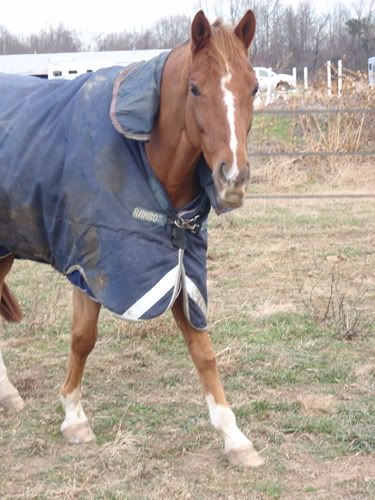 Falko, Kayla's (Mogie's step-daughter and barn manager) CCI** Czech Warmblood gelding. He's a fun horse to be around. Definitely has a big personality!
Zoey, a horse Kayla has been training for a while now. She's a 3 y/o OTTB owned by CANTER. She's probably the BRAVEST 3 y/o I've ever met. She's never looked at a jump and just cruises over them like they're not there. She hasn't done a ton of jumping (due to her age) but she's gone out for a couple cross country schoolings and done one or two little 2'3" courses. She also got to go to her first eventing show (unrecognized) and she went clear in both XC and SJ! She's going back to CANTER for the winter, since we can't take her to Aiken with us.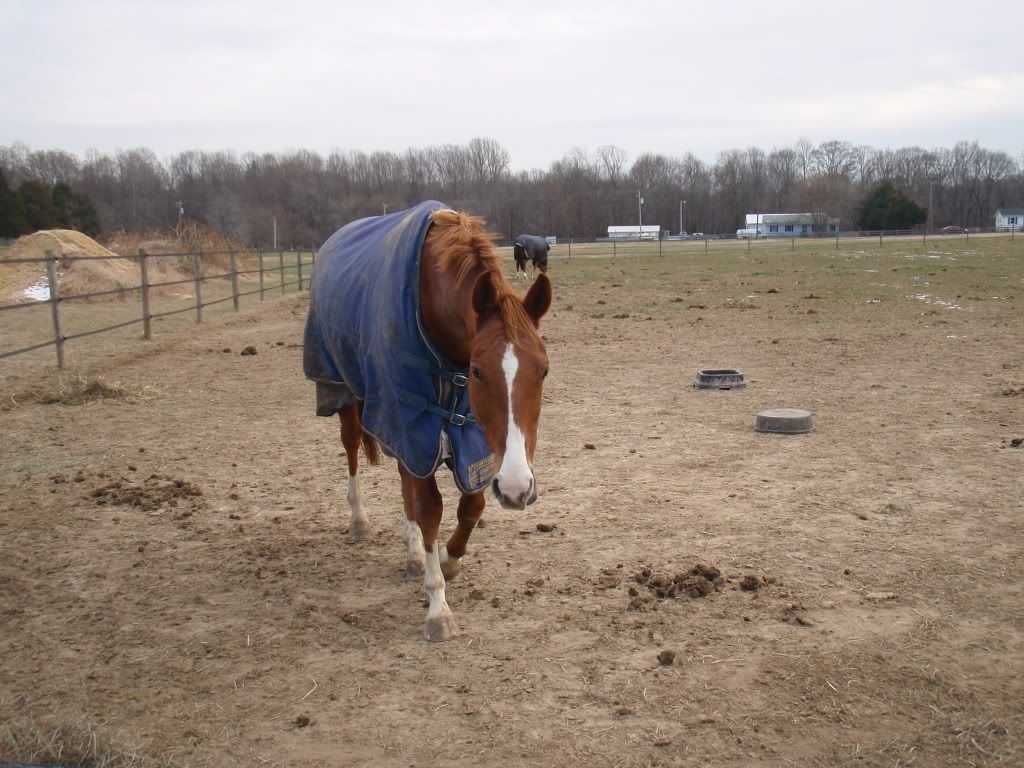 And lastly this is Corbin! 7 y/o Thoroughbred who is also in training to be sold. He's another of my favorites. Just very sweet, very talented horse.
---
"Always be yourself. Unless you can be a unicorn. Then, always be a unicorn."

They're all so gorgeous! Ugh, I hate mucking out in straw--shavings are so much easier! What a great opportunity to get to ride all of those eventing horses
More pictures definitely in demand
Beautiful horses and gorg property! I wish I was you! lol
---
Horses are scared of two things... Things that move and things that don't.
Equiniphile - Lol I hate it too! But from January - end of March we bed in shavings while in South Carolina. I can't wait! I'll be getting TONS more pictures. As soon as I can find my camera chargers. They're buried in the boxes that I still haven't unpacked!

Ray - I feel incredibly lucky to be able to be here. All the horses are fabulous! It's just too bad that it's only for a year!
---
"Always be yourself. Unless you can be a unicorn. Then, always be a unicorn."

Do you get to ride them all? and you said you were going somewhere soon? and awesome trailer too! LOL
---
Horses are scared of two things... Things that move and things that don't.
I don't ride all of them, just a couple. Because some of them are in pretty heavy training and my riding is not quite up to par (yet!). I've taken lessons on Ace, Kanga, Hannah, and I'll probably be taking a few on Nissi soon. I've hacked Corbin, but he's got some major issues that need to be worked out (mainly that he really sucks back behind the bit and then tries to go super fast onto the forehand to escape your leg). Lexie, since she's preggo isn't being ridden, and since Murphy is just boarded his owner comes out to ride him. And Falko I don't ride because he's getting tuned up for show season with Kayla and they need to really be on point with everything, haha. Zoey hasn't been ridden much since I've been here, just because she's leaving next week to sit in a field for the winter (unless she gets sold).
---
"Always be yourself. Unless you can be a unicorn. Then, always be a unicorn."

What an amazing opportunity for you Strange! I am so proud of you, and I cannot wait to watch you flourish! I wish we lived closer!

Beautiful facility! I understand the pangs of straw...mech...for 2 years with the BM that I worked for as a Working Student had shavings. Easy peasy cleaning 40 stalls with that...but then when she left, and the BM that came in and took her place during the 3rd year.....used straw...........oich....what a disaster.

It was hard to work with, but it made the barn stink because it didn't absorb anything and the puddles of "yuck" on the bottom was aweful to clean up -with nothing to absorb it but "stall fresh" which didn't work all that fantabulously, and only lasted so long. And....Nelson coliced a few times due to that blasted stuff lol.........no matter how many times I told him to not eat it...he still ate it. ******.

I wish you all the best! And you better promise lots of pics and updates!
---
Lol we put down a light layer of shavings on the pee-spots, lol. Since almost all horses, when they adapt to being in a stall for a while, tend to pee in the same spot every day. That makes it way easier to clean and keeps the smell down some. It's also not as expensive as bedding with only shavings.

I promise lots and lots more pictures, don't worry! You'll be overloaded!
---
"Always be yourself. Unless you can be a unicorn. Then, always be a unicorn."

Yearling
Join Date: Jun 2010
Location: On my horse's back! Obviously!
Posts: 925
• Horses:
2
That looks like so much fun! I'm jealous as well! All the horses are gorgeous and you're going to learn so much! Be sure to share your newfound wisdom with us please! Oh, and your pictures, too!
I will!

And by the way, Hannah totally nailed me in the knee the other day. She was tied up to the trailer and I was trying to get her blankets off, and she freaking pinned me to the side of the trailer and kicked out. Usually she just kicked out to show displeasure, but I don't think she realized I was in her line of fire. Regardless, unacceptable. Kayla beat her ass and she stood perfectly still for me afterwards. Like, she would not move her feet at all. Then we had an amazing ride, lol. Go figure. At least I was super close to her, so all I got was a bruise, really.
---
"Always be yourself. Unless you can be a unicorn. Then, always be a unicorn."