Gina Miles Clinic
---
Hello All,

I am so excited about the Gina Miles clinic that I will be attending on May 4th! This will be my first clinic of any kind and I am besides myself at having the chance to ride with an Olympian. I will have pictures posted after the clinic.

But I have a few questions. The first one is has anyone ever ridden with Gina Miles? If so, how does she teach? Is she friendly? Easy to get along with and understanding? It's been many many years since I've jumped cross country and the horse I am on has never been cross country jumping so I'm a little nervous about how we will look together.

Also it was recommended that we have our medical info with us, not necessarily on an armband, but with us just in case. So what normally goes on a medical armband?

And lastly, the clinic is looking for more people! If you are in the northern California Bay Area, feel free to join up. Its $110 for the clinic and it covers the usage fee for the facility, which is Jack Rabbit Flats in Dixon, CA.

Thanks,
Horses4Healing
---
"Horses are the best medicine for the soul"
!~*~Horses4Healing~*~!
i would get the arm band and print out the USEF medical card for it. easy, simple and if then you will have it forever!
That is so exciting!! I had a friend who was a working student for Gina Miles, and she absolutely loved her time working there. From what I've gathered, Gina sounds to be great with all levels of riders, honest but very fair. I would really love to ride with her someday!

You can print out the insert for the armbands, if you google "usea medical armband insert", it's the first link that pops up. Then you can put it in the armband if you have one, or tuck it in a pocket.

I hope you have a blast! I can't wait to hear all about it:)
That's right near me! I'd be down there in a heartbeat if I had a horse to ride. I hope you have a great time!
---
You are never better than anyone. Every rider has skills they need to improve. The only one you must compare yourself with, is you.
Would love to do it, but Gambler (my horse) got stitches. :( is this emily?
Posted via Mobile Device
That should be a very good experience. I watched her do a few clinics a few years ago and she got a lot out of the riders in the time she had to work with them. Very positive approach too.
---
You just have to see your distance...you don't have to like it.
How exciting, have fun! Wish we were closer up north!
Thanks guys. The clinic is this weekend and I am so excited and a little nervous. But the horse I'm riding is putting in really good rides leading up to the clinic and I think we will do good.
---
"Horses are the best medicine for the soul"
!~*~Horses4Healing~*~!
Hey guys, here are some pictures taken at the clinic. For his first time ever going cross country, he did really well. He jumped everything I asked him to (even if he refused something, I did get him over it) He loved the water! He had no clue what to do at the ditch and we had to show him by lunging him over it. And with the sunken road, he leapt off the bank (like it was huge!) and casually walked up it. It took him a while to figure out that he could step off the bank just as easily as he could step up it. I did fall off and got one hell of a serious rope burn from the reins, but other than that was unharmed and we went on to complete the clinic. Very proud of him for being a trooper and jumping things he's never seen before and getting me to the other side. Thanks Rusty!
Gina Miles is cool. She is very nice to beginners and the people just starting out (I'm far from a beginner and I used to ride Prelim but my horse is just starting out) She kept in mind that he was a baby event horse and she didn't care if he refused the jumps as long as he eventually got over them.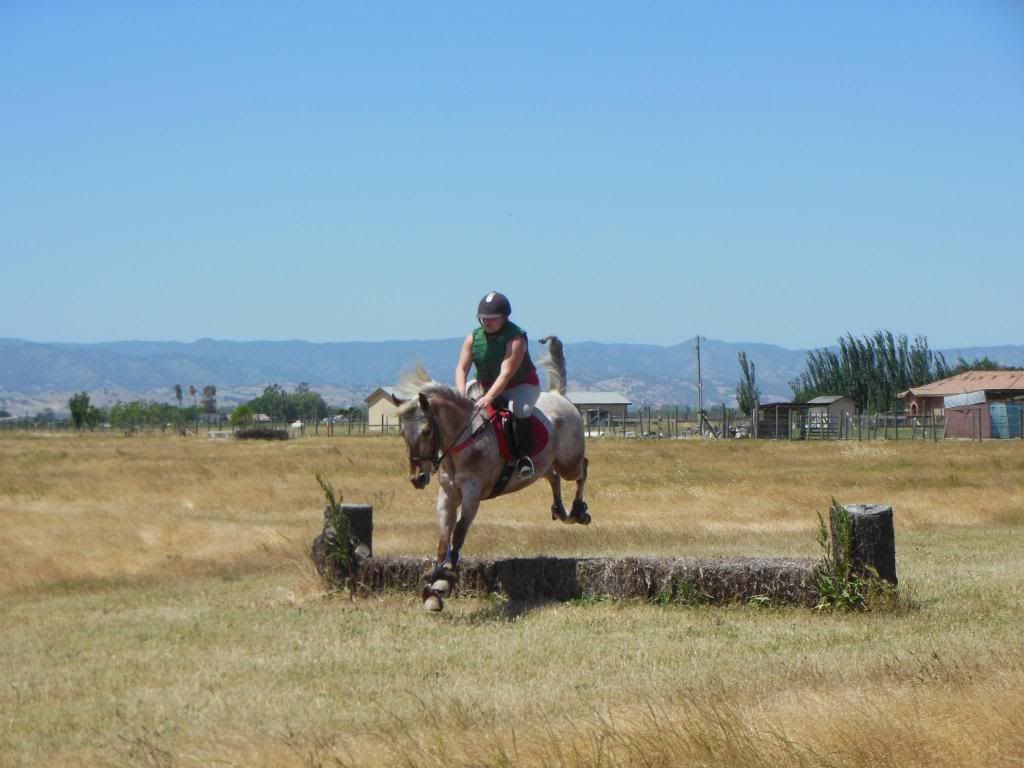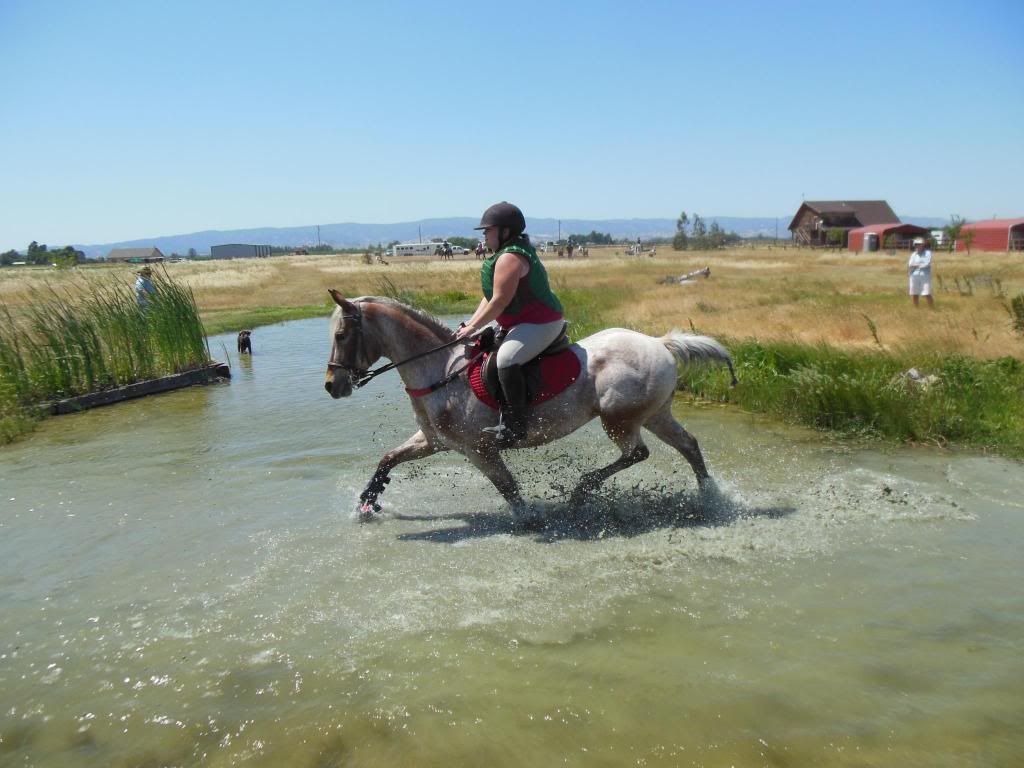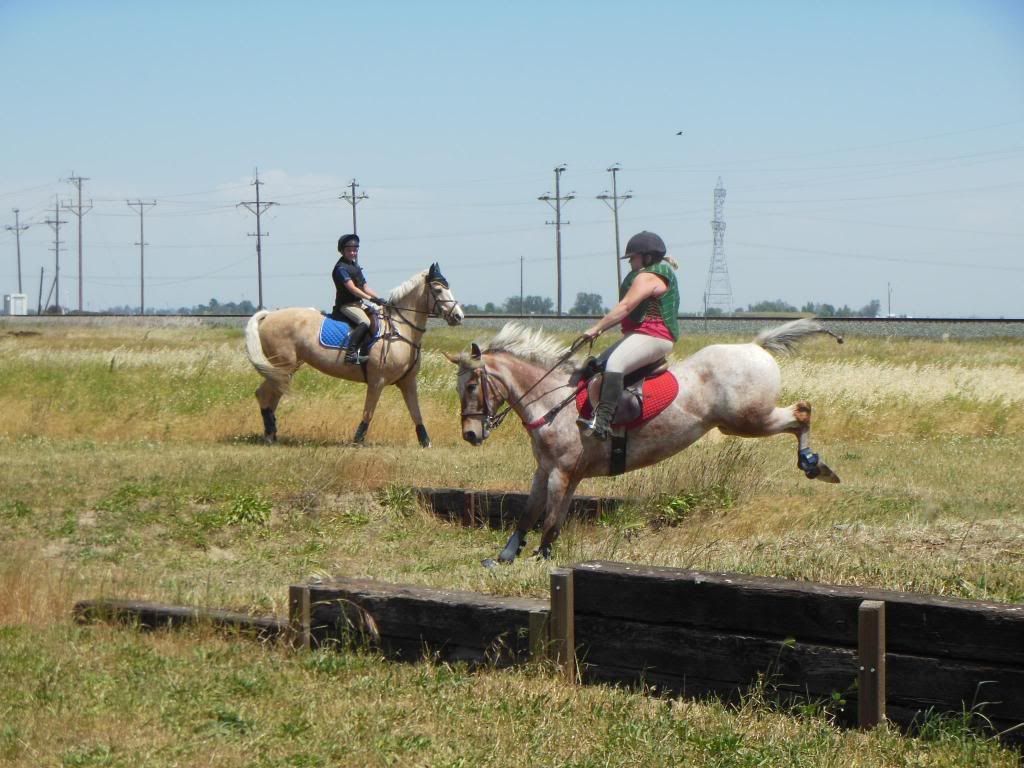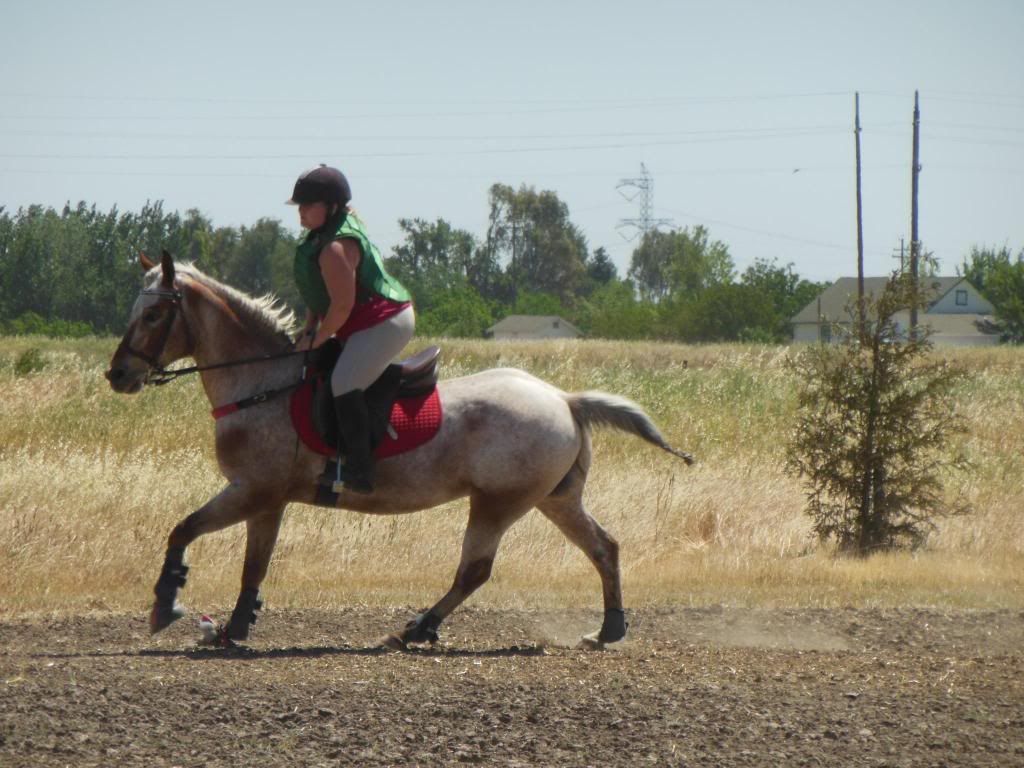 Caught looking right at the camera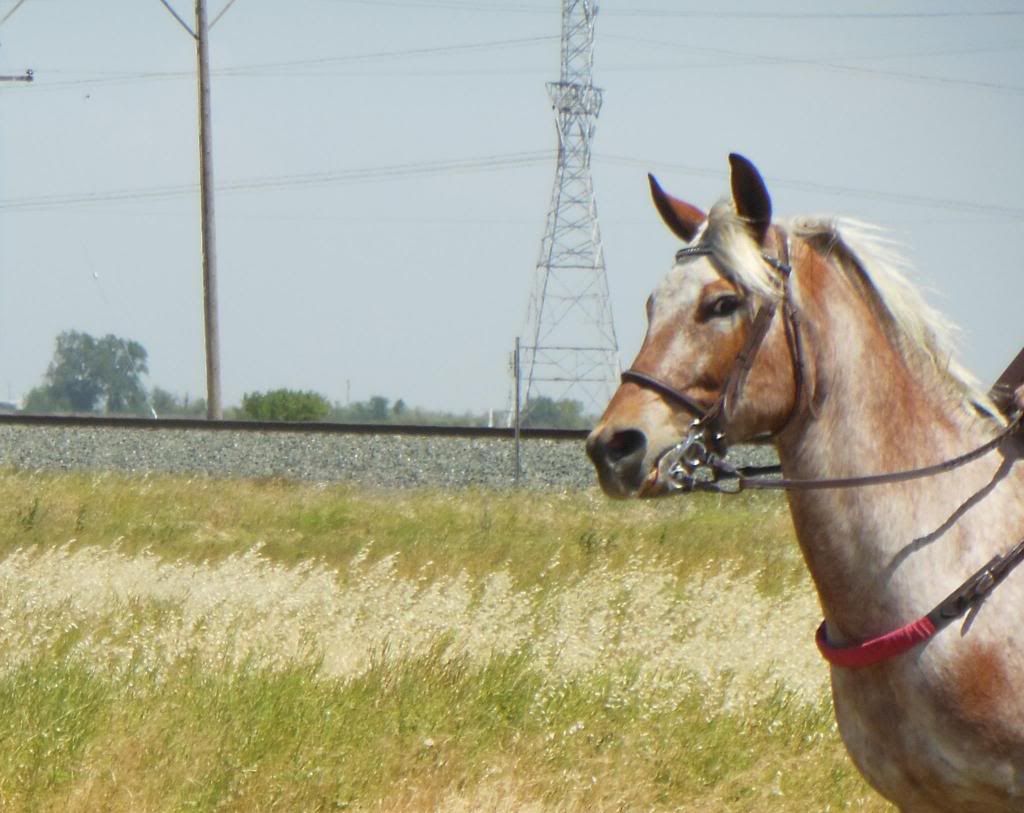 "whoa I'm not jumping that" he says
"Oh okay, I get it now that you explained it."
"I can do it!"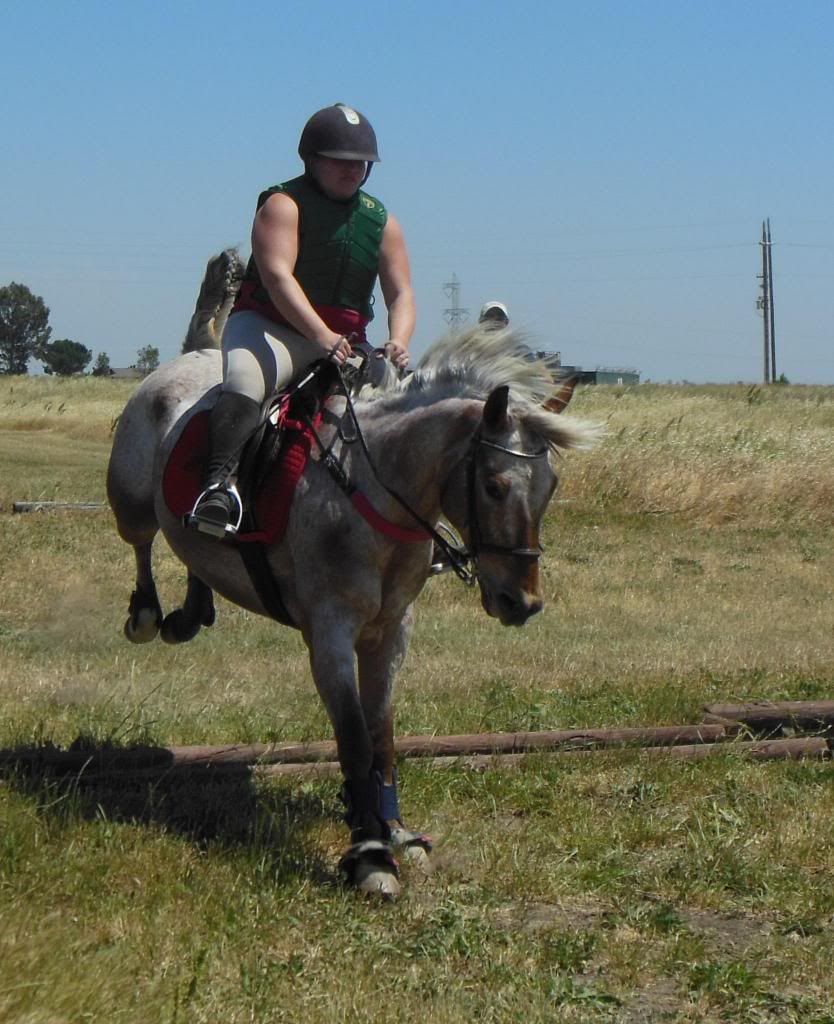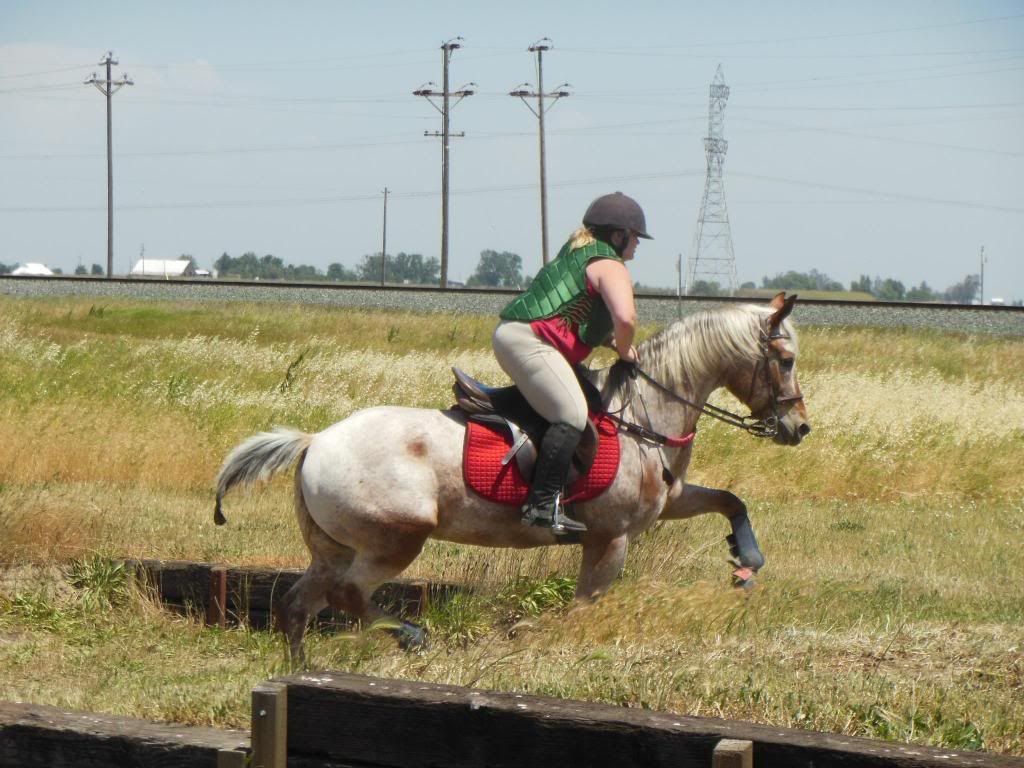 ---
"Horses are the best medicine for the soul"
!~*~Horses4Healing~*~!