Hello Aiken, SC!
---
The past week has been insane, to put it lightly.
Packing for like 3 days, then a 10 hour drive with a trailer, takes a toll, let me tell you! We successfully picked up the barn and moved it down to Aiken with fairly few mishaps (minus blown out tire on the 4 horse trailer, yikes!). All 6 horses arrived safely, with Willie arriving from a farm down the road the next day. Our first load of hay plus enough jump equipment for ten jumps also got here in one piece! Now time for some pictures!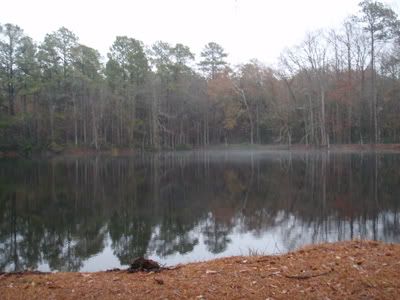 The pond on the property we're renting in Aiken. Apparently there are a few beavers (the owner caught a 40 lb one the other day), otters (haven't seen any of them yet, but he caught a 40 lb otter as well), and huge snapping turtles. Lovely. Note to self: do not let dogs swim in the pond. Ever.
First day of being turned out after the trip. Falko and Corbin ran around at full speed for about 30 minutes, successfully getting the neighbor's horses excited as well!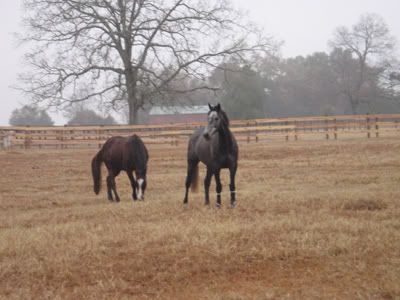 Coke and Ace. Coke has successfully been "aced" and instead of galloping around at full speed like the others he just trotted in circles around Ace as he grazed (Ace being decidedly unimpressed, as he has traveled enough to know that a pasture is a pasture no matter where you are).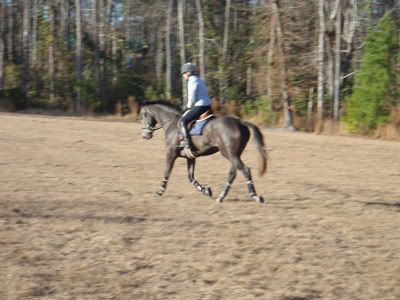 Mogie's first official ride since breaking her hand in November. Two surgeries later (with one more to go) and several rounds of heavy antibiotics to treat a rather rare infection in her hand and she's schooling Coke on the flat like nothing is wrong. Whoo! Go Mogie (and Coke)!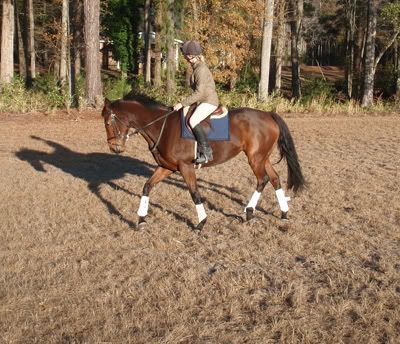 Me hacking Nissi at her second outing on the property. With Nissi "just hacking" is never an option. She was trying to spook at 3 different things at the same time so getting her to focus and work on something is preferred. However as long as she stays moving forward we're golden. Even if she happens to run around like an inebriated giraffe for 10 minutes before somewhat settling down. (Trust me, she does a good impression of drunk giraffe.)
Our beautiful halt. What a good girl. Now we get to work on WALKING back towards the barn. Learning is a never ending process, mostly for me, but walking home is one of those never ending things for her.
I'll be getting more pictures ASAP! Mostly because I carry my little hand held camera in my pocket all the time, especially when I ride, lol. Then I can hand it off to someone like Kayla (my lovely photographer in the above two pictures) to take pictures of me!
---
"Always be yourself. Unless you can be a unicorn. Then, always be a unicorn."

That is awesome!
You are making me so nervous and excited about moving our horses out
Posted via Mobile Device
It's a lot of work and stress, but so worth it!
We'll be down here for about 3 months, so when I say we picked up the barn and moved, I literally mean it! THe barn up in MD is pretty much gutted lol. We took EVERYTHING with us!
Note to everyone who replies: Other than today, I don't know when I'll next have internet access, lol.
---
"Always be yourself. Unless you can be a unicorn. Then, always be a unicorn."

Aiken is amazing! Only other place I could justify living other than Aiken would be Southern Pines. Have fun! Place looks nice!
Yearling
Join Date: Jun 2010
Location: On my horse's back! Obviously!
Posts: 925
• Horses:
2
It's so pretty there! I'm jealous... looks like you are having oodles of fun!!!! So, keep having fun!
Keep having tonnes of fun! It all sounds so exciting.
---
There is one principle that should never be abandoned, namely, that the rider must first learn to control himself before he can control his horse. This is the basic, most important principle to be preserved in equitation - Alois Podhajsky
So i feel like a total creeper but i remember seeing pictures from another thread you posted and its all coming together----do you train/work for/etc with Mogie Muller(i believe thats her last name!) Located in Centreville?!
---
Eat.Sleep.Ride.
Started
Join Date: Jan 2009
Location: USDF Region 1, USEA Area 2, USEF Zone 3 - Maryland
Posts: 1,903
• Horses:
3
I'm. Sooooo. Jealous. Right. Now.

;) Have a good time down there! Which events are you guys going to be getting out to while you're there?
---
-Melanie
Mom to 3 bays: Beau, Daisy & Cavalina
Great pics and it looks like you are in the right place at the right time! I look forward to seeing you progress more and more! Keep it up!
---
@MightyEventer - Lol yeah I do!

@My Beau - We'll be doing some of the Sporting Days, Full Gallops, and I believe two different Pine Tops to help prep Kayla for The Fork CCI** in April. Then lots of schooling shows in between. We've got our first schooling show on January 23rd, and the first recognized show on February 2nd, I believe.

@MIE - Thanks!
---
"Always be yourself. Unless you can be a unicorn. Then, always be a unicorn."