Lucinda Green Prepations
---
Hello everyone,
I have decided to start a thread for all the pictures and videos of myself and RingMaster (aka Rusty) getting ready for a Lucinda Green Clinic at the end of January/beginning of February. This will be his second time going cross country but he's pretty brave so I'm not too worried. Plus I will be hitching a ride with the women who is planing the clinic so I get to go with her to pick Lucinda up at the airport and I'm working on being able to school the day before the clinic, since again, I will be there early.
Below are the pictures and videos taken today 12/28/2013. Rusty is coming off a two week break so we are starting low again (2'3") and working our way back up. I am hoping to have him schooling 3' by the time the clinic rolls around and I know that I can achieve that goal (Rusty was going 3' before his break)
Anyway, here are the pictures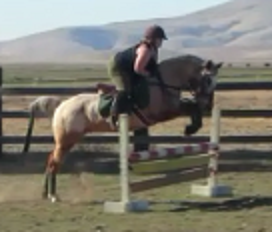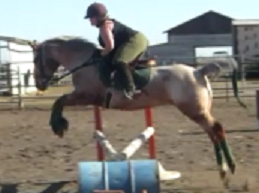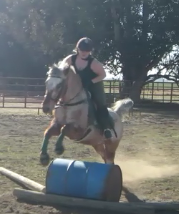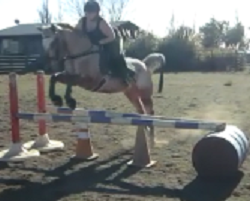 Clinic Preparations on RingMaster - YouTube
---
"Horses are the best medicine for the soul"
!~*~Horses4Healing~*~!
One thing to work on a bit. Try to stay in your jumping position (two point) over the jump a little longer. You are sitting back too early. On bigger fences, this will push the haunch down, possibly losing rails with the hind legs. Too often you are actually leaning way back on landing. This will be hard not getting into the horse's mouth or forcing haunch down.

The last three fences were much better.

You will love the clinic! Lucinda is fabulous.
I hope you have a great time! I had a clinic with her a while ago and it was great! She is nice but pushes you at the same time.
Posted via Mobile Device
Have fun! She is one of the best :) I love riding with her!
Posted via Mobile Device
Hello everyone.
The clinic is next week and Rusty and I are finally prepared for riding BN on our second cross country ride. Here are some pictures of what we have been working on.
These pictures were taken on the 23rd:
2'6" oxer, not very wide.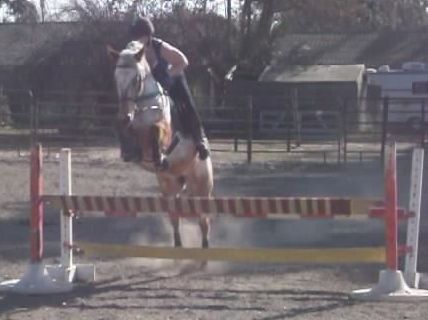 2'9" oxer with lattice, still not very wide.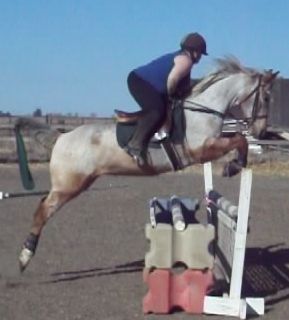 "ditch" we put the cones in it cuz he was trotting through the ditch.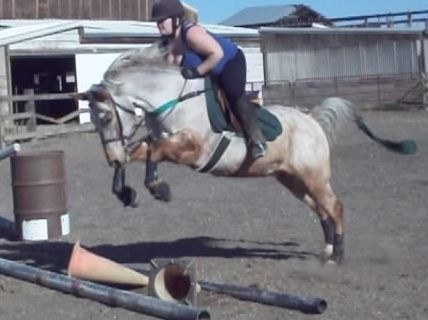 These pictures were taken on the 25th:
2'6" oxer, 3' wide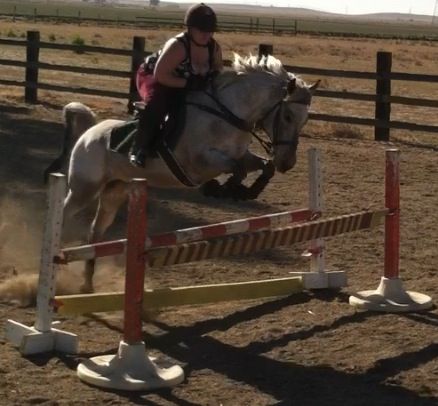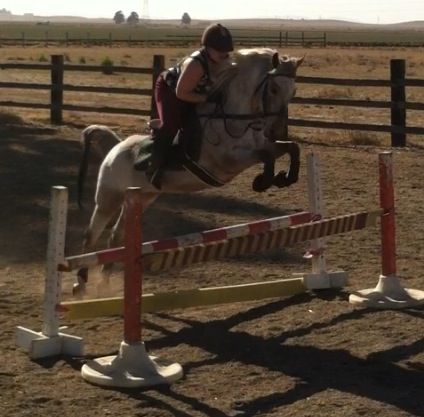 2'9" corner. Not sure how wide.
I know my position is horrible and that I need to shorten my stirrups. Right now I am focusing on getting Rusty ready to jump BN and not really working on myself. Please only positive comments.
---
"Horses are the best medicine for the soul"
!~*~Horses4Healing~*~!
I heard about that clinic, but it is too far away... such a bummer! It's such a great opportunity!

Good luck and have fun!!!
Your pony is such a cute jumper and looks quite brave!
Posted via Mobile Device
Ooh are you going to the clinic in Fresno? I REALLY thought about going, but ended up not signing up :(. I went to fresno in November for my first HT and I really liked what they did with the cross country course.
Your pony looks very forward and willing -- I bet you guys will have a BLAST on the cross country course. You are going to have to let us know how it goes!!!
We just had a clinic at my barn and one of the girls who rode in it (not in my lesson) came with a horse that hadn't jumped for 6 months. It literally refused every single cross rail, every single time. At that point, is it even worth it to go to a clinic? Who knows. But it is good that you are preparing in advance so you can get the most out of it.
Okay guys. The clinic was AMAZING. Day one was showjumping where we worked on techniques for cross country like jumps on a really really angled line. Everything in showjumping day Rusty and I had done before. However this was his second time ever going cross country. He couldn't have been better! The first time we went cross country we did intro, and this time we did BN and he jumped everything like a champ, we even did some Novice level fences.

There is a place like 10 mins from us that is nothing but a cross country course that lets people school for $27 a day. Once they open up for the season we will be going there often to get him ready for a trial that I want to do sometime this year.

I will post pictures of the clinic a little later.
---
"Horses are the best medicine for the soul"
!~*~Horses4Healing~*~!
Looking forward to seeing loads of pictures! :)