My Early Birthday Present
---
Today when we got home from work, there was a SmartPak box sitting on our stoop. When I saw it, I automatically assumed it was Nelson's monthly smartpak suppliments.
We unloaded the car with our groceries and after we got established, I grabbed the smartpak box and said to Hubby "I'll just put this in the car since I'm going to the barn tomorrow" and I grab the box out of Hubby's arms and start walking to the car.
I was looking down at the box as I was walking and noticed that it was my Husbands name on the shipping paper attached to the box, and not mine. I turned to him and asked what the heck? And he said to bring it to him so he could see what it was.
As I headed back to him, I noticed a smirk was on his face, and I instantly knew what it was. I stopped and ripped the package open to see if my thoughts were true...and voila: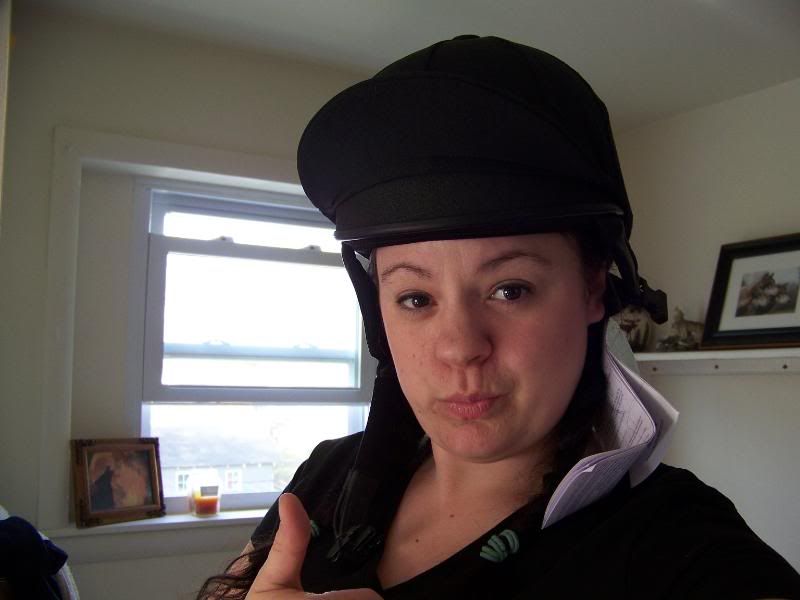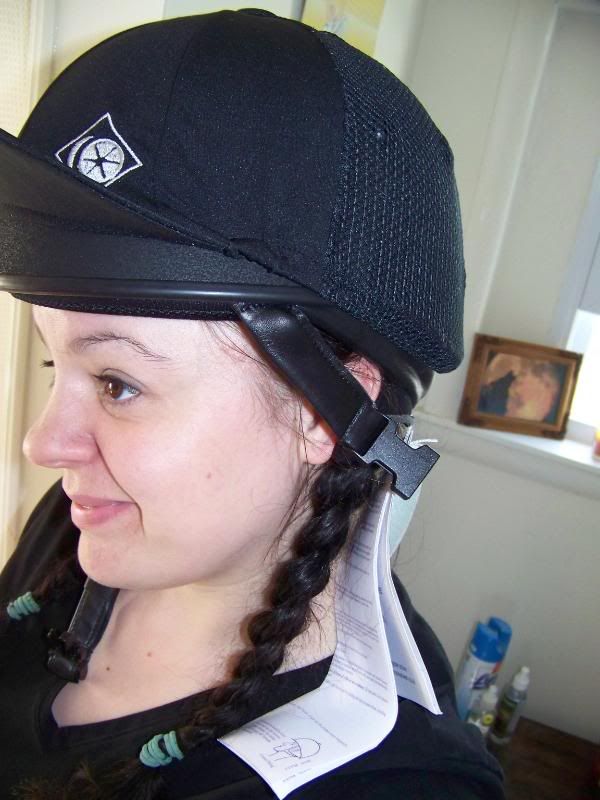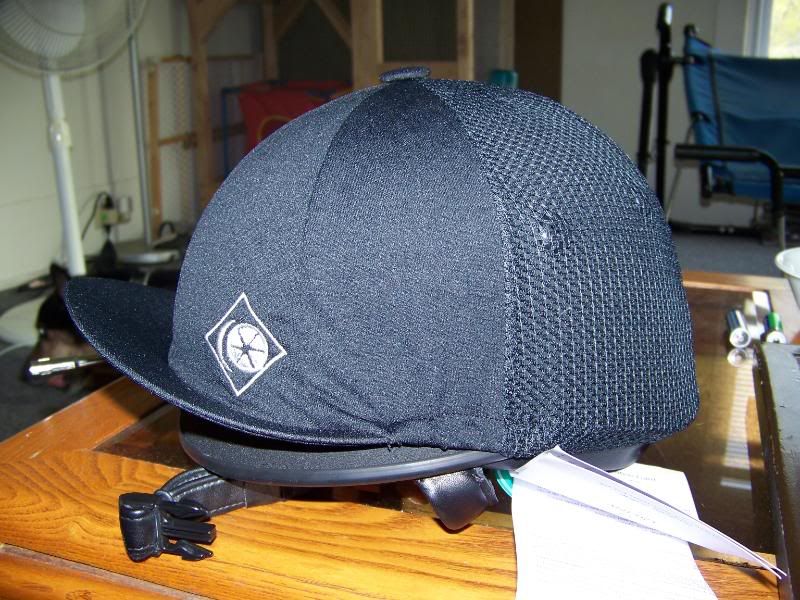 When I pulled it out of the box, I started screaming and was jumping up and down in my front lawn - lol.
Poor Hubby though, he was trying to keep it a secret until Saturday. He even left work through out the day trying to get home when the package was delivered with no luck.
LOVE IT! But unfortunately, it is a smidge too small. They sent a size 1 when it was supposed to be a size 2, so we have to send this one back to get the right one.
I'm still extactic though!
---
LOL! I can't believe I got one! It is the Charles Owen J3 Skull Cap.

LOVIN IT!
---
Just a note here.. How tight is it? Just a little? It WILL form to your head some. I got the same size as my sister because hers fit me and when i got it it was a little snug almost a little uncomfortable after a ride. But after a few rides it fits perfectly now, if I had gotten a bigger size like i almost did, it would be too big and i wouldn't be able to take it back since i would have worn it a few times until i figured out it was too big. Just something to think about!! But then again you can always add more padding if next size gets a little too big.
It's very tight when I put it on my head - like headache causing tight. My Coach has a size 2 Charles Owen J3 Skull Cap and hers is almost 3 years old and it fit me perfectly.

Thanks for the tip though!
---
Green Broke
Join Date: Mar 2009
Location: Kansas in the summer, Kentucky most of the time
Posts: 3,028
• Horses:
3
you're going to love the Skull Cap. CO's are THE.BEST.

Though... shouldn't be headache causing tight.... At least, that's what the helmet fitter told me.
---
Look like a SUPERSTAR, Ride like a FOUR STAR, Win like a ROCKSTAR
Eventers: Making BAD Dressage look GOOD!
LOL, I cannot even wear this one on my head, and I am already loving it. My Hubby is contacting SmartPak tomorrow to let them know of the error.
---
Your hubby is a doll and it looks simply smashing on you! Even though it's too small! :) Happy early Birthday!
Thanks Jake! LOL, it even looks small on me. Hee hee!
---