My mare is about 13.2hh and I love her. I'm 5'8". I don't think I have a pic of me riding her (I've only been able to twice..
Darn living in different states!) but she has no trouble carrying a full grown man for her training. My favorite horse ever to ride was a 12hh pony. She was stout and strong. I only ever rode her bareback with a halter but loved every second of it! She didn't mind...after the first session I learned how to get on her without causing/allowing her to buck me off. Gosh, I loved that pony. I would buy her in a second. All her extreme downhillness and everything. I, personally like the shorties...not as far to fall, and I can actually mount them without all sorts of aids. I'll have to find a picture of her...
I'm going to go ahead and post a picture on here too.
Of course I look really ridiculous in this picture, and was making some sort of stupid joke at the camera, but the point is that I am 5'9 and my arabian 'hony' (not a pony, but not yet a horse
) is 15hh.
I don't really know how its possible, but I think I look fine on her. We don't event, but we have started show jumping, and she's a rocket!
Aesthetics aside, as long as both you and the horse are comfortable, I don't see anything wrong with riding on a mount that some might consider "too small" (As a side note, people never seem to complain about a horse being "too big" for it's rider...). I'm 5'9"-ish and I actually prefer a small, stocky horse over a slender tall one. For me it's about the way my legs fit the horse's barrel.
---
O-Ba-Gee-Ba-Jabba-Joy!
My instructor shows a 13.3hh Connemara. I'd guess her height at 5'9," and while it definitely looks a little goofy, Ben is a great horse and a fun ride. She said there are some shows where the dressage judges will give her a really low score, basically because he's a pony, and that's what their expectations of a pony are. Other judges see him, think he's the cutest thing in the world, and will score her really high. He's 20 years old, pretty much performs the same every time out, just a difference in what judges see when they see a very tall adult rider on a quite small pony.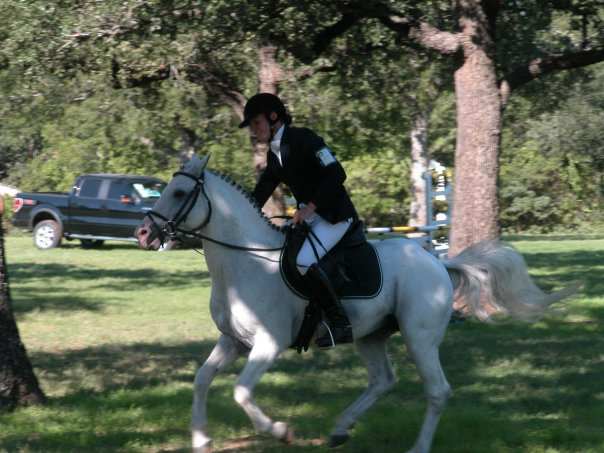 Personally, I think he's a blast to ride, and if I could afford a quality event pony about his size, I'd do it.
I'm 5'2 and I have a 13.1 stocky pony. No matter how tall, I can always ride him, just not in shows, cause that would look weird. Otherwise I don't care about looks. What can I say, I love little ponies!
Quote:
Just because a horse/pony is small, does not necessarily mean that they cannot throw down against larger horses.
Lenamore for example....
This horse has been to 7 Badmintons, 6 Burghley's, 2 Olympics (Beijing & London) and one WEG (Aachen)
He is 20 yrs old (rising 21) and is showing no signs of wanting to slow down. His owner & his rider were wanting to retire him after London, but it appears he will be still belting around 4* courses this season.
Attachment 132891
Lenamore at Cottsmore Leap, the largest XC fence in the world
Attachment 132892
Lenamore at London Olympics
Attachment 132893
Guess how tall he is??
17hh? 16.3hh? 16hh? Nope
He is 15.3hh and still kicking the butts of horses way bigger than him.
Wow, had to take a screenshot with my iPad cause I have a 15.3 horse who is six and very talented, and I hope to achieve fame with him some day. I'll show this to my mom, and thanks for inspiring with me. Also, I definitely agree that size doesn't matter. I have a 13.1 pony and he jumped a jump do huge I didn't think he was physically able to jump (we were on the trails and whoops, there comes a fallen tree. At a full gallop we couldn't really slow down and I expected us to just topple over the jump).
I would say that it really depends on the pony. An older, skinnier, pony shouldn't be ridden by a tall person often (especially an overweight person). But, a pony with shorter legs, bigger hooves, and a general heavy build may easily carry someone who looks large. I am 5'6 and not overweight, and I ride a 13.3 7/8 hh pony regularly. We do events and win! Just because you look silly doesn't mean you can't win or show. As long as the pony is happy, just do whatever. My trainer rode a 12.3 pony at age 16 when he was 6'0 tall and won 3'3 jumpers! This shows how a little pony can do lots. A sure sign is when you knock down the jumps yourself with your legs. GO PONIES!:)
---
~*~lkjhorse927~*~
I'm 6' with really long legs and I prefer a horse over 16hh. I feel & look funny on a smaller horse. Used to ride a 17hh horse & he was perfect. Now I have a 16hh horse and wouldn't want to ride a pony....even if he has a large barrel....my legs are just too long!!! LOL
I once read an old British book which said that the horse is the right size for you if the bottom of your heel is level with the edge of the horse's belly. I think that's a good standard to go by because having an effective leg position is important for balance.