Rolex 2012
---
Anyone get to go to Rolex or keep up with it online?
As I now work in Lexington (wooo!) I got to go this year. Cathy is immensely involved with Rolex as she's competed there in the past probably near 10 times on multiple horses. On Tuesday night we had a party at the farm for all the international riders and a number of the US riders as well. In Florida I got to know the O'Connors decently well (hey, they remember my name, that's a start) and since Cathy rides with them I wasn't surprised to see them there. Some others there included (the one and only) William Fox-Pitt, Clark and Jess Montgomery, Holly Hudspeth, and all of their respective grooms, Karen's mother, and Marilyn Little-Meredith.
Sadly I did not get pictures WITH any of them, but it wasn't really the time or place to do such. Besides, Ill see them all in the future I'm sure.
Wednesday Cathy was back and forth from the horse park all day helping Max and Kat with Karen and Marilyn's horses for the jog, and Thursday she was gone all day as well. Friday I had some things to do around the barn in the morning and some horses to ride, then I headed over to watch the afternoon rides. It was really wonderful to see some of the dressage (since it is probably my favorite phase) and I was really pulling for Clark Montgomery and Loughlan Glen as well as Karen and Mr. Medicott (Biscotti!) who both had really gorgeous dressage rides.
As I'm sure a number of you have heard/noticed the cross country course ate people alive. It really demolished the competitors and only 27 (!) pairs went on to show jumping. That's a little less than half of the number that started dressage. I was there for the morning rides then had to leave and go back to the barn to braid a horse for Cathy, who was doing an OTTB demo later that evening. I did, however, manage to get a couple of photos with my phone of riders on cross country! So I'll share those with you.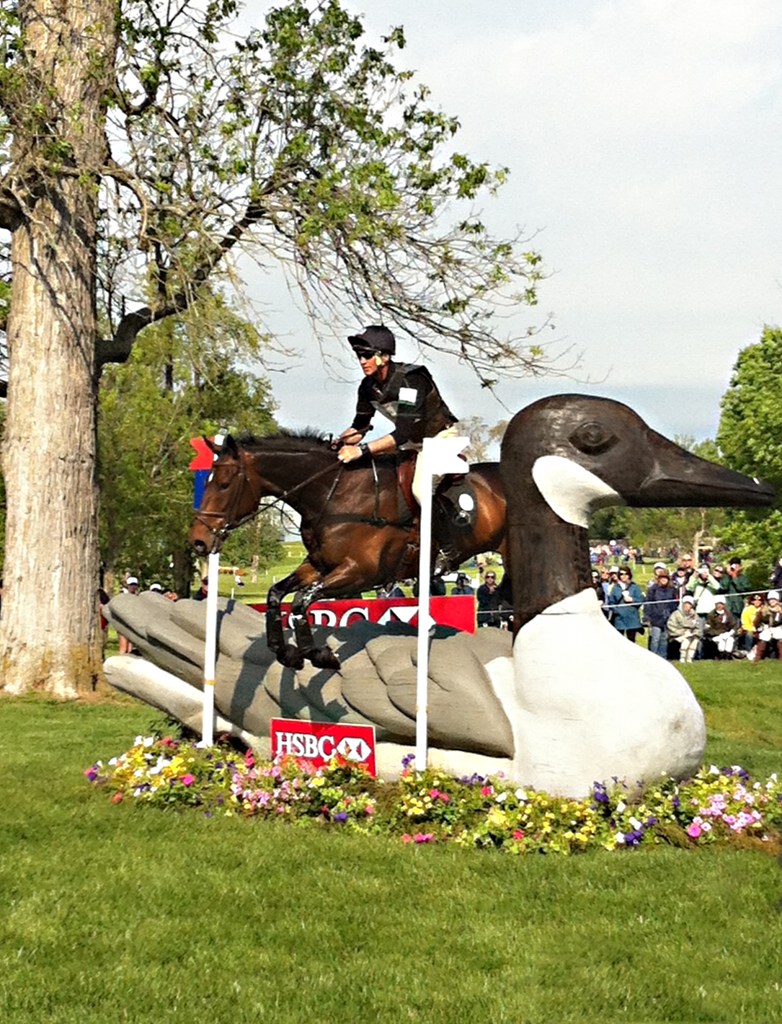 Andrew Nicholson and Calico Joe (Fence #5)
Karen O'Connor and Veronica (Fence #5)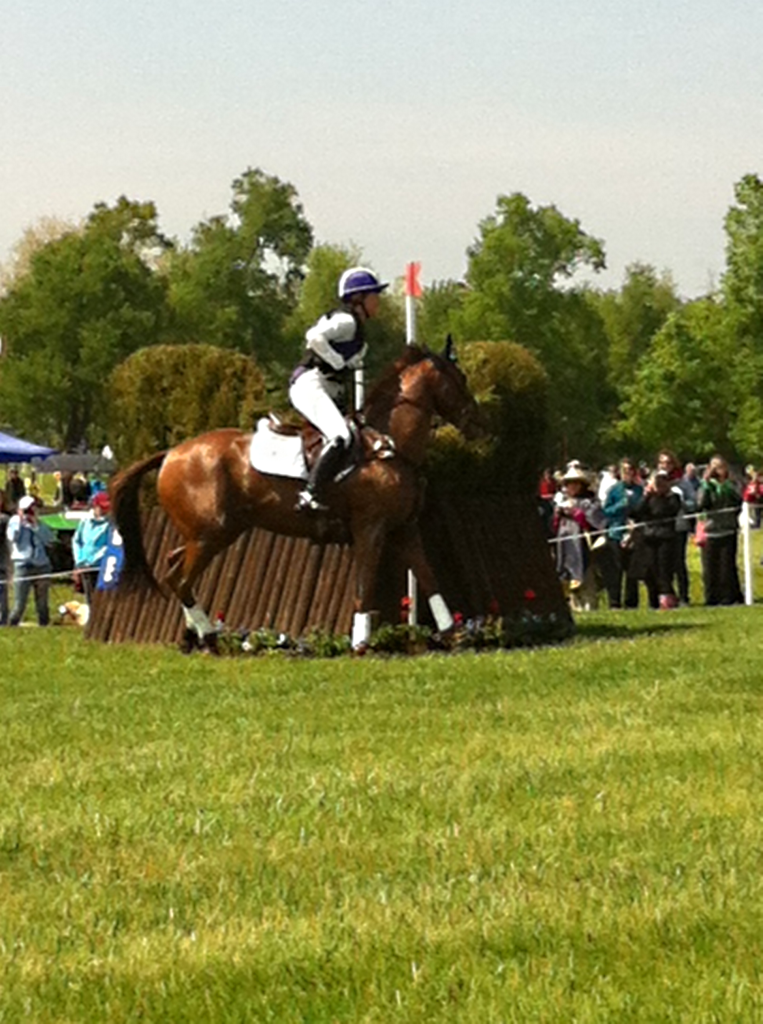 Holly Payne and Madeline (Sunken Road, final element)
Marilyn Little-Meredith and RF Rovano Rex (Fence #27)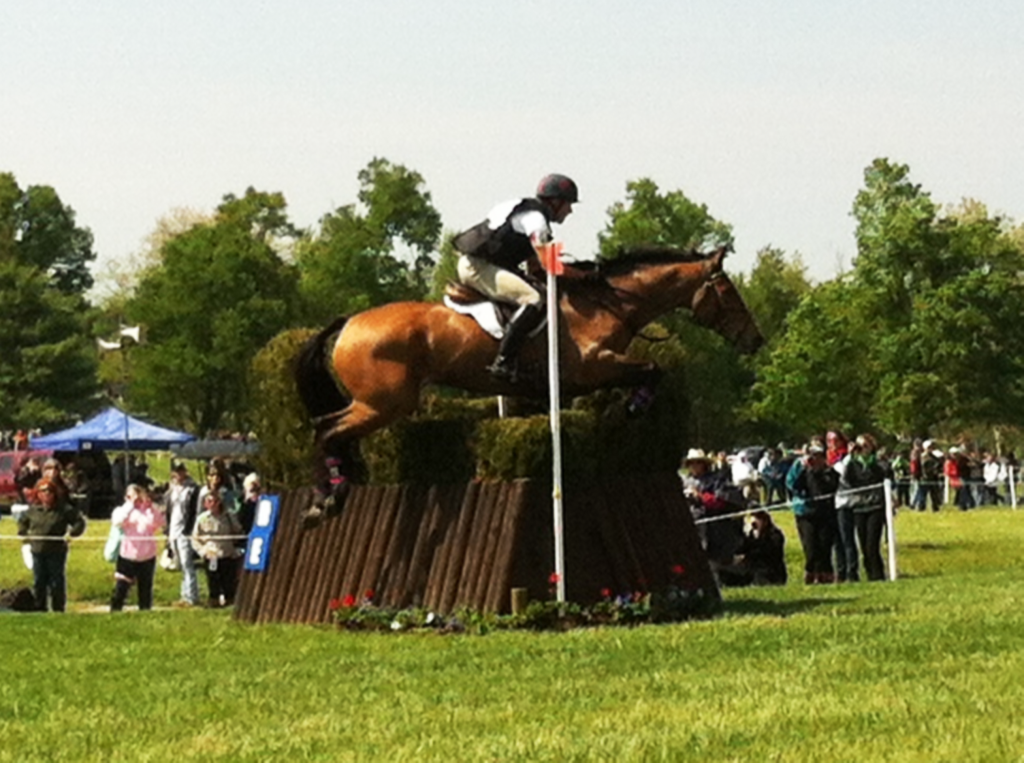 Peter Barry and Kilrodan Abbott (Sunken road, final element)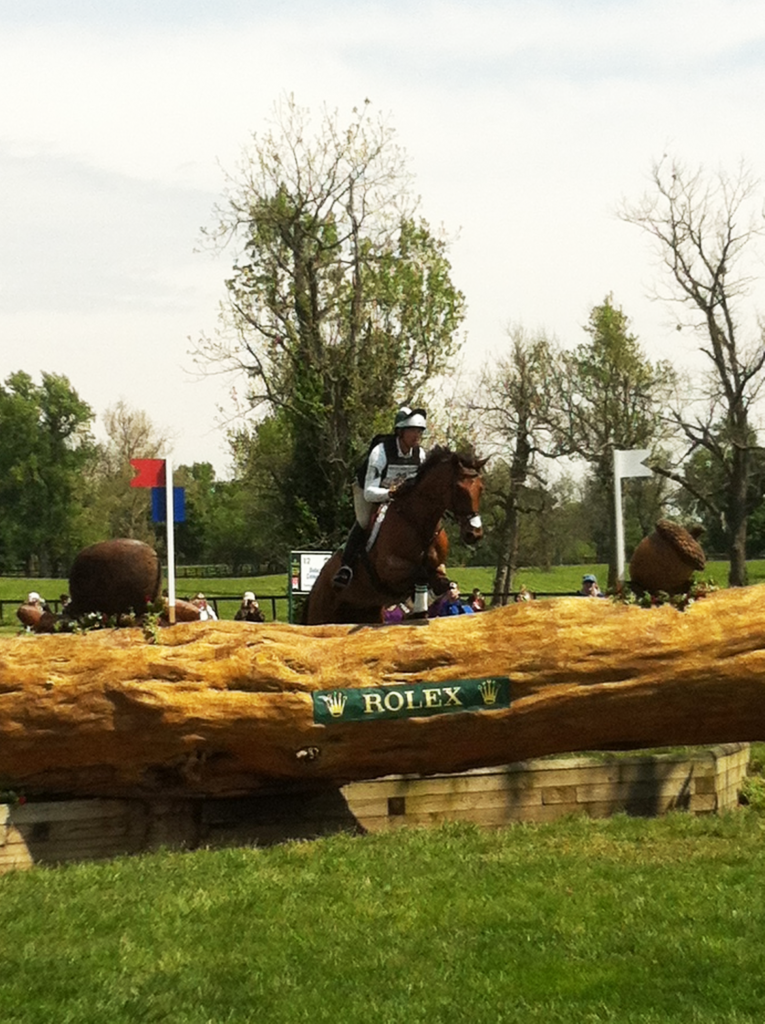 Will Coleman and Twizzel (Fallen log, no idea what number)
A friend of mine's family couldn't stay for the show jumping on sunday, so we went together and used the tickets her parents had gotten for stadium seating. I had some pictures on my phone from stadium, but they were horrendous quality so I didn't bother even uploading them. It was a pretty exciting day! The course was straight-forward, I thought, but definitely maxed out. Time wasn't really a huge factor but there were a couple of fences that were down more often; the first fence was down a few times, the first element of the triple combination saw some rails down, the last jump saw some rails down, and the in-and-out saw some rails on both the first and last jump, but were no HUGE issues with any fence in stadium. Marilyn L-M and Andrew Hoy were the only ones who took the inside turn to the triple-bar which made me smile. It's the turn I would've planned. It cut out some time and, IMHO, the shorter turn set your horse up (balance-wise) better for the triple-bar if you rode forward out of the tighter turn and got to the base of the jump. Marilyn also took another inside turn to the fence before the triple combination which I thought was ballsy of her, but it really helped her out because she took her time around the rest of the course and ended up only 1 second under optimum time even with both inside turns.
---
"Always be yourself. Unless you can be a unicorn. Then, always be a unicorn."

Awesome pics. We just got back a couple of hours ago.

Love the place. Daughter and I were so close to the line down to fence 17 that we could have touched the riders if we wanted to. They came right by the rope.