What's your Cross-Country saddle?
---
Just wondering what everyone rides in for XC! I ride in a black Stubben CTD AP saddle, kudos to QHDragon. =] Knee and thigh blocks, forward-set flaps, and a nice deep seat. What's your saddle? If you could afford anything, what would you buy?
i use my collegiate for all 3 phases, its an event saddle

when i start showing my mare im going to use my m toulouse for all 3 phases as well, but its a close contact

if my horse wasnt 4 & i had money i would get a dressage saddle, ive only ridden in them like 10 or so times in my life & would LOVE to have one =]
---
Gypsy & Scout <3
Everybody is a genius. But if you judge a fish by its ability to climb a tree it will live its whole life believing that it is stupid. ~Albert Einstein
Ah! So you bought her horse and saddle.
I am riding in a Collegiate Convertible Diploma. I love it! I am going to have Lynnda at Classic Saddlery put thigh blocks in it for me.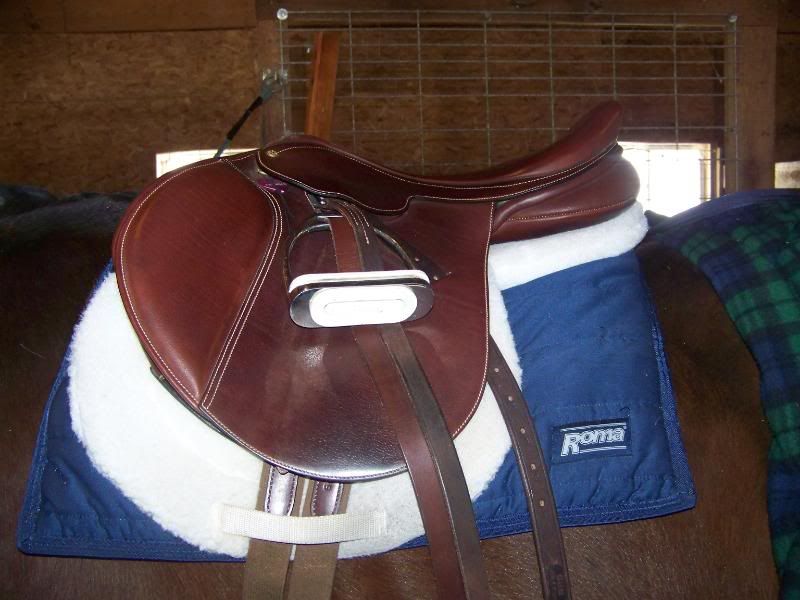 ---
I couldn't take her horse, but we did swap saddles. =] She found Rocket a great home, though, which I am really glad about! She took my collegiate, and I got a saddle I couldn't possibly be happier with. I'm looking/saving up for a dressage saddle at the moment, but... =[ lacking funds right now.
Ooh ok! I misunderstood than. I was trying to track down your now saddle, but she said she sold it to the people who bought Rocket. So when you said you had that saddle, I assumed you got Rocket as well.

The tree on your saddle would of accomodated Nelson's back wonderfully, but that was before I found the Collegiate Diploma Convertible.
---
Yeah, Zip doesn't need the tree, but it fits him well anyways. And it's a Stubben, which makes Margaret happy. =] I doubt I'll hang onto it if we move up to Training then I'll need something better- the length of the flap isn't long enough. It's great, but only for now.
Glad it is working out for you! The Phillipe Fontaine is becoming quite the rage now - that is Stubben made.

The long flap definately helps! My Collegiate when I order it, is going to have the long flat. The Collegiate in the pictures belongs to a fellow boarder who has offered her saddle for me to use, which is a regular flap or a forward flap - not sure, but it isn't long enough for my extremely long legs.
---
I have a close contact Courbette for Stadium & XC. I have a Stubben dressage saddle, for, well, Dressage of course. ;)
LearnToFly- I was thinking you pop some training-level XC fences in that stubben. xD And definitely go short-stirruped in Dressage! Definitely the way to win. ;)
Collegiate Convertible Senior Event
---
"The times when you have seen only one set of footprints in the sand, is when I carried you..."