Working Student - I have some interviews!
---
So, if anyone has been following the chatter in MIE's post about her last event, they'll have read that I've been trying to find a working student position over on the east coast.

Basically I'm going to be taking a year off school to ride and if all goes well I'll probably only enroll again part time so I can continue working with whatever trainer happens to hire me. I've gotten an interview offer from Megan Moore (CEO eventing, yes eventerdrew!) in Georgetown/Lexington, KY and I sent her a few dates that would work best for me. If I was offered a position with her I would start next summer. I've also been asked to come interview with Mogie Bearden-Muller who trained Cayla Kitiyama (any people keep up with Rolex? She competed in 2008/2009) and recently retired her advanced level mare who is now expecting a foal in the spring. Her operation is much smaller, but equally as high quality. Not to mention she's within 2 hours of like 10 different events. I'll be going out to interview with her next weekend! Very unexpected since she had offered the position to a girl who interviewed last weekend, but that girl declined because she "wanted to go in a different direction".

I've also been talking a bit with Jane Sleeper, in PA, who is taking her mare UN to Rolex in the spring to compete. It's really going to come down to what is most financially feasible for me and also what will really get me on track to where I want to go with my riding. Either way, I can't wait! I'll be getting a lot of good experiences and working hard, but it'll be fun!
---
"Always be yourself. Unless you can be a unicorn. Then, always be a unicorn."

Have fun!!! Good luck!!! Tell us all how it goes!!!
Well I have some updates for you all!

I arrived in Baltimore today at about 1:32 pm EST and had an hour drive to the farm, where I promptly changed into riding clothes and got to work! Since there's been a lot of rain out here in the past day or so the arenas were a bit mushy, so I did trot sets on a sassy retired CCI*** Thoroughbred gelding named Ace. He definitely has some get up and go! And his trot is just so nice! He really perked up near the end when we did a bit of cantering. He just opened up his stride and easily zoomed in front of Kayla's CCI** horse and a young horse Mogie was schooling! It was pretty funny. You could tell he was enjoying himself. Since today's ride went well I'll be taking him out to school cross country tomorrow. I bet this old man could show me a thing or two! Or three. Or four, lol. He's quite a fun ride and I'm super excited. I wonder if I can get pictures of me riding him? I'll certainly try! I'll also be getting pictures of the farm and the different horses here too, tomorrow. Today I didn't even think about grabbing my camera (my bad). xD

It's definitely busy, but not at all hectic. Things are kept very orderly and very clean but the atmosphere is also laid back. There's definitely a schedule but nothing feels rushed. The horses that are very fit and on a more active riding and competition schedule get grained 3 times, once in the morning, once in the afternoon, then later at night. All of the horses get lots of turnout, the ones that get late night grain are brought in at night, some horses stay in during the day, and there are a few that are out all the time.

I cannot describe just how excited I am for tomorrow! I haven't ridden cross country in over a year and I'm really looking forward to getting out there tomorrow!
---
"Always be yourself. Unless you can be a unicorn. Then, always be a unicorn."

It sounds like you are accepted...? :) If you'll decide to explore other options in MD area I know 2 or 3 barns looking for working students - I'll be happy to provide you info.
How exciting! Can't wait to hear more!
Well I got the job!
I was pretty confident that I would, but at the same time I didn't want to have any expectations you know? Just wanted to come out, do my best, and have fun (which I did all three anyway!). It was an incredibly busy weekend. Yesterday the XC schooling was totally awesome. It was so wonderful to be on a horse that I knew would take care of me so I could work on my own position and techniques! We did mostly novice/beginner novice height but Mogie set up some questions that were probably training level technical, though the height was still small (vertical, one stride, down bank into water, bending 4 strides to log on a small hill was one of the combinations). And then at the very end we hopped over a training level log, which was very fun! Ace is a super efficient jumper so not only does he only jump how high he needs to but he also nails every distance and takes his jumps right out of stride so everything is really smooth. You definitely couldn't tell he's a 22 year old! If horses could smile he would've had a huge grin the entire time!
I'm very dumb, by the way, and forgot to charge my camera before coming out here so I only got two pictures, haha. But more will be coming at the end of this semester when I go up there!
Today was super busy because Mogie went to give a day-long clinic at the place we schooled yesterday, so Kayla and I each had 3 horses to work/ride, plus all the other barn chores, plus cleaning the trailer and all the shipping boots. I was already a little sore from yesterday but tomorrow I know that, especially after sitting on two planes, I'll be hobbling around like a cripple! I got to work with some really awesome horses this weekend and I'll at least get pictures of a few of them up here!
This is Spotty! He's a Knabstrupper gelding, about 15.2 hh, and while I didn't get to jump him I did do trot sets with him today and wow he can move like a warmblood! His trot is TO DIE FOR and when he really gets that impulsion and takes up a connection he feels fabulous! I hope I get to jump him before he gets sold!
This is Coke.
I didn't ride him but I did handle him on the ground and he's totally wonderful. He's a 6 year old Holsteiner x NZ Thoroughbred that was imported about a month ago along with another STUNNING bay NZ mare (that I did get to ride). Coke is a total goober, but he's an incredibly horse and can also REALLY jump. I watched Mogie school him cross country and HOLY CRAP. He's still very impressed by jumps and over jumps like everything but when he finally puts it all together he'll be an incredible eventing machine! He won the New Zealand young event horse series.
The other mare that came with him is named Nissi. I can't find any good pictures of her, but she's also a fabulous horse! Her gaits are all just drop dead awesome. Like, I would rather sit her trot than post it because it's so smooth! Her dressage is coming along SO quickly and she'll probably start off competing training level this winter in Aiken.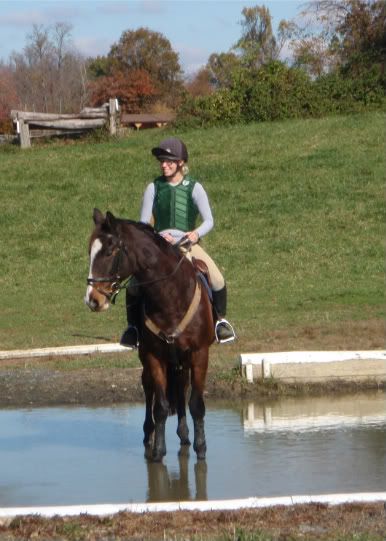 This is Ace, the horse I rode for XC. Doesn't look 22 at all, lol. We're just standing in the water while Mogie is on Nissi (not shown) and with one of her other students. :)
---
"Always be yourself. Unless you can be a unicorn. Then, always be a unicorn."

CONGRATS!!! That's sooo exciting! You'd better be taking lots 'o pics!
Oh I totally will be! I keep kicking myself for forgetting to bring my charger/charging my camera before I went this weekend!
---
"Always be yourself. Unless you can be a unicorn. Then, always be a unicorn."

CONGRATULATIONS!!! I am so excited for you Strange! Keep us posted!
---