Im going to loan a pony with famous very good bloodlines, anyone know them?
---
She has very good bloodlines on her welsh side including Nebo Daniel, Nebo Brennin, anyone know them and can tell me about them? Thank you x
I researched, this is what came up on a website I came across.
Nebo Daniel
passed away on the 10th May 2005, a true legend of the breed dominating the show ring and sire ratings for nearly three decades. Throughout his fantastic life he brought utmost pleasure to us at Nebo and judging by all the letters, emails and telephone calls we kindly received from his fans following his death, it made us realise the special regard in which Daniel was held by breeders and enthusianst worldwide.
As a young foal we knew he was rather special, he spend hours trotting round the field in great style and never worried for his mother's attention. Daniel started his showing career with success and as we predicted he never looked back. His bright chestnut colour (that later turned liver chestnut), flaxen mane and tail, four white sock, tremendous action and 'look at me' presence took everybody's eye from his first appearance in the showring until his last when he received his usual loud applause at the Ceredigion Centenary display at the age of 24.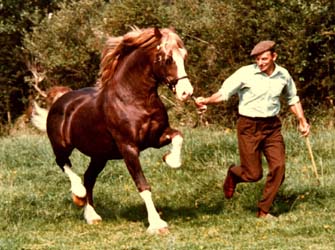 Daniel was shown around England and Wales winning at most of the County shows, but we will only mention a few of Daniel's favourite shows and greatest achievements. In 1988 he won the coveted George Prince of Wales trophy at the Royal Welsh, he was also male champion and reserve overall in 1986 and 1989. In 1987 he was supreme champion at the Three Counties, Malvern and represented the show for the Lloyds Bank In Hand Championship at the Horse of the Year Show.
He dominated the Mid Wales Stallion Class at Lampeter Stallion Show from when he won the Robleigh Cup for the best 3-year-old until 1990 where he was Welsh Cob Champion and Supreme of the Show on the day he retired from the showring. He loved every moment of the huge applause he received during his final lap of honour and what could have been more appropriate than on his homeground in the Cardiganshire's premier stallion show. It was to everybody's relief at home that we decided to retire him from the showring as he was such a nervous traveller and got so worked up before the class. Once he arrived at the showring he excelled in every way and never let us down.
Showring success was only half the story as he was also a fantastic stockgetter producing mares and stallions of the greatest caliber. His notable progeny include: Nebo Prince, Nebo Rachel, Tewgoed Mari (dam of Nebo Hywel, Nebo Joni Jones, Nebo Rosemary, Nebo Julie Ann), Tewgoed Janet (dam of Nebo Thomas and Nebo Owen), Tynybryn Miss Poppedyn, Northleach Daniel, Northleach Danielle, Menai Sparkling Lady, Ring Danielle, Rhydfendigaid Daniel, Leyeswick Daniel, Pantanamlwg Free Gift, Neuaddparc Welsh Maid, Nebo Calonog, Ilar Sion ap Daniel, Tawelfan Reflection, Fochnant Lilian, Rhystyd Express and Tyngwndwn Daniel.
Daniel was a Welsh Cob of a lifetime. We have so many memories of the wonderful years we shared with him and feel priviledge to have bred and owned such a fabulous horse.
Nebo Brennin
It was a very sad day at Nebo on the 3rd February 1998, Brenin died quietly in his stable after a healthy twenty seven years of life. He was buried near his dam, close to the stable yard.
Brenin no doubt was one of the most successful Welsh Cobs that has been bred, not only in the show ring, but also as a sire of substantial stock to the end. His last son at Nebo is Nebo Sion born in 1998.
His showing career has been nothing but success having won at most county shows, including the supreme champion at The Lampeter Stallion Show in 1984, his action, quality and temperament excelled him in the driving world, winning the Royal Welsh Show in 1986.
Brenin has been a prolific stock getter for us, and also for many other studs, our Welsh Pony and Cob Sirerating scheme proves this, he topped the Section D`s on eight occasions and the Section C`s nine times, he has also sired two sirerating winners Nebo Daniel and Nebo Bouncer.
May we as a family thank Brenin, not only for the succcess he brought upon Nebo and Tyngwndwn, but also for being a true and gentle friend.
DESCENDANTS OF NEBO DANIEL AND NEBO BRENNIN
MISCHIEF MEG PENYCRUG TERWYN 34196 GBR PANTLLEINAU TRYSOR 29483 DERWEN REPLICA 38020 BLAENCWM CHERRY RIPE PARC WELSH FLYER 127188 TOWNIES HEULWEN EBBW RAINBOW 30153 BRENNIN DAFYDD 95880 TYAS BONNY NEBO BRENIN
Wexland Owen
14.2hh Welsh Section D chestnut roan licensed stallion born 2004
By Brynaur Tywysog (Blaencanaid Ambassador x Cwmtawe Sara) out of Oben Mary Jane (Nebo Daniel x Cathedine Serene).
We have felt very lucky to have Owen at Kaybrook Stud. He has a lovely temperament and has thrown us some lovely foals. With Nebo Brenin as great-grandsire on both sides, he is a lovely old-fashioned stamp of cob.
Owen was lightly backed in 2007 and showed promise under saddle. We have had 2 lovely fillies by Owen in 2009, a handsome colt in 2010, and he has covered 4 mares for 2011, all of which are scanned in foal.
Here are some pictures of Nebo Daniel and Nebo Brennin
Brennin
Daniel
Hope this helps :)
---
If your horse says no, you either asked the wrong question, or asked the question wrong.* ~Pat Parelli