Aww! I am planning on getting an Australian Shepard soon.
---
Lettin' the cat outta the bag is a whole lot easier than puttin' it back. -- Unkown

yay thats so exciting ! =] they are great dogs have fun with him !
---
Gypsy & Scout <3
Everybody is a genius. But if you judge a fish by its ability to climb a tree it will live its whole life believing that it is stupid. ~Albert Einstein
I love ACD's. Sure, people might say they are heel nippers, but those ones most likely haven't been trained correctly. We used to have one, Sheba and she was the most loyal dog ever. She'd follow you everywhere, and she was a shy but happy and energetic dog.
Just remember they need a lot of exercise and stimulation or else they might start chewing shoes, chasing shadows, attacking legs. Puppy pre-school is definately the way to go!
I've known four blue heelers. They were all great with cattle and horses, but horrible with everything else. One was mean to other dogs, three ran away all the time, all four chewed on anything you left laying around, two bit your legs, one attacked cats... They were just bad dogs.

So, I guess if you have a lot of patience you will do fine with one. They are good with herding the cattle and running alongside the horses on a ride. And I'm sure if someone spent a lot of time training them, they'd be much more well-behaved.

But I would recommend an Australian Shepherd or a Border Collie. The barn I used to board at bred Aussies and they were AMAZING dogs. Really well behaved, too. The barn I board at now has a Border Collie, and she's great too.
---
Last edited by CloudsMystique; 10-23-2009 at

02:18 PM

.
My personal experience is heelers are great for working cattle, they are good watch/protection dogs and do good in agility..BUT they are also good at killing cats, chickens, heeling horses and attacking other dogs. So training what is o.k. and not o.k to heel is a must as well as socializing them with other dogs and other types of animals or fowl.
---
Courage is being scared to death but saddling up anyway~~John Wayne
Wyatt is soo cute! I love ACDs they're my favourite dog and thankfully my husband's favourite too. They do need a job to do, so if they aren't on the farm they need walks, attention and play time. We raised them for a while but once we found homes for our last litter we retired our pair to a farm where they're both enjoying very happy lives as cattle bosses.
Congrats!!! I love my ACD. I recieved Bo from a lady when I worked at a local feed store because he was the runt and she couldn't sell him. He's been with us for 9 years and is the great protector. He's good with our cattle doesn't bother my new horse and don't even think about coming near my kids. He's loveable and smart. You couldn't pay me for him. A neighbor asked to breed his female to him, adn now he's got kids and grandkids running around that Whenever someone realizes that he's the dad or granddad of there's they want to talk to me about how much they love there ACD. We did go through the hyper puppy stage, but with training and attention a good bone and ball you'll love your ACD as much I do, I'm sure. CONGRATS!!
Started
Join Date: Aug 2009
Location: In the barn whenever possible.
Posts: 1,910
• Horses:
2
Wyatt is growing up. He's just shy of 6 weeks old.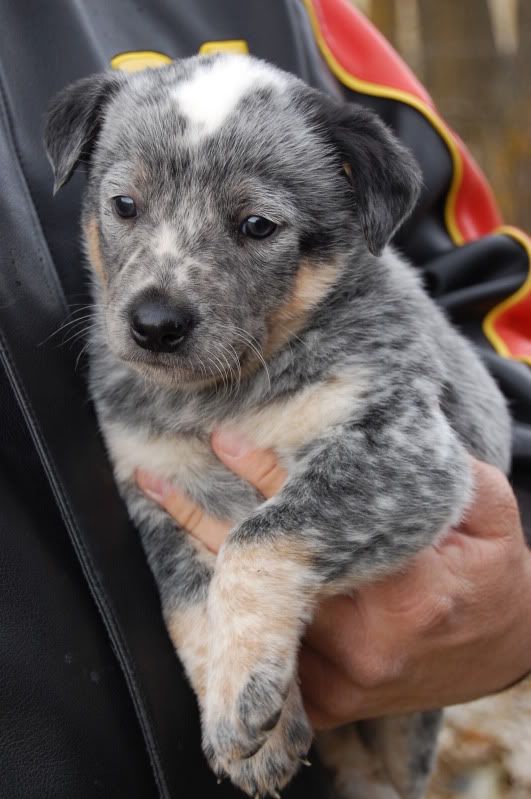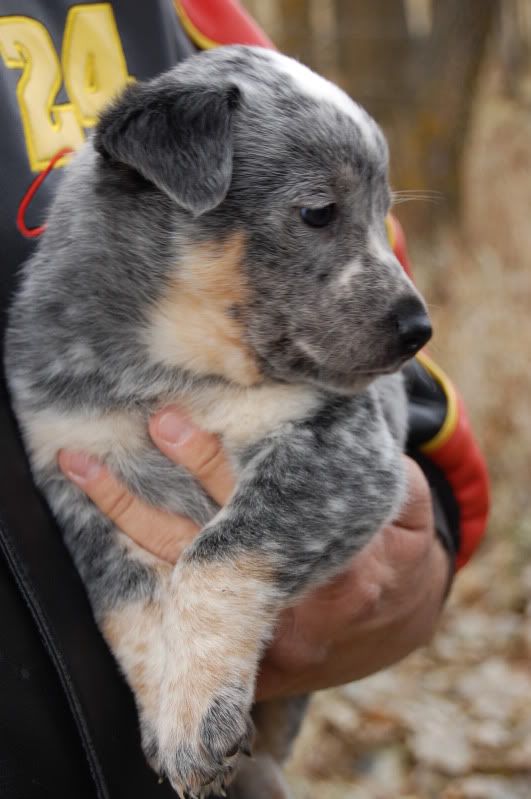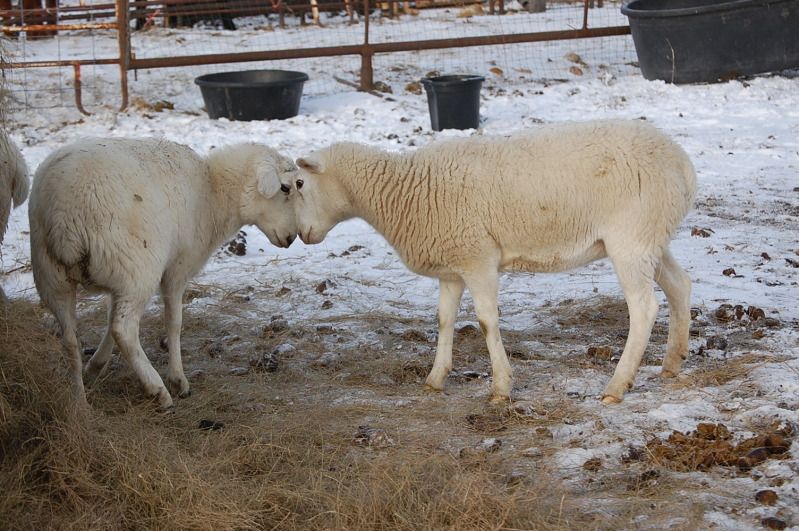 ---
"Riding a horse is not a gentle hobby, to be picked up and laid down like a game of solitaire. It is a grand passion. It seizes a person whole and, once it has done so, he will have to accept that his life will be radically changed." -Ralph Waldo Emerson
he is so cute !! i bet you guys love him already
---
Gypsy & Scout <3
Everybody is a genius. But if you judge a fish by its ability to climb a tree it will live its whole life believing that it is stupid. ~Albert Einstein
blue heelers are by far, my fav breed of dog. i know several ones who are barn dogs and they are great at it. very easy to train, good in all weather, their smart and friendly. their not so good things are, they will try to "herd" horses so they need to be trained to not do that, and they are very high energy and they need lots of excersize. my friend has 2 and she brings both to work with her everyday (she works full time at a barn) and then to the barn where her horses live. they are both wonderful dogs, and if i had space and time, i would deffinitly buy a blue heeler too!