I personally wouldn't allow boarders to bring dogs at all, leashed or not.
Posted via Mobile Device
It's terrible manners to bring a dog uninvited to anyone's place here.

Worst problem I had was when some tourists decided to go through a gate, have a picnic, and let their pet chase my cows and calves. They picnicked near the water tank. When I heard some mooing, I went to investigate, they assured me the cows weren't bothering them. Aaaargh. When I made them leave and chastised them for letting their dog chase pairs, they responded, "Oh, we didn't know these cows belonged to anyone." Double Aaaargh. Doesn't even matter if they were feral. Harrassing wildlife also carries a large fine because of the harm it does.

My son-in-law had a lovely Lab when he and my daughter married. When she was 7, a couple years later, she began going after the newest calves. Had never done that before. It was awful and he sadly put her down after the methods he tried to discourage her failed.
Super Moderator
Join Date: May 2012
Location: CT USA an English transplant
Posts: 24,959
• Horses:
3
Yes stick with the no dog rule. My dogs know not to chase the horses and they were raised around poultry so never think about running them but I still wouldn't take them to someone elses property.
If someone comes here with a dog they are told politely to leave it in their vehicle. My place, my rules
I just love all those names for the chucks.
Yearling
Join Date: Nov 2011
Location: Beautiful Pacific Northwest
Posts: 1,275
• Horses: 0
Quote:
Blame the owner, not the dog.
That's Shadow, my lab/cocker mix. He should be hard wired for bird hunting however he considers it part of his job to take care of the birds.
I wholeheartedly agree. It's the owner's responsibility. Dogs just do what dogs do. My dog (lab) lives in the middle of our chicken-flock, and doesn't even dare look sideways at them. He does a great job cleaning up
after them, though. I still wouldn't take him to someone else's farm. Just in case. Just in case he got a wild hair and that hunter-breeding over-rode his training for a few seconds. That's all it takes. I would never want to be responsible for the resulting mayhem. And I wouldn't blame him. It would be MY fault. My fault for bringing him on someone else's property, and double my fault for not controlling him properly. I don't board anyone's horses. I just have a small hobby-farm, but I still never let any visitors let their dog out of their car or off of a well-tethered cable, no matter how nice, friendly, and well-trained they claim that Rover is.
I can sympathize with you when it comes to the chickens not being 'just chickens', I had a flock of about 100 a couple years ago, they are left to roam my property as they didn't leave. Our neighbors decided to let their 8 dogs loose again (We had warned them several times) I came home from school to a yard full of dead, tore up chickens and feathers everywhere. I only have 4 left now. One of the most scaring things I've ever had to do was clean all that up. /:

I've also had several other dogs break into my rabbit cages, literally scaring them to death.
I've gotten to the point that if I can't catch the dog, and I've warned the owners (which I have done to everyone who lives around me), that I shoot them. It kills me as I hate seeing an animal die but there really isn't much else to do.
---
Falling Maples Homestead
www.fallingmaples.wix.com
oh gosh! what horrible dogs.
---
I may seem small, but if you mess with my horse, I will break out a level of crazy that will make your nightmares seem like a happy place.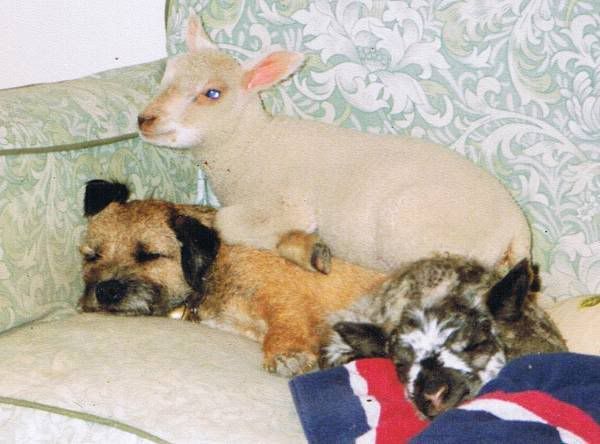 Blame the owner and not the dog!
I have 17 dogs here and not one would dare look at any stock for fear of my wrath!
The GSD is nicknamed Florence Nightingale because if anything is sick she has to care for it. The colt had just been gelded and she refused to leave him until he was up and eating.
The terrier actually suckled the lamb lying on her and the darn lamb became a dog sheep.
Please, as a boarder, I beg of everyone, leave the dogs at home. Even when people bring dogs on a leash they get in the way. That is because you cannot care for your horse and keep control of your dog at the same time, not effectively anyway. It is really annoyimg.
my dog relentlessly killed several things, including but not limited too. 3 of our chickens.. all 6 of the baby Opossums we were raising, and my sisters pet guinea pig. i broke her of the chickens real quick because my parents were going to kill her. now if i call her in the house and there is a chicken on the stoop. she will politely wait at the bottom until the chicken is out of the way.
---

Baby, Sparta, Carmen, Henry, Hooch, Mercedes, Butterscotch
I asked for all dogs to be leashed and instead I ended up with two unleashed with owners screaming after them. No livestock was chased this time but nope, sorry, not happening again.

Giant sign of absolutely no dogs allowed going up and all boarders have been notified. Our friends can still bring their dogs but they just stay in the house while here.

We're putting up fencing this week and my dog decided he was brave and came in the cow pasture with us. Met the bull who deemed the slow, tail wagging pup acceptable, met the "friendly" cow who decided he needed a good bath and proceeded to slurp him up and down until he was quite soggy, wandered over to meet the one calf that wasn't sold and while the two were sniffing each other "Grumpy" the ancient, irritable cow noticed him and oh my.... she chased my dog right on out of the pasture. She made it very clear that he was NOT welcome! My poor soggy dog went back to lying outside the pasture and watching us from a distance.