Quote:
A domestic dog is the only thing I can think of that would kill just to kill. Cats will usually eat the organs (my cats favorite are the brains and eyes).
I just remembered that the people who live behind the kennel(we own a dog boarding kennel which is next to my moms house) were up for the weekend and I did see their Shepard along the back of the fence yesterday, he couldn't have gotten through the fence where her body was and I don't think Legacy would have let the dog get that far into the pasture tho, he doesn't even let the neighbors barn cats into the pasture.
Quote:
Fox or coyote would have taken the carcass, but often raccoons will take just the choice stuff and leave the rest. Sometimes it is the head, other times the insides.
Was it evicerated?
No idea, I didn't inspect it
taking the pic was about as close to the injury as I got
Weasels, opossum, hawks, and owls can also take birds and eat the choice parts as well, specially if it didn't get inside the coop and tried to roost in a nearby tree, which Guineas are famous for.
Sorry it happened.
If it wasn't day time I would think a fox snatched her but then Legacy came charging and he had to drop her and run. I really hope not a fox tho because that would mean it was probably rabid. That rules out opossums and owls too and I think raccoons are primarily nocturnal too. I know there are lots of hawks around, I would think they would go into the horse barn if they couldn't get into the coop tho...I guess we'll never know.
My mom called me earlier when she got home and I thought she knew already, so I was actually nervous answering the phone lol. Chrissy told her later, apparently she took it very well, probably better then me. I was a little teary when I was bagging up the body and putting her in the freezer and my friend Nikki called me, since I don't talk to her often I answered and I guess she could hear I was upset, so when she asked what was wrong I lost it and started sobbing
. It's not even like the guinea hens are friendly lol. She was always my favorite tho, such a pretty color, and she was so cute as a chick, I was always holding her(you would think she would have been friendlier)
Poor guinea! They aren't real bright which I think accounts for the fact that they never really learn to be friendly to humans. I've raised them for years and some years I hand the keets when they're real young and other years I don't and it doesn't seem to make a difference in the long run. They never seem to tame down very much.
For a rather ugly bird, that seems to have been designed by a committee, I think they're have some really pretty features. I love the day glo orange wattles, their ridiculously long eyelashes, their beautiful feathers and colors, and I especially love that they make more noise than a guard dog when strangers come over. LOL!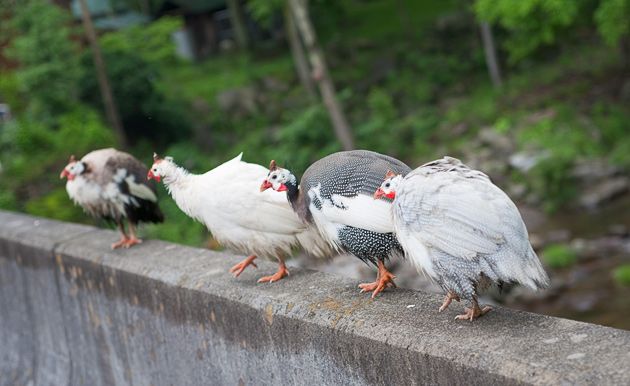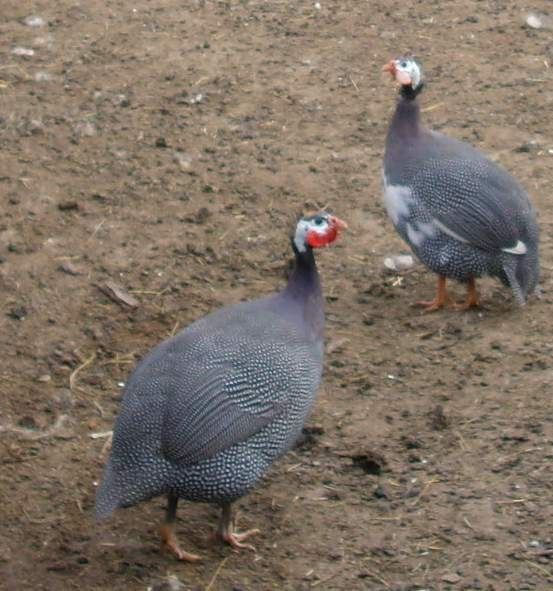 ---
The way that hen is picked open.....I'd say it was a prey bird like an owl or hawk of sorts.....that's probably why the carcass was still there because the bird couldn't pick it up and carry it off......they tend to pick things open like that...
Sorry about your hen
Quote:
Hawk or owl.
Posted via Mobile Device
This. If they are too small to carry them off this is the type of damage we have seen on hens.
Quote:
This. If they are too small to carry them off this is the type of damage we have seen on hens.
I'm thinking probably a hawk, any kind of animal would have been chased away by our guard dog of an appy but a bird could eat its fill without drawing attention from him.
Posted via Mobile Device
Let us not forget the good old skunk they are know to kill chickens and just eat maybe a little of the carcas.
I used to work for a raptor rehabilitation center. This looks like a small hawk or falcon kill to me. It was probably a broadwing, red-shoulder, cooper, or a similar mid-sized hawk. The bigger hawks usually are mammal hunters, but will sometimes snatch a bird. The mid-range hawks are bird hawks. They will catch a bird, ground it, then pick open a single wound like this and eat as much as they can before a larger scavenger comes around. It really looks like a hawk kill, especially since I don't see bone damage, like you would expect from a dog.

With a cat, you wouldn't have the spread of feathers.

I'm sorry. She looked like she was a beautiful bird. There's little you can do about a hawk, especially the mid-sized ones. I would keep the others in under a wire roof for a while. A mid-sized hawk once it catches prey like this will often linger in the area to see if it is "prey rich" and target the others. If it doesn't find another kill as quickly, it will return to patrolling it's territory or continue migrating.
That looks like a hawk to me. We were letting our poultry free range during the day and we all of the sudden started having hawks come in and take birds. When I could find them, the damage looked just like that. Sometimes they would try right in front of us! It got so bad that we would take the shot gun out and only let the birds have supervised outside time until I could get the chicken's paddock put up and covered.
We also had raccoons come in and take birds. I set up traps and caught a opossum (filthy nasty creatures). The traps didn't catch the raccoons, but once we set up a camera outside that would ding when something set it off.We caught the biggest raccoon I've seen trying to get in at my roosters. My husband shot it and then we drug it along the fence line and just left it out there. We haven't had a raccoon come back yet.

Danielle
Hawk or owl definately. Several years ago I had guinea hens and the stupid things would never go in the coop at night. Went out one morning and found an owl having guinea breakfast. My hen looked just like yours.

Sorry for your loss.