Too bad you're not closer. I have 75 chicks right now (13 different breeds). They're 5 days old, 4 weeks and 11 weeks. Not getting chicks until the middle of May means they will just start producing before winter sets in. Not bad timing. The older hens will be slowing down then and probably molting. Not having to deal with chicks with snow on the ground makes things a lot easier too. I started my first group the week of Christmas. What was I thinking? They are out now but they were pretty big (and 24 of them) before they could be outside 24/7.

That is an odd state law but there is safety and warmth in numbers so it might not be as dumb as it sounds. Did you look on CL? Chicks are big right now around me plus all the feed stores are selling out of them as quick as they come in. Most hatcheries sell a minimum of 25 chicks (min of 5 per breed) so they stay warm in transport. Maybe try that next year and get orders from friends or sell them on CL and pay for your chicks (that's what I do). It's no more work to brood 25 than 6 for the first 2 weeks.

Golden laced Wyandottes are my all time favorite. The first time I say one, I was hooked. I had to have chickens.
We can FLY!
---
Guys, these birds are going to be the death of me. Today was the first 50 degree and sunny day we've had since October. The girls realized they can FLY. I came home to find this: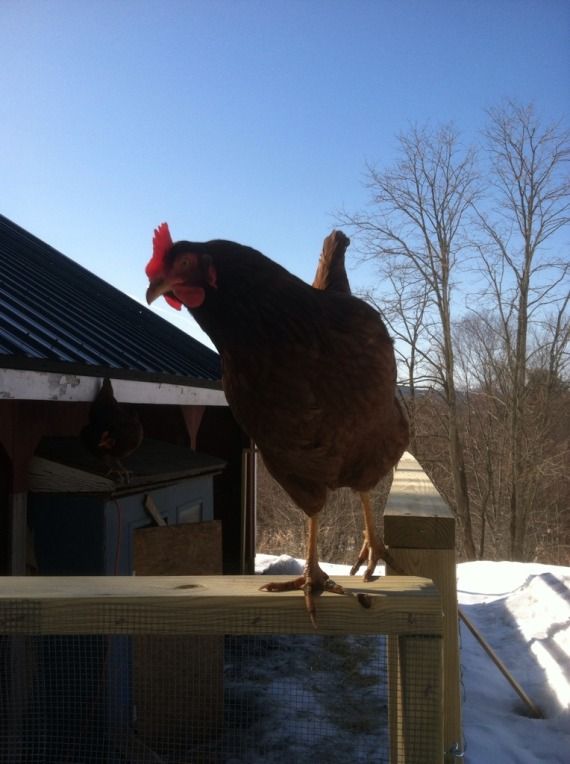 And this:
And then they decided to make a full on escape:
While it was cute and funny, I'm nervous they're going to continue doing this while I'm not home and end up hawk food again. Thoughts?
I think it's neat that USA chickens behave just the same as Canadian chickens
I'm afraid the only help now is some wire around the top. You could make a full scale wire roof or alternatively you can try using chicken wire (looks like you've used hardware wire on the sides) that goes out about 8 - 10 " and is put on horizontally. The purpose is to stop the hens from landing on the run frame. You'll just need to stick in the occasional triangle shaped brace to rest the wire on to keep if from sagging.
I suppose clipping the wing feathers might work but aside from being rather harsh and extreme it would probably inhibit their ability to use their roosts.
Chicken wire across the top will keep them in and hawks out.
---
Celeste
I put the same tin sheet panels on top of the run as I have for a roof on the shed. We started out with wire and discovered the birds sitting on it, which kept it constantly needing repair in one spot or another. Not to mention, raccoons can climb and I wanted more security. It has the added bonus of making the run a little more weatherproof without closing it in entirely.
---