Goats are so fun!
My goats are the escapee types. They're so curious about this and that, they'll leap over, go under, in between...whatever..they've found their way out of most paddocks. Because of this, they wear florescent collars.
I'm with the others when we say they're not lawnmowers. Nor, will they eat your table scraps, like I had hoped.
I hear that brother wethers are the way to go if you're not looking to milk. They're very playful and fun to watch.
When I walk my dogs on our back property, our goats go every single time. They get to playing, dogs start to play, horses run around~ pretty fun sometimes!

Good luck!
Our biggest challenge, and really, only challenge is the fencing.
I too knew nothing of goats when I got mine, but they have been very easy to take care of. They live with my horse and I feed them all hay at the same time, and then grain them too at the same time (I give the goats sweet feed).

Other than that, mine are not vaccinated, I learned to trim their hooves myself, and I also give them ivermectin every 2 months when I deworm my horse.

Mine DO love to escape...though they dont go anywhere when they do. Sooo many times I used to come home and they were out of the corral just hanging out. I had to fix the fence a LOT of times.

The only annoying thing is every time I take out my horse out to ride they FLIP out, scream at the top of their lungs the whole time, etc...
goats
---
have you thought about geting a couple of lambs i think you will find sheep are quite intelegent trust me i had a pair of rams.
1 was a hebrdion and the other was a welsh cross suffolk.
thay were the best pets i ever had.
worming over here in a herd you could drench them but mine use to eat a rumivite block with apanicure wormer in it so thay were wormed out.
hoof trimming like with goats i use to use a trimming knife on thrm and use to sit them down to do it.
giveing lots of grain or pellets causes the urineal tract to christleise and that is imposable to treat.
my frend use to shawn them on the garden.
i trained them in a small childrens pen in the park wit grass pellets although larry the welsh cross suffolk needed a little prompting i brought him an electric collar and trained him like that the results were astounding.
i use to let them off in the park in the end and thay were not afraid of dogs as my dogs were afraid of them lol i use to walk them on leashes and collars with the dogs and the sheep were muzled as i did not know if the councle had weed killed along the road.
and sheep have no brains think again thay are very bright in deed given time on a one to one you can teach anything if you want to see pictures of them let me know and ill put them in my albums so you can check them out.
thay also had there own vetanary accounts as well so thay were well looked after and dont laugh thay both had coats larry had a red one and rambo had a blue one and snoods to match as i did not want them going in to there liveing quaters and makeing the bed wet.
I'm not sure where people are getting that goats are stupid/hard to train. Whenever I got my FFA show goats, I had them walking on a collar and up in the goat racks the very first day after them having minimal human contact. Yeah, you're gonna have to drag them around sometimes. Let them fall down, bleat, drag all they want. They'll learn that it is A LOT easier just to go wherever you want to go. I just used big dog collars for mine at the barn. For show, I used a metal chain with a plastic tube for a handle.
As for worming, I wormed every 28 days. This here is what I used:
Safeguard Goat Dewormer - DuBois Distributors, Inc.
I never vaccinated, although they should have all gotten their shots and vaccinations when they were a few days old at the breeder's.
If you're going to get wethers, you're going to worry most about urinary calculi(kidney stones). The easiest preventative is to add ammonium chloride to your water. Just like a handful for a large bucket should be enough. I got it at my feed store for like a dollar a pound, and it lasts you quite a while so it's very inexpensive. However, do NOT use a metal bucket for water with the ammonium chloride. One kid in my FFA chapter made this mistake and his goat dropped the day before show. Two of my friends were actually taking care of him in the wash rack when he just collapsed, and he later had to be put down at our barn.
Goats will scour(diarrhea) when they're stressed or sick. The best way to treat that is to give them a bit of peptobismol and then a bit of probios. The probios will help their gut get back under control.
As for trimming hooves, it is literally the easiest thing ever. They even sell goat/sheep hoof clippers at TSC or your local feed store. Basically check 1-2 times a month for any extra bits on their hooves and trim them off accordingly. Here's a very informative website on how to trim properly:
Hoof Trimming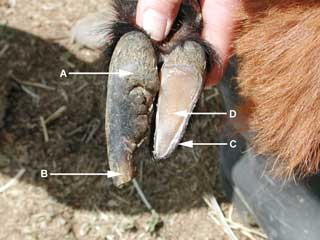 The extra "flap" of hoof you see on the left isn't hard. It's very flexible and you can easily move it. Trim it down with these:
http://4.bp.blogspot.com/-oTpgf8-da-...f+trimmers.jpg
And voila, you're done. You really don't need to worry about angles or anything complicated like a horse's hoof.
As for showing domination, I've never had a goat challenge me. But I've only ever raised does and wethers. You really don't need a ram anyway LOL. They'll actually look at you like a fellow herd member/friend. Just make sure you're above them in the "herd" by reprimanding them any time they climb on you or anything like that. I personally raised only boers, the prime meat goat, and they are just hilarious. They're like hooved dogs that will literally follow you anywhere you go or hold a conversation with you. I also taught my goats how to pull tires with a harness to build muscle, so maybe you could teach your's that to help around the farm.
And as a side note, sheep are dumber than a bag of rocks.
I would pick a goat over a sheep any day hands down.
---
There on the tips of fair fresh flowers feedeth he; How joyous his neigh,
there in the midst of sacred pollen hidden, all hidden he; how joyous his neigh
goats verse sheep
---
i beg to differ on that as in an open park i let them off the leash so they are free to rome and eat the grass and when i called thay came gambleing back no problems at all so i think thoes 2 guys were at the top of the class.
and even when i walked on thay were at a distance of aproxamteley 100 foot and id call them and thay would catch up and thay have been on a bus on the train to the vets and been used in the village fair on sheep shearing compertitions between 2 frends one from austrailia and newzeland there collars are leather with studds i had no reason to pull them along as thay were well trained.
if you want to see them look in my albums under stanley as im going to post them there.