I was just looking into this 10 minutes ago and then I found this thread. I wish I could find some closer to me.
---
This is what happens when you have democrats in office
I too am extremely intrigued with these guys. I think overall for us, they would be safer for the kids (and me) to handle, do well on small acreage, etc. I would love a mini jersey (or two) for milking, but am wondering how difficult it would be to find a mini bull to breed back to when the time came...?

Actually, now that I've looked into it a bit further, it seems most owners of mini cows for dairy purposes utilize artificial insemination for all breeding. It seems that most reputable mini breeders offer bull semen from their mini herd. Interesting! They are pricey (a standard mini jersey for family milking seems to go for around $1800), but I would imagine you would make your money back rather quickly and see a lot of benefits to owning the smaller version. Plus, they're so dang cute!
---
Last edited by steedaunh32; 10-21-2012 at

10:27 PM

.
I can buy a lotta milk for $1800.

Aside from the novelty, seems goats would make more sense.
I have longhorns:P but I would like to get some Mini longhorns..:) mmm good eating as well as easy keepers:)~
---
http://www.horseforum.com/member-journals/sunnys-thread-160521/ << read about Sunny and I. Our journey
OMG!! Too cute for words!
I have always wanted highland cattle, but it's really too warm in NC for them to be happy.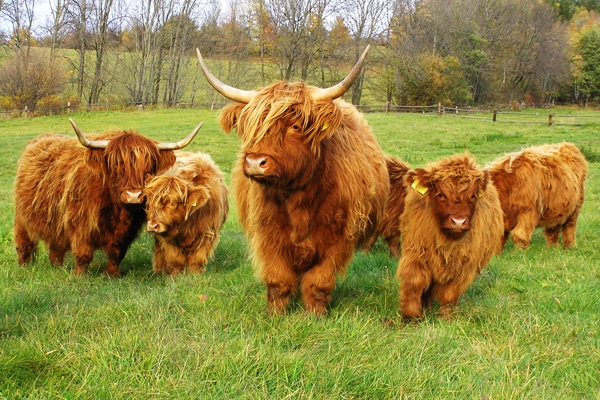 Trained
Join Date: Sep 2011
Location: Hour and a Half from Town!
Posts: 6,324
• Horses:
2
Too cute Allison!
I'm sure they would fry here in ar too! I'm liking the zebu or the longhorns.
I don't want milk or to milk but for a small family I think they would be PERFECT Steedaunh! I wonder if it's better quality? I know my pygmies had better milk, higher in vitimin D and protien.

Joe I agree, goats are the bomb, but I don't like goat meat and unless you get incredibly good stock they'll never bring $1000.
Posted via Mobile Device
I think for our family, goats would be great, but no matter how convenient they might be over cows, if you just don't like goat's milk (or your family doesn't), it doesn't make any sense...for us anyways. We've tested a lot of goat's milk and I just can't win my husband over, so if and when we do get a milker, it will probably be a dairy cow, hopefully a mini. I know, they are expensive! But I think the convenience of one for our family, plus the price that the offspring can bring, would make it a sound investment.
**Corporal munches popcorn and reads posts**
I'd like to know how it goes for any of you that takes the plunge. I first read about them in "Hobby Farms" a couple of years ago. I have an L-shaped, 3/4 acre pasture that the horses don't always get to graze, and I would consider keeping them there, if I bought a couple of mini-moos. The 2nd owner of my 5 acre property retired from farming, sold off all but the 5 acres, and bought 5 young steers every spring to fatten up and sell 4 in the fall-his retirement business. My neighbor tells me that he only had to look for buyers the first year. I would probably do the same, freeze the meat from one, and sell the other. My fencing would never keep in goats or sheep. In fact, my dogs run through them as if they aren't there, so it would have to be cattle.
Trained
Join Date: Sep 2011
Location: Hour and a Half from Town!
Posts: 6,324
• Horses:
2
I agree Steedaunh, I'm really excited about these! Not banking on their novelty lasting for long, but here's to hoping! Thinking about getting two bred heifers and a bull calf to start. My luck the calves will all be steers, oh well, they'll save me money just going in my freezer!
I have 20 acres of pasture and hope to expand to 40 in the future. Have the USDA guy coming out to make a game plan on the property next Thursday.

These little guys are so much easier on property and less to feed. For selfish reasons I don't want to give up too much grazing for my horses! LOL! DH really wants a couple big cows, just like he wanted bigger goats... Nope. I told him we were going small and if he wants to eat something big he can eat HIS horse!
---
You can get a lot further with a ladder than you can with crutches!!
What do you mean what do I mean?
i would honestly go with a few less large beef than the miniature ones.

I know of one person with minature beef and he is sitting on them saying "now what"

-the asking price is too high for he pound of meat that you will get out so unless you live close to a large city where you have people with $$ to waste you'll never get the same payout.
-more expensive to breed, less miniature bulls out there so supply/demand says they now cost more
-more inbreeding, due to smaller numbers


My personal thoughts:
-find a neighboring dairy farmer and offer to raise 10heifers on grass for him. and just ask for $1.10/day (i think going rate here in NY is closer to 1.50-1.75 but that is confined with more growing style feeds) over the course of the summer you will have enough to buy most any cuts of beef you want, don't have to feed them through the winter, and still get the pastures mowed down
-buy some herfords or angus and let them graze, more efficient meat yields, better meat yields, easier resale, and cheaper from the start