The official what kind of dog is he thread!
---
Here's a interesting thought. My dog, who is 5, came from a back yard breeder who basically kept him in a shower stall his entire life up to 4 months of age. I nabbed him because my brothers wife had his sister and she was oh so cute!
His FULL sister, same litter, same mom, looked like a min pin. She was taller than most min's but still 100% looking like a min. Sim comes out like a fat sausage...lol I should of called him Jimmy dean.
This is what my small brown puppy grew up to be: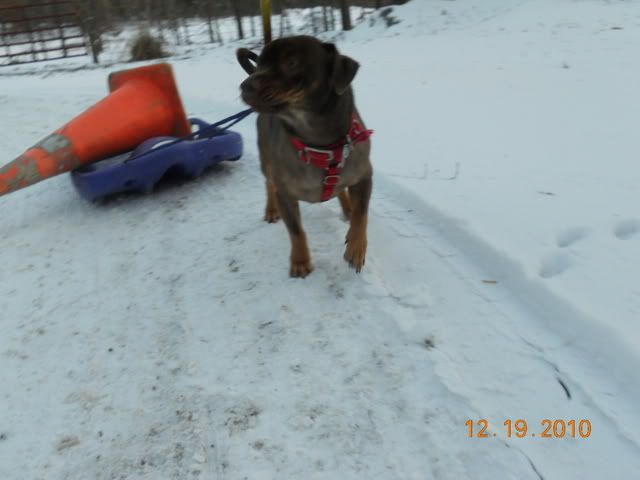 Hafe Brother.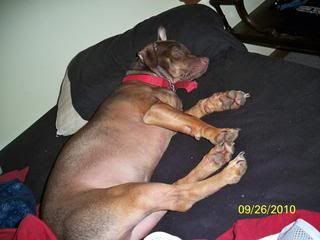 oh and he's my energizer bunny on crack. When he's not sleeping and lazing around while I do my work, Me and him are hiking 20 miles a week. We went on a 20mile mountain trail and it just about killed us humans....Sim was just a chugging along!
Chocolate lab mix! They are crack bunnies till around age 5. He is such a cutie pie!!! Half brother looks to have rat terrier. Hum....
Posted via Mobile Device
I agree, perhaps some catahoula in there. Dogs can have a litter of pups that all have different fathers, so it's like Easter eggs!
Posted via Mobile Device
I saw a pittie pup that looks like sim. So...XD he must be a pittie mix
I was thinking choc. lab too. We had a mutt one time "Lil Pooch" He was so ugly that he was cute. He was lab, chow, and basset hound. Had the lab body and head, basset legs, and chow tail. His sis from same litter looked like a very tall min pin. Different daddys!
---
Yesterday is history, tomorrow is a mystery, and today is a gift-that's why it's called the present.
he doesnt look like he is quite big enough to be a lab mix possibly a min pinXdoxie (seen some that look about his size) oor something along those lines
---
just a small town girl with a big town dream :]
Pictures make it a bit difficult to get an ideas of his size and I suspect he is looking larger in the pictures than he actually is. How much does he weigh?

I would be inclined to agree with Animal farm, to me he looks like a bully-breed mix. He's very cute!
I don't see the Pitty in him at all IMO.

They ears are mor like a Labs ears. The one ear does seem to fold back, but a lot of breeds can do that.
He doesn't have the jaw or muzzle structure of a Pit either.

He looks roughly around the size of a Pitty, but they all tend to very in size.

IMO he looks like a Lab X Beagle. The light brown highlights is what kinda throws me.
do you have any pics of him standing from the side ? its hard to tell from these. his face reminds me of an english cocker spaniel.

you could always do genetic testing on him !!
---
Gypsy & Scout <3
Everybody is a genius. But if you judge a fish by its ability to climb a tree it will live its whole life believing that it is stupid. ~Albert Einstein
Hey again,

sorry for not talking in a while.

Sim weighs about 35-40lbs. He gains and losses weight faster than any other dog i know. If one day he lays in bed, He gains 2lbs. if the next he is running with me, He's pychically LOOKS thinner. He's just a really weird dog.

And he has a lot of the typical pittie problems. Territory over their one owner, mind just can snapp. I use to be a person that didn't believe pitties were different from any other dog. But after owning sim, and fostering a few pits, I notice that pits just are the kind of dogs who have been bred for strength, too obey and protect. It's in them and their is nothing you can do other than strong training that can help their mind frame.

He also talks, can't howl, and is very vocal. He wants to please, a simple good boy will do, and is the smartest **** dog ever.

I really think he is american pittie, beagle e likes to hunt the rabbits at the barn. Never harms them, just sniffs out their track and will run after it for curiousity reasons. Though..It could be there just never seen him harm an animal, and ?!?!?!? His legs are small and problematic for his body. He is pretty agile and can jump over the ferretgate to get to their food.