Quote:
what is wrong with this chicken and what can we do to get her to sit, and successfully hatch a clutch of eggs.
I only use my hens for egg production and don't let them sit on a clutch so can't answer this one. Sorry.
---
---
http://www.horseforum.com/member-journals/sunnys-thread-160521/ << read about Sunny and I. Our journey
lilkitty90 -- A couple of questions.

Do you have a rooster?
Do you have a coop?
How old is your hen?

Of course, the eggs have to be fertilized before you have chicks, this is why I ask about a rooster.

Second, if she's laying and sitting here and there and everywhere, chances are pretty good that she's being disturbed by something and abondoning the nest.. Snakes "scatter" eggs and will sometimes run a hen off a nest. Dogs, coons, possums, etc, will also .. and you're lucky your hen hasn't disappeared too!

Now to the "making her sit" part .. you can't. Some chickens are good mammas and some are not. The best you can do is provide good fresh food and water, a SAFE and SECURE place for her to sit, and hope for the best. If she's young, she just may not have it "down" yet.

Next to that -- buy and incubator!

Good luck!
we actually have 2 roosters, a Brahma, and a little cochin. she is a Bantam. i wanna say cornish game hen bantam? but that could easily be wrong. we also have 2 ameracauna hens that the 2 roosters and hen will NOT accept into their flock.

we do have a coop. and the hen is over a year old. the majority of the time our chickens are free range all the time. but we do put them in the coop, most nights. however when they do not go in the coop the roosters, and hen perch on the porch rail by the door, and the 2 hens sleep with the goats.

probably not the most ideal setup but it works around here as there isn't alot of dangers in our area, we rarely get possums, skunks, or raccoons. and we RARELY get snakes at all. so it works for us, but i definitely wouldn't recommend leaving chickens out at all times.
---

Baby, Sparta, Carmen, Henry, Hooch, Mercedes, Butterscotch
Well, it sounds like nature just needs to take it's course.. whatever that course is ..

Good luck!
ya i didnt think my hen was going to sit on eggs.. so i left them in there for a while.. next thing i know.. i have three batches of different chicks:/
---
http://www.horseforum.com/member-journals/sunnys-thread-160521/ << read about Sunny and I. Our journey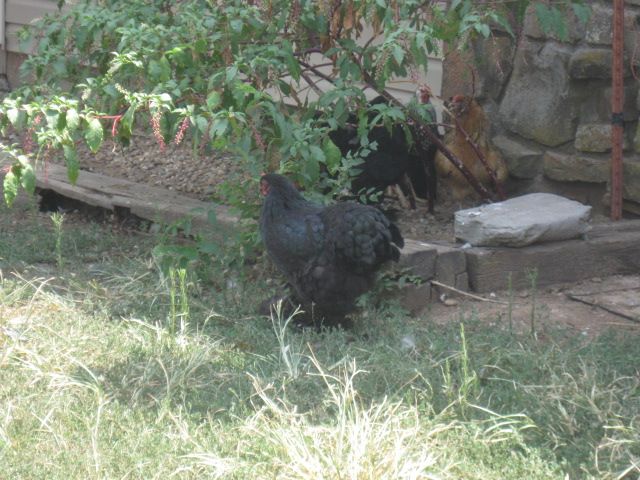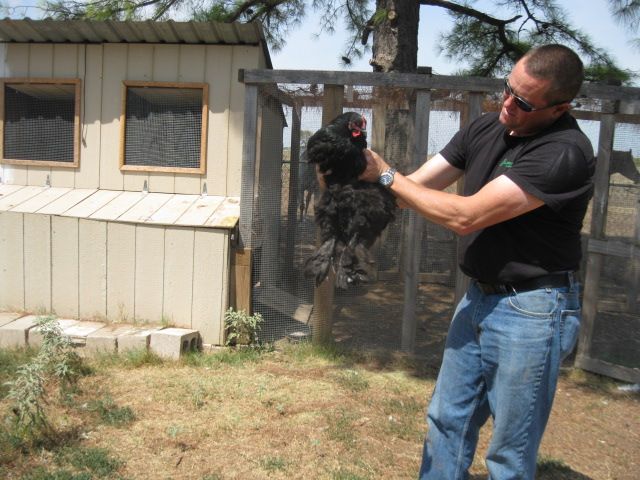 My favs, the 'furry' footed Cochins! Not great layers but they sure are pretty and sweet.
---
Ha! The mods put a chicken at the top left of this thread! .. lolol
This is Ricky, my Golden Laced Wyandotte Rooster. He grew up as the only chick in the coop so he was really attached to me when he was little, though he's not so much anymore. He is really funny, because he used to sit on eggs in the nesting boxes when he was younger. Haha. And now...he doesn't even roost in the chicken coop with the hens, he sleeps in a tree with our guineas! So first he's a hen, now he's a guinea! My Dad calls it "identity issues". LOL
Oh, and does anyone have any mixed breed chickens that are GLW crossed with either Dark Cornish, Barred Rock, RIR, Black Austalorp, White Rock, or Partridge Rock? Those are the hens we have and I'm curious as to what they would look like if we hatched out any chicks.
Trained
Join Date: Sep 2011
Location: Hour and a Half from Town!
Posts: 6,324
• Horses:
2
What a lovely Roo!!

Chickens have had it rough around here. I've lost four hens, booo hooooo!!!! I found "evidence" on one of my walking trails. Then looked down a ravine and saw a 10 point buck napping checking E, myself, and little deer taking a hike! The look in his eyes was hilarious! He couldn't believe what he was seeing, us walking down his path with a baby! He kept looking back and forth back and forth, finally he jumped up and ran off.

So my girls are cooped up, they are MAD MAD MAD at me for not letting them roam. Stupids, if they had just stayed in the yard they'd have been safe, but nooooo they gotta go traipsing through the woods. Secretly I'm hoping one or two of them are sitting on a nest and they'll show back up with babies in tow. Wishful thinking?

We have also been waging a war on SKUNKS! The whole darn place smells like skunks, dead skunks. Poor little dears. They kept burrowing under the fence and eating the eggs, almost got sprayed several times when I went in the coop. So we live trapped them (using eggs as bait, LOL!) and put them down. Sad.

Now I'm down to 15. BUT I've got a really NICE incubator coming in the mail for my birthday!! Woo Hoo!!!!!! Baby chickies coming soon!!
---
You can get a lot further with a ladder than you can with crutches!!
What do you mean what do I mean?