---
Just for fun I thought I'd put today's eggs up, so you can see my 'pre-colored' Easter eggs. I get blue & pink from the pure Aracaunas, light green from the Ameracaunas (Easter Eggers), Chocolate from the Marans crosses, and Olive when the Ameracauna Rooster gets with one of the Marans cross hens.
The blue eggs especially have started out very light and gotten darker as the hens have gotten older. I've got a couple of hens who have just reached point of lay and their eggs are pretty small. And then there are Guinea eggs, all yolk and practically orange, very small pointy eggs.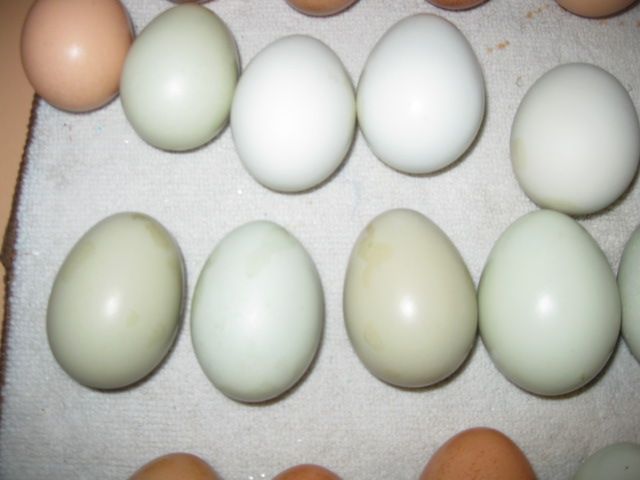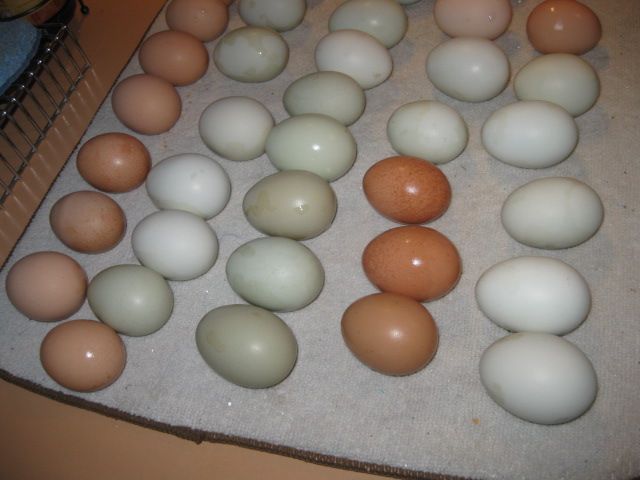 ---
Trained
Join Date: Sep 2011
Location: Hour and a Half from Town!
Posts: 6,324
• Horses:
2
DA I LOVE the green eggs! So out of the cross only?
So cool! Pretty selection!
Posted via Mobile Device
Yeah, the Olive Eggers are crossed with the Ameracauna Roo and the Marans hens. I'm not sure what they are crossed with because I know I don't have any purebred Marans, they were out when I ordered, and even the 'chocolate' eggs aren't as dark as a purebred would produce though they're a lot darker than my regular brown eggs from say, my silver laced Wyandottes. From the speckled eggs I have, it looks like I got a Welsummer hen or 2 also, LOL! Gotta love the hatcheries. Since I mostly buy for eggs and just a couple for looks (Black Cochins), I am not real picky about purity.
---
Oooh... you have Guineas!

So spill.... I know absolutely nothing about Guineas other than my daughter's friend is going to give us some if they ever manage to get a batch of eggs to hatch (the incubator fluctuated too much this go 'round and none hatched).

I heard they will catch and eat flies and are very loud?
Quote:
Oooh... you have Guineas!

I heard they will catch and eat flies and are very loud?
You heard right! They will get your tick population down, if you have that problem, run off snakes and they are much better than a dog for letting you know theres something going on that's "NOT ROUTINE" in the yard. I have about 20 Guineas, most are quite undomesticated but I've got a couple who will use the egg boxes to lay in, and go into the coop at night. The rest go up into one of 2 trees, the summer tree or the winter tree. Spoiled things, I don't have seasonal houses!
They cruise all over the pastures, the neighborhood and eat bugs every where and come home in the afternoon and have a snack of chicken food. Then along about dusk, they fly up into the tree and settle down for the night. When I come out at night to make sure the chickens are all in and shut up the coop, they don't make a sound as long as I stick to shutting the door and gathering my eggs. If I go anywhere else in the yard, oh boy, they set up a ruckus.
I really enjoy them and find them really kind of pretty. They are truly 'not smart' birds and have gone into places and not been able to get out and trying to catch one.......OMG! LOL! I guess they don't see so well, so get trapped when they have a clear way out, they just can't see it or figure it out sometimes.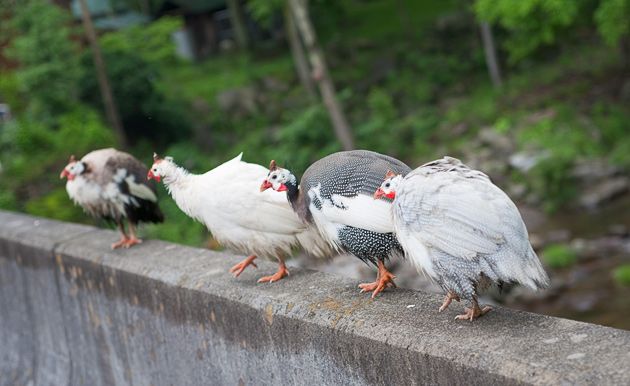 These are some piebald guineas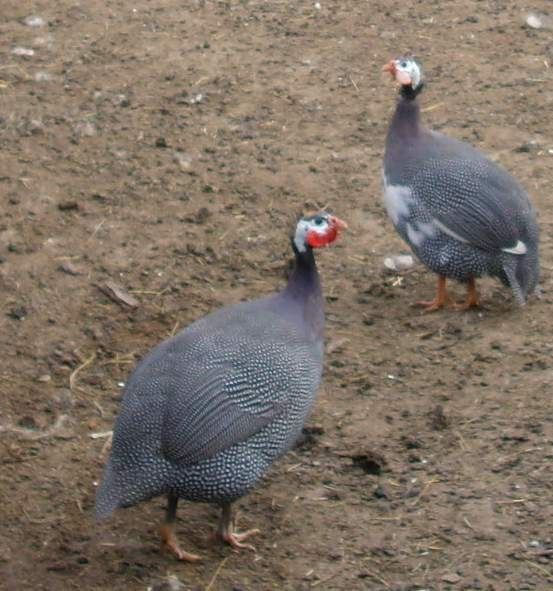 These Lavender Pearl guineas are a little more common, though one is also piebald. I think their heads and eyes are just so cool. You can't see in the pics but they have some OUTRAGEOUS eyelashes, LOL!
---
My house chickie, Rosie =]
AWWWWW! I'd have a house chicken in a minute if it was for my 3 JRTs.
---
House chickies are THE best! Especially when they go through the kitchen and "clean up" I'd drag a chickie in if there was a big spider or something. lol
My Jack Russells won't tolerate ANYTHING but them in the house. No cats, no birds, no other dogs. I even gave away a beautiful Sun Conure once it became obvious that they were going to eventually kill him. Once they're gone.....first purchase will be a new Sun Conure, I MISS him!
---
Super Moderator
Join Date: May 2012
Location: CT USA an English transplant
Posts: 24,587
• Horses:
3
I really want some more chickens but building a run and coop seems low on the priority list. We have guineas that the last owner left behind but they run wild and make a mess of the lawn and flower beds
This is a pic of a bantam we had in the UK (only laid tiny eggs) and our rabbit who thought he was a bantam