Quote:
Ok, I will only raise females or castrated males (pre-castrated... I am NOT lopping off boy parts myself!).

Females are very, very friendly. Our last set would squeal with delight when I visited and flop over on their backs "ok, rub my tummy!". The loved to chase a rubber ball. The males are more standoffish. They aren't mean, just have zero desire to have their tummies rubbed (or even touched). The like to chase balls but would prefer you stayed outside the pen. The more you handle pigs, the friendlier they are. I handle mine enough that they either like me or have a healthy fear of me (as in I'm going to sit over here in the corner away from you and run like a bat outa hell if you touch me).

Intact males are MEAN. Hence why I won't have a thing to do with them.

You cannot raise a solo pig, they are herd animals. I raise 2-3 depending on how many people go in with me. I currently have 3 castrated males.

We like to butcher around 250-275lbs. Pig feed is HIGH due to the drought right now. My last batch of pigs all said and totalled I paid $2.99 a take home pound (everything from sausage to pork chops) that included all feed, all butchering costs, cost of the piggy and so on. Not bad for home-grown, organic pork.
OK! Thanks, this is the kind of info I'm looking for. The why's and wherefores and what to expect. Thank you again!
---
i just lost all respect for coyotes 3 of my chickens are missing and one my mom saw taken from her room.but it got away before she could reach there. i found a pile of feathers so i know one was taken i do not know about he other two.and this happened in broad daylight. :(
---
I may seem small, but if you mess with my horse, I will break out a level of crazy that will make your nightmares seem like a happy place.
Babies in the incubator!!! Only 17 more days to go. Anyone have one of these? Tips? Just got it for my birthday and this is it's maiden run, terrifying information comes with it. If I don't work it right they will come out deformed? ACK!!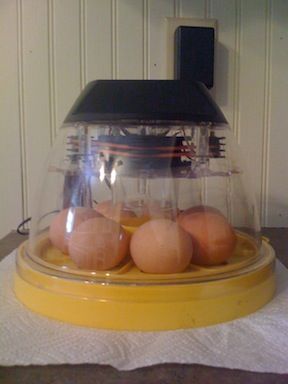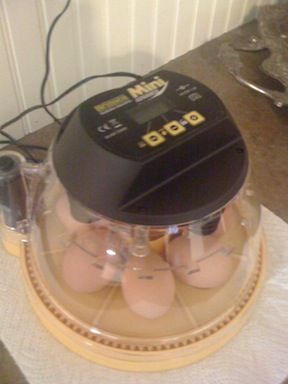 ---
You can get a lot further with a ladder than you can with crutches!!
What do you mean what do I mean?
Does it turn the eggs for you?
---
Celeste
Carpe Diem!
Yep, fully automatic, digital, it's pretty awesome! The only thing is the eggs have to be PERFECT. I put two in that were a little larger and longer and they wouldn't turn, so I swapped them out and it's running like clockwork. Love the digital display on top, tells current temp, shuts it off for a while to cool like natural, day countdown, turn radius and intervals, and I can also buy a smaller egg dial for quail and partridge eggs!
---
You can get a lot further with a ladder than you can with crutches!!
What do you mean what do I mean?
It looks like an awesome setup!!!
---
Celeste
Carpe Diem!
Something funny for the chicken fans. My mom sends me this yesterday saying that I should learn to crochet to make "the girls" these hats for my kiddo. Ummm, if I learn to crochet it will be to make myself sock hats not her darn chickens. The really funny part, it was from pinterest and a board called "Pinning with my Peeps" LOL
chickenhat.jpg
---
Life is like a camera. Focus on what's important, Capture the good times, Develop from the negatives and if things don't work out, Take another shot.
The rooster that was driving me crazy is starting to make a cute yard pet. He doesn't crow all night any more and he is not aggressive now that he is away from the hens. He came over and started trying to check out the kittens. He is looking at one of them. (My daughter rescued 3 of them from the pound and donated them to me.)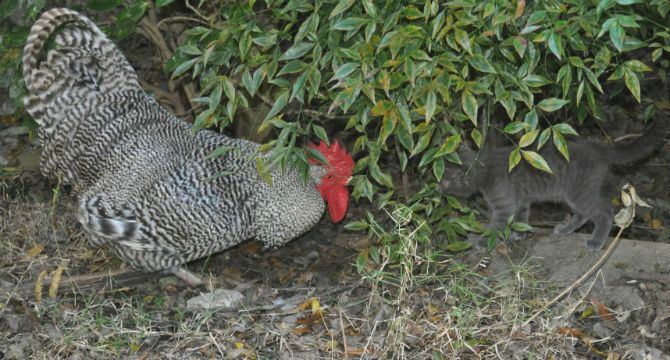 ---
Celeste
Carpe Diem!
---
Last edited by Celeste; 10-19-2012 at

05:27 PM

.
Oh he's beautiful!!
Yeah no, no sweaters for the girls. If any of the locals came over and saw that they would have me committed. I did get an old insane asylum wheel chair when I bought the place.....
But maybe something in olive green for Rick.... l
l
---
You can get a lot further with a ladder than you can with crutches!!
What do you mean what do I mean?
---
Last edited by FlyGap; 10-20-2012 at

01:34 AM

.
Perhaps something lovely to go with this oh so chic Hen Holster Diaper?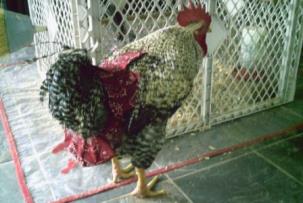 ---