I would like to try keeping three or four chickens in my suburban backyard. we are allowed 3 by law, no roos. Could some of you turn me onto a good , very simple, BIY chicken coop for a small flock, and I might need to build a simple "tractor", because they need to move around but I dont' want them pooing all over the lawn.

Do I need to have electricity to the shed? in winter time for heat or light?
Consider me an absolute newbie to chicken keeping.
I love my chickens! They are as much pets as food producers. When they get too old to lay, they will have a nice comfortable retirement and will never worry about being eaten.
I pick them for the color of egg they lay. I have pink, green, cream, light brown and dark brown. sadly, my girl who laid the pretty blue eggs died recently. I am looking for a couple of blue egg layers, if anyone near me has a few. I will pay well....
My girls
Hannah the easter egger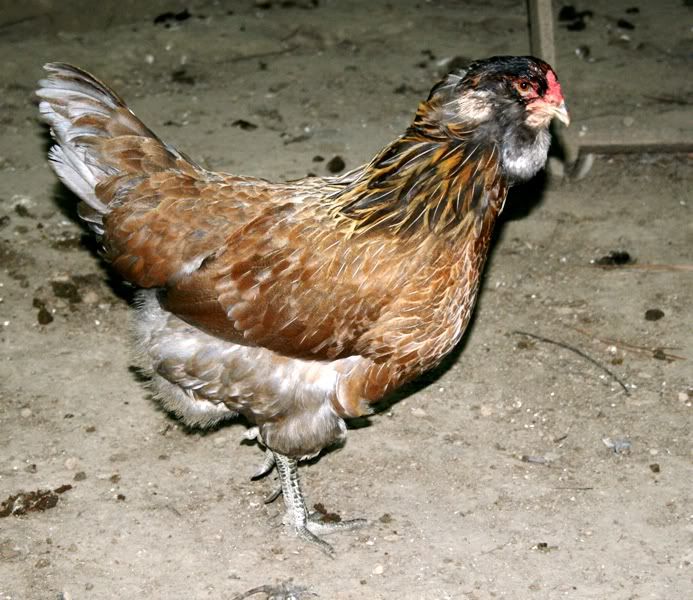 Phyllis the polish (as in Diller)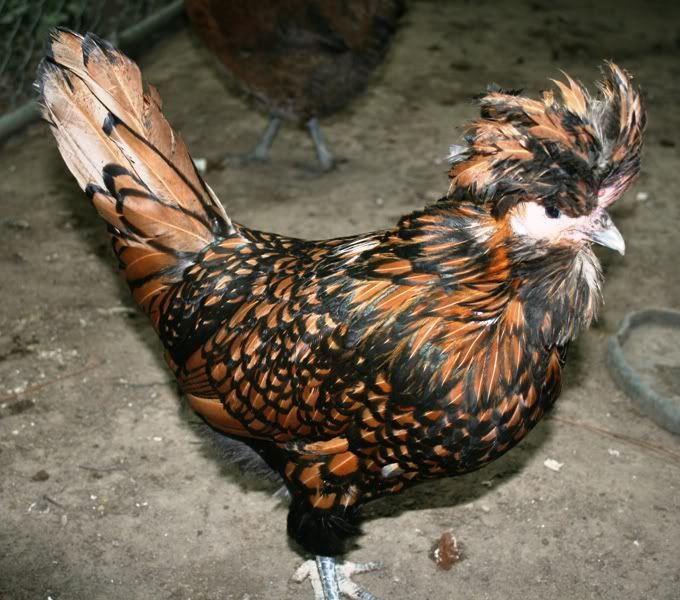 Rocky the barred rock
Loca the cuckoo moran
Elsie the EE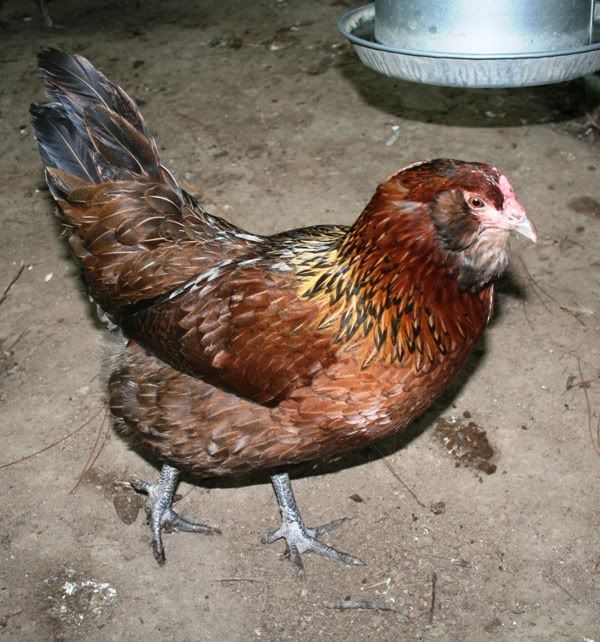 Amelia and Emily the silkie/cochins
My coop and run. They stay locked up unless I can sit with them while out. My area is FULL of every kind of predator.
I use four recycling bins for nest boxes and I have poop pans with stall deodorizer under the night roost. I use a scooper to clean them out.
A client of my husband's came in with two roosters she wanted put to sleep because they were overly amorous to the hens. My husband asked if he could have them instead of being PTS, (he hates doing that unless necessary). The owner gladly said yes. That's how we got Daryl and Daryl.

Fast forward a few months and the same client brought in two hens from her flock as a thank you to hubby for something. That's how we got Thelma and Louise.
I am sure Thelma and Louise took one look at Daryl and Daryl and said,
OH NO!!! NOT THEM AGAIN!!!
Allison, one vendor at my farmers market sells "rainbow eggs" and gets a premium price for them, especially at Easter.

Your Chicken coop is like the Taj mahal of chicken coops.
Quote:
I would like to try keeping three or four chickens in my suburban backyard. we are allowed 3 by law, no roos. Could some of you turn me onto a good , very simple, BIY chicken coop for a small flock, and I might need to build a simple "tractor", because they need to move around but I dont' want them pooing all over the lawn.

Do I need to have electricity to the shed? in winter time for heat or light?
Consider me an absolute newbie to chicken keeping.
I'm a little familiar with where you live. I've been up that way several times from Eugene where I used to live there. (GO Ducks!)
Depending on the breed of chicken, you should be ok having a coop or pen without heat. If what you end up building with doesn't have electrical access your winters should allow you to just put out hot water two or three times a day during the "freezing" parts of winter.
My winters are much harsher in the NE and while I use heated waters for our 5 months of winter, my girls love to sip on warm water like tea on really cold days.
Certain breeds are known for being more hardy and laying through the winter, no matter the conditions. I personally have never used a light in the coop as heritage breeds aren't affected by daylight length as much as commercial layers. It is the length of day that slows or stops winter production, not usually the temps.
For three or so hens it should be very easy to make/convert something into a "coop." I'm pretty sure Seattle still has an annual Coop Tour that might give you some great ideas. I've seen the pics and some of the coops are amazing, but I've also seen some great coops that were made from all kinds of recycled materials.... old windows, doors, paneling, dog houses, campers, kids play houses, fence panels propped together in an A frame, truck camper shells attached to a movable pen, under the kids trampoline, cheap shed from a home improvement store, and on and on. The question is more of what are you trying to keep out of the chicken area? Are dogs, racoons or hawks a problem?
All my good coop sites are still on my other pc, but if you google DIY coops, homemade hen houses and such... you will find some great sites out there.
This a really good site for- A. chicken pictures and B. researching breeds for cold heartiness, personality, rate of lay, and all the quick facts on a breed. Grab a cup of java or hot chocolate and click on each breed that interestes you and enjoy. Researching birds is fun! (To me anyway)
I think there is also a little quiz somewhere where it will tell you the best breeds for you/where you live.
Chicken Breeds
I'll try to remember some more of the sites I used in my research and post them when I can find them.
Allison,
The pic of your first girl looks like the twin to one I have. I just love your Polish too. I sooooo wanted to get some Buff Polish, but with my harsh winters and inablity to baby them during the cold, I was afraid my place would be their demise.
Yours is beautiful!
Whoa... I'm a chicken newbie too! What breeds produce the colorful eggs?
Quote:
Whoa... I'm a chicken newbie too! What breeds produce the colorful eggs?
Araucanas, Ameraucanas, and Easter Eggers lay eggs in shades of blue, green and pink. As I understand it both Easter Eggers and Ameraucanas are derived from the Araucanas. Folks wanted birds that would produce bright colorful eggs without the difficulties associated with Amaucanas and created the other strains which are hearty and healthy birds. The birds themselves are also brightly feathered in many different shades. In the chicken world the brightest blues are the most desired egg color and the hardest to come by.
Each bird will consistently lay its own shade of green, olive green, blue, pale turquoise, and pink/beige pink.
Also, the shells are popular with people who do eggshell mosaics because they are the same color through and through. Some of the brown egg layers just put an overlay of pigment on the outer shell that will wash off.
Barnvelders, Welsummers, and Marans lay the dark chocolate colored eggs. Different breeds of Marans lay the darkest of all the eggs and are hard to come by. I have Black Copper Marans and they cost me a pretty penny, but like mentioned before the colorful eggs sell for more money at the Farmers Markets. Customers will gladly pay $1.00 more for a carton of different colored eggs (like my basket of eggs pic) than for plain "brown" eggs from the exact same flock.
Tiny,
The chicken corner in one of my barns isn't near as nice or clean as Allisons and I'm a bit embarassed to post these, but I snapped a few pics this morning with my phone camera.
When I started the chickens I had grand plans to build a beautiful coop, paint it pretty colors and give it a cool name like on a Coop tour. Well, my champagne tastes on a beer budget and limited building skills got the better of me. I did build a seperate self contained chicken house (which I will NOT posts pictures of
) but I found it easier to bring the flock into the barn for the winter. I built this area out of all recycled materials.
The wide egg laying box has an old interior door for the bottom and standing ledge- note the door handle hole as marked with an "X", and old cupboard front for a top- angled to keep the birds off of it, and the jam and frame to the door made a lip to keep the eggs from rolling out. 2x4 legs on the front and attached to a wall on the backside. Scrap wood for the little ramp, tree branches for perches... and viola- instant coop.
I think the whole thing costed $5.00 for the box of screws needed to hold it together.
Also, as I was walking around distributing hay to my various critters this morning, my empty three seasen goat huts stood out as good mini coops. I found the plans and instructions in Hobby Farm Magazine for an article on goats.
Now I'm not very good at building things but I will attempt something if I can get a good visual on what it should look like when it is done. I took the materials list from the article to my local home improvement store and had them cut everything to size for me.
Took these things home, found a wall to prop the pieces against as I was putting together the frame and in just a few hours I had an instant hut. Either of these could be modified with a half front and since I'm only 5' tall its easy for me to get in and out of them. They have held up through a variety of weather conditions and are actually sitting on skids (which are buried under the snow) so than a person can drag them around. It would also be asy to put two wheels on them like a "tractor".
Other ways I save money... after the biannual coop cleaning I will put down a fresh bag or two of pine shavings and after that I add bags of raked leaves as needed (stolen from a neighbor in the fall, of course) and the chickens love them! Especially in the wintertime. My birds are very active in the pastures and so when snow covers everything they get board. A bag full of leaves will entertain them for weeks! The dig, shuffle through, play, and roll in them. In turn I get the nicest crumbled leaves/dirt to add to whatever new flowerbed I'm putting together. Note: chicken manure is "hot" and needs to age a while before being put around plants.
Most all leftover peels and foods are given to the birds. Nothing goes to waste around here. It gets composted one way or another or given to the birds.
---
Last edited by Lockwood; 02-11-2012 at

12:13 PM

. Reason: Gosh, I really need to proof read better! That or I need more coffee!
Trained
Join Date: Sep 2011
Location: Hour and a Half from Town!
Posts: 6,324
• Horses:
2
I like this website too:
Chicken Breeds - BackYard Chickens Community
Excellent group of chicken farmers on their forum, answers to every question and some great DIY tips.
Here is a photo of one of our portable coops. Pretty easy to clean, small, and portable. We got fancy with a sliding top and front door, but I'd rather have done hinges cause they were always getting stuck and frozen. We made it small to fit 4 chickens and when we closed it up at night their own body heat would keep the coop warm. It has sled running boards so I could move it easy every day and the wire run. We had a huge flood come through the valley and we didn't have time to grab them, well the darn thing was closed and it FLOATED and kept the hens high and dry! Miracle! I was so worried about them.
And a farm picture for cuteness!
---
You can get a lot further with a ladder than you can with crutches!!
What do you mean what do I mean?