Trained
Join Date: Sep 2011
Location: Hour and a Half from Town!
Posts: 6,324
• Horses:
2
Awwww!! I love them!!

You should have an area that stays around 97 degrees under the lamp. I put a heavy duty thermometer about two inches above the floor attached to the stand to make sure it's somewhat accurate. If the temp is too low you will get serious problems, heat aids in digestion and they won't drink and get dehydrated REALLY fast if they are cold for too long.
Posted via Mobile Device
---
Last edited by FlyGap; 05-06-2013 at

08:09 PM

.
Trained
Join Date: Sep 2011
Location: Hour and a Half from Town!
Posts: 6,324
• Horses:
2
Here is a good site, but I disagree with the 95 degrees, it should be 97 with room for them to spread out if they get too hot. It's too cold if they bunch up directly under the light, too hot if the are like in my photo. A small circle directly around the hottest area if the light is ideal.

http://poultryone.com/articles/broodingchicks-html
Posted via Mobile Device
image.jpg
I finally got around to uploading pics of my girls! There are more reds in the pics, but we only have two left. I hadn't named them yet because I didn't trust my raising skills after last years fail. I did ok this year. I have two out of six left where last year I only had one survive. My 6 yr old decided to give them names finally. The two reds are Lucy and Shelia. The white Cornish is Waddles.
It would only let me upload one pic? Strange. Here my red girls.
One more, waddles is Queen of her castle...
I have three brooders I use.
1. is the spare bathtub/shower. The sliding doors are great at keeping both chicks and heat in.
2. a 90 gallon aquarium on my screen porch. The older chicks go out there to start getting them used to cooler temps
3. a LARGE plastic storage box. This makes an excellent brooder. If you have cats, you can cut the top out and attach hardware cloth for ventilation. Just hang the light above the mesh. The top will snap on and the wire will keep critters out. The plastic is so easy to clean, too.
I finally got some photos of my latest five chicks. 4 purebred Americaunas and one standard blue cochin
#1. "lavendar Americauna (not a recognized color....yet!)
#2 another lavendar
#3 a wheaton. It was sold to me as a blue, but I think it will be a wheaton
#4 Another Blue/wheaton
#5 My blue cochin. You gotta love the feet!
The batch in the bathtub brooder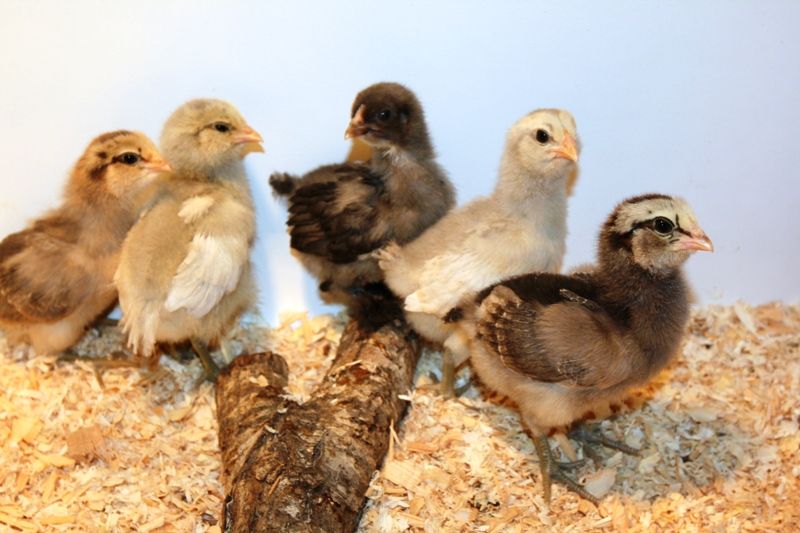 I'm glad I'm not the only one that has chickens in the shower on occasion!
---
Celeste
Carpe Diem!
Well, my little girl was sitting on 10 eggs ... and she hatched 10 babies.

My bff is taking all my banties.. I delivered all except her (as she was sitting) last week. So, this morning, I boxed her and her 10 babies up and delivered them to my bff...

I now have only standard chickens ............. not sure how I feel about that.
Finally I can post a few photos... First is a Silver Japanese Phoenix rooster and the Second is a Silkie cross roo. Bought them in March. I now have three delegations cuz I love my roo`s.
The third photo is the Phoenix hen. There are two photos of my "old" flock milling around and the last are my Cyuga ducks. The ducks free range my garden as soon as the plants are big enough, they are my bug patrol.
I looooooooooooooooove MF D'uccles... just gave my last ones to my bff .. *sniff*