Thought I'd share some more pictures of my mystery girl/boy- we've taken to calling her/him "roo" or "ro-ro" for short
I honestly hope it's not a rooster, as this is the least brave of my babies- when I'm cleaning the run in the morning, this girl/guy always seems to get separated from the rest of the flock and come running home in a big kerfuffle and hide out with me while I'm raking- definitely not going to be the flock protector if it does end up being a rooster.
None of the babies have started laying yet (come ON already little girls!!), so the verdict's still out. They have to be somewhere between 22 and 24 weeks at this point. I'm sort of thinking girl though, seems like maybe the tail is filling in some.
From the front:
With another for comparison (s/he is on the RIGHT):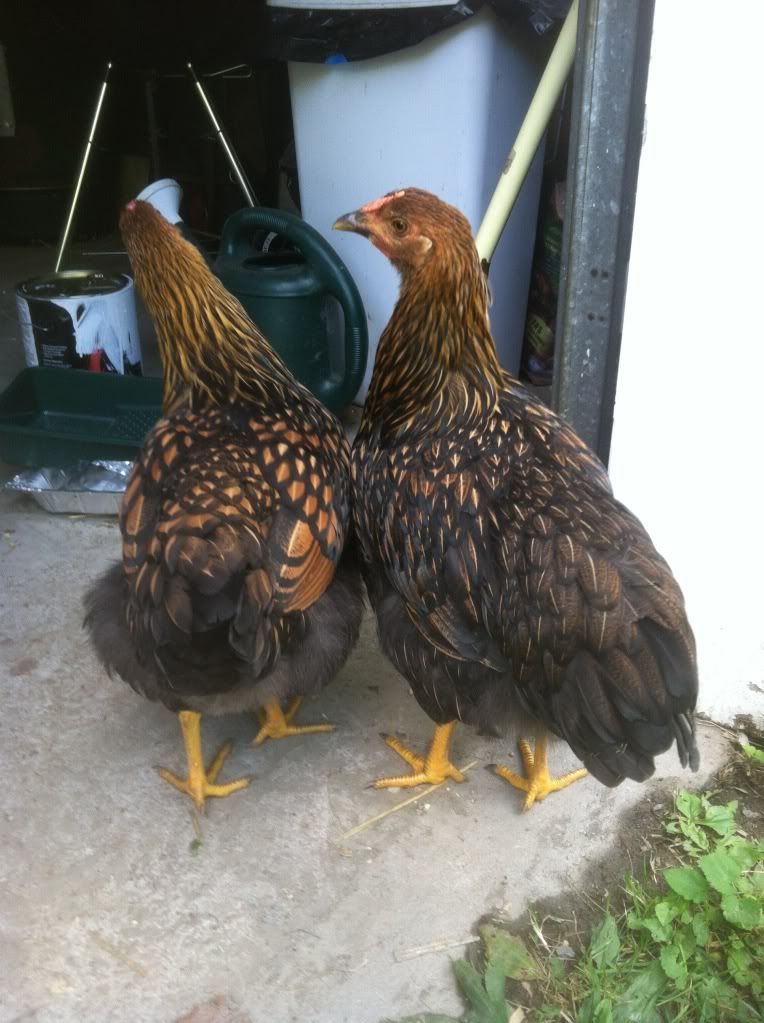 Tail: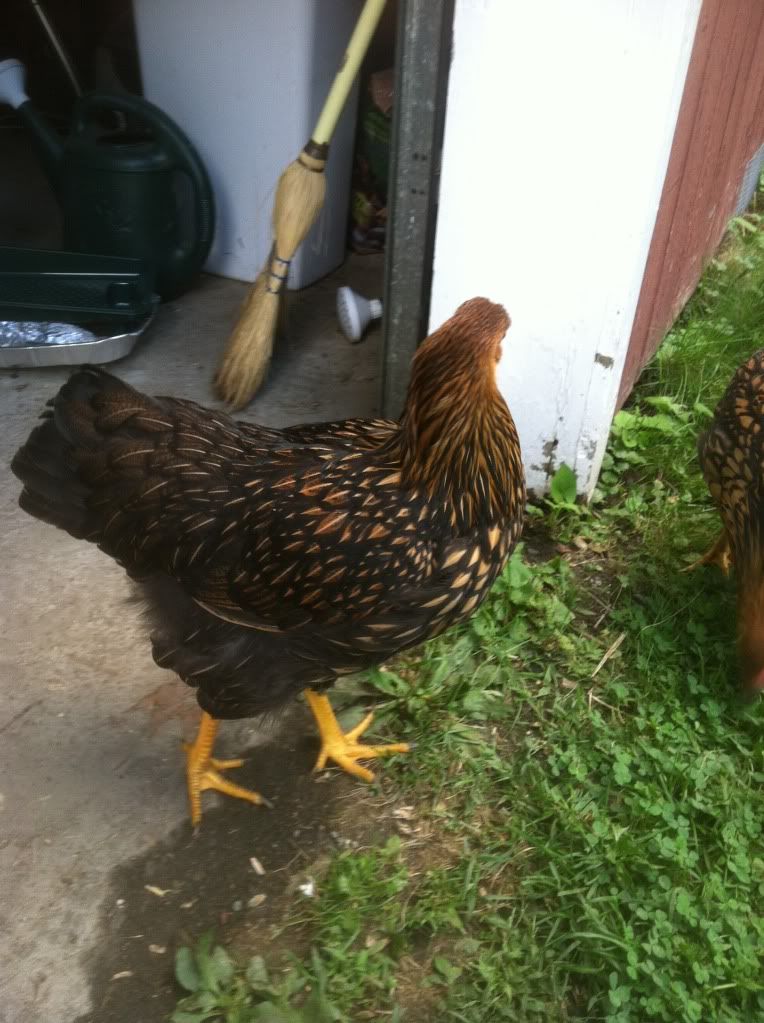 ---
Last edited by egrogan; 09-03-2013 at

04:46 PM

.
Still a pullet. Wyandotte roosters have such a different feather pattern and by 20 weeks you would be seeing definite differences. The tail feathers would be black by now. The combs would also be a dead giveaway by now too. GLW hens are going to outweigh your BR by a good 2# so don't let her size get in the way.

Wyandottes are going to be slower to start laying being a DP breed. My one GLW from this year started at 25 weeks. She had a nice read comb and waddle for about 2 weeks prior. Yours don't appear to have much color yet.

First time I saw a GLW, I was hooked.
---
Last edited by Left Hand Percherons; 09-05-2013 at

10:32 AM

.
Yep, the dual purpose birds take longer to mature.
I have Cochin and Buff Orp pullets and none of them are anywhere close to laying yet, although they're maturing nicely and are going to be quite lovely hens.
If your Wyandotte hasn't started crowing by 20 weeks, it's a girl. Plus, young roos are very leggy and taller than hens of the same age.
---
You want the truth? You can't HANDLE the truth!
What a pretty bird :O Your chickens clearly know how to keep up on the fall fashions :>
Thanks all- good news! I do love the look of the GLWs. So far, I find them a little skittish, but easily convinced when they see the others do something.
Posted via Mobile Device
Good looking bird, egrogan. It does look 'girly' to me in those pics.
Started
Join Date: Aug 2009
Location: In the barn whenever possible.
Posts: 1,910
• Horses:
2
Where do you order baby chicks from?
---
"Riding a horse is not a gentle hobby, to be picked up and laid down like a game of solitaire. It is a grand passion. It seizes a person whole and, once it has done so, he will have to accept that his life will be radically changed." -Ralph Waldo Emerson
You can Google hatcheries and get a list.
---
You want the truth? You can't HANDLE the truth!
My local tack shop sells them in the spring, starting around March and running a couple of months with different breeds coming in on different weeks
Posted via Mobile Device
Trained
Join Date: Sep 2011
Location: Hour and a Half from Town!
Posts: 6,324
• Horses:
2
Check out Gabbard Farms. They have absolutely the best at the best price and they are a small family farm!
Posted via Mobile Device