The hawks we get around here (Swainsons - sp?) don't bother the adults but they will go after the little ones. My husband interceded one time when a hawk got one of the chicks out by the hay stack. It was dead by the time he got there but he took it away rather than let the hawk keep it by way of making a point that you don't eat in this yard. Nonetheless that does not stop my birds from always going on high alert when they see a hawk over head (much like egrogan
).
I finally slowed down long enough to do some "girls" time with my chickens today.
Here's the Wyandotte whose toe we had to amputate: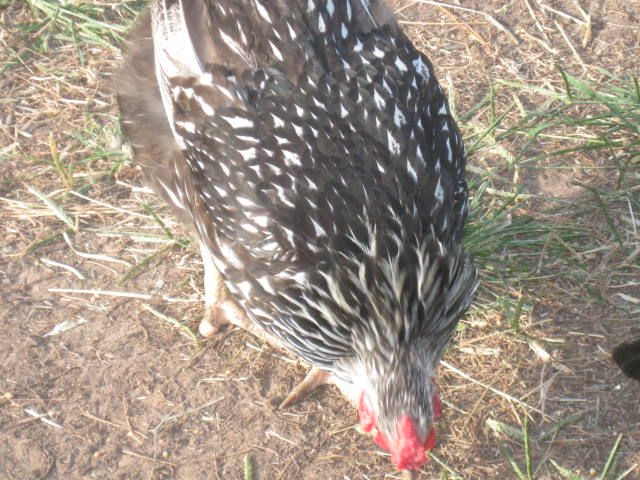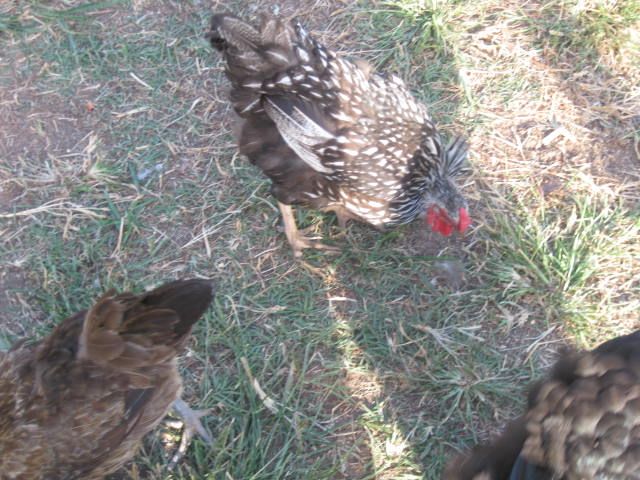 A group shot: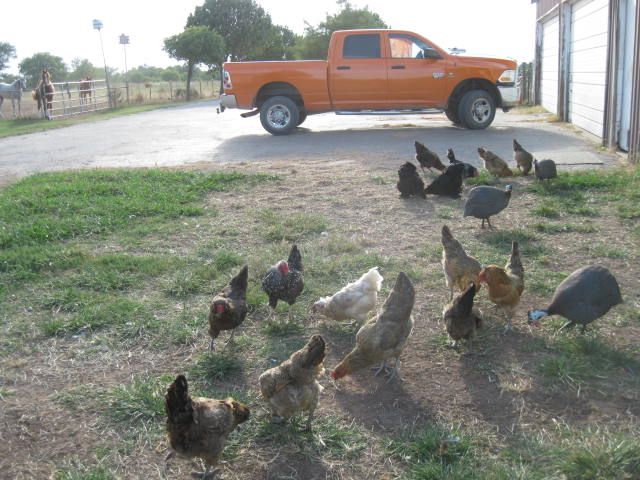 My oldest chicken, a Sebright, the only survivor from my very first flock: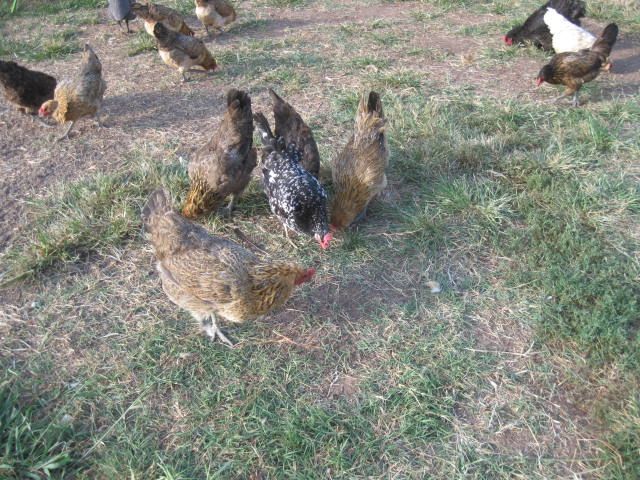 Chicken Candy!!!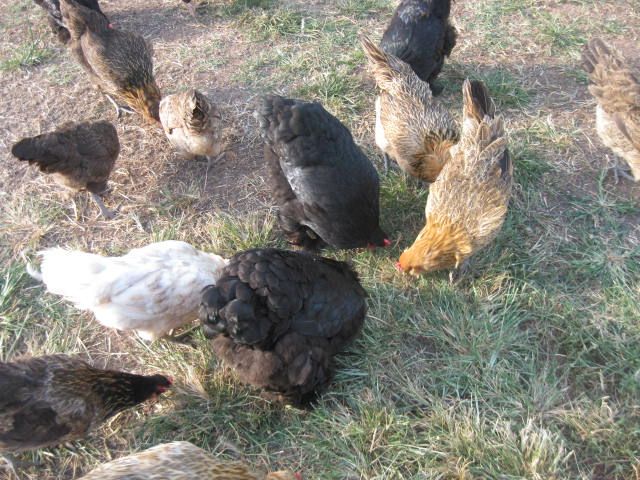 One of these days I'll be quick enough to have the camera on video when I run out the door and I'll post of them all coming at a dead run to get their chicken candy treats.
---
I think I figured out what spooked the babies the other day.

We have a big flock of wild turkeys that crosses through here every few days- probably about 20-25 total counting the babies they have.

Today I was cleaning the chickens' pen and heard some weird rustling on the hill behind me, turned around and the turkey flock was hanging out right there. I think we both surprised each other, and the turkeys took off flying up into the trees (those things can fly HIGH and FAR- who knew?!). The babies took one look at them and bolted for the coop, refusing to come out.
ROFL, if I was a baby and saw a turkey, I'd hide and refuse to come out too. HAAAH!
---
My Foxy(Silkie) is missing. ): Willow was looking for her and couldn't find her. When the chickens put themselves up for the night, Foxy wasn't in the coop. I don't know what happened. I'm going to hope that she just magically pops up out of no where.
---
There on the tips of fair fresh flowers feedeth he; How joyous his neigh,
there in the midst of sacred pollen hidden, all hidden he; how joyous his neigh
Oh, that's sad. I hope she shows up too.
---
I lost my last peeper to a fox on Sunday. I was hoping she was just in hiding, but she never showed up to put herself to bed with the others so I know he got her.
He tried to get several of my adult hens too, but only got a mouthful of feathers from one and I scared him off after his second try. Beautiful, healthy dog fox but I don't want him eating my chickens, dammit!
When Keegan's out patrolling the fox won't come around, but he was in the house with me during the first attack. I made him stay outside the rest of the day after that and didn't see the fox again.
I'll be getting more peepers in the spring, but I'm very sad to have lost this last one. I lost her mother to the same fox and her sister to a black rat snake when they were very small, so she was the last of her line.
I know it sounds stupid to be sad over the loss of animals I plan to use for food, but I do get attached to these silly birds.
---
You want the truth? You can't HANDLE the truth!
Quote:
I know it sounds stupid to be sad over the loss of animals I plan to use for food, but I do get attached to these silly birds.
That's how mine end up staying around forever.
---
Celeste
Carpe Diem!
I think Cochins are lovely birds, and I'm sad to be down to just two hens and a roo of that breed now. I'll get more early next year along with some Buff Orps. Not buying any more Rhodies though, even though they're decent egg layers.
---
You want the truth? You can't HANDLE the truth!
Awww...Kayella, I hope you find her :(

Sorry to hear about another loss for you SR, sounds like it's been a tough summer.