Fly--I'm so sorry for your loss. That really sucks )8 Animals being animals, I guess...

jaydee--That. Is. Awesome.
I NEED one 8O
---
The sensitivity of the internet baffles me.
Quote:
In my experience, foxes and other wild animals usually take one chicken and run while they can. The animals that go on a killing rampage tend to be dogs; usually pets that people let wander.
Not necessarily, Celeste. A fox who can get into a coop will kill as many as he/she can, and come back for the rest one at a time.
I lost 3 hens in one day to the same fox. He just kept coming back. I know had I left the coop open, he'd have killed all the rest that night.
The last chook I lost to a fox was a half grown peeper. That one made me sad, because I was looking forward to her starting to lay eggs. Besides, I'm raising chickens for ME to eat, not the local wildlife!
Fly, sorry for your loss. It stinks when you lose multiples at a time.
I plan to get more peepers this year, and hopefully one or more of my adult hens will go broody. I'd like to raise a few batches of my own instead of buying them. Otherwise, why do I have
two
roos?
---
You want the truth? You can't HANDLE the truth!
Trained
Join Date: Sep 2011
Location: Hour and a Half from Town!
Posts: 6,324
• Horses:
2
Thanks guys. :(

See that's why I'm baffled... No carcasses, just feathers, EVERYWHERE. My dogs were up so it wasn't them, nor would they hurt them. It also couldn't have been a dog because I live in the middle of nowhere. Any dogs that show up try and stay.

Coons in my experience will take a few but will also hurt a bunch in the process. I have a strong suspicion that it was the bobcat, argh... I've never seen a fox near. I've heard skunks will kill them, we have a skunk epidemic! I trapped several last year eating my eggs, but they didn't kill any.

So guess what? Today the electric co showed up because they saw from the highway a section of line sagging halfway up our mountain and needed to hike down and check it out.
The cause? A bear has been using a pole as a scratching post! Apparently it's massive, reaching up over 12 feet. If that guy gets brave I'm in trouble!
Posted via Mobile Device
Lions and Tigers and Bears! oh my.
When I was in Indonesia, I actually heard one of these roosters, and it sounded JUST like this. I couldn't believe my ears.



Sorry, but THIS one would be in the stew pot SOOOO fast!


Coyotes are a "one chicken dinner" but they'll come back for another meal 24+ hours later.

Dogs won't haul away all the carcasses. One, yes.... but they generally just kill for the fun of it and leave mauled chickens everywhere.

Only time I lost 3 chickens was to a Mountain Lion. We didn't find any prints (ground was rock hard) but the Mountain Lion was shot by Wildlife Dept. the next day and I haven't lost any more chickens. Mountain Lion wasn't shot for killing my chickens.... he was killing other people's lambs and calves and on and on.
Wow, no posts in almost 2 months. Is everyone out of chickens?

I'm suddenly up 15 chickens. I committed the cardinal sin and picked up 2 free EE hens off CL. City chickens who had never been outside a pen and were stressed with the new pullets and roo. Lavern and Shirley. Shirley's pretty beat up with broken feathers and a bald head but I can't find anything off with her. I'm too dry for mites and lice so I'm hopeful it's just stress and overcrowding. I have 8 one month old chicks in a brooder. 3 EEs, 1 RO, 1 welsummer, 1 bue Ameraucana and 2 cream brabanters. Last week I added 5 golden brabanters and gave them to a broody cochin. Having a hen raise chicks is simply a marvel of nature.
My goals for 2014 is to start breeding brabanters and OE.
Awww, look at that happy momma. Just last night, I found one of mine wanting to go broody on me. She wasn't up on the roost with the others, but was cuddled up in their favorite nest with 8 eggs carefully arranged under her. No rooster, so no matter how hard she tried, she wasn't going to be successful, and I don't want to do chicks this year anyway. I took her off the nest and put her back on the roost, and I think she slept up there with them. She came out with the rest this morning too. She's still acting funny (puffs up all her feathers and coos at you when you get anywhere near her), but hopefully she'll get over it.
I do have one- who has always been the runt- who seems to be getting picked on pretty badly and also has a bald head. No bleeding or anything, but they've really done a job on her feathers. Not sure how to help her.
Here are a couple of recent pictures.
Enjoying the spring weather: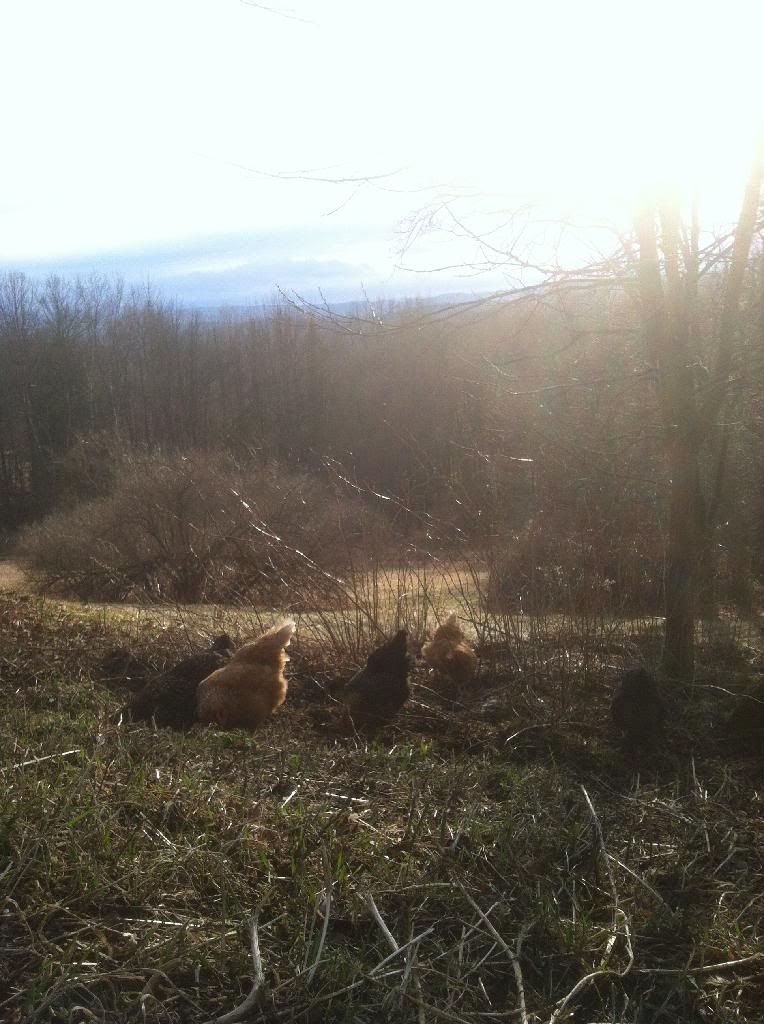 Trained
Join Date: Sep 2011
Location: Hour and a Half from Town!
Posts: 6,324
• Horses:
2
AWWWW!! I want a broody hen!
I bought Orphinghons and alstralops hoping they would raise me some chicks, nothin yet.

I have skunks getting in the coop again! Pulling out the traps.
Posted via Mobile Device
I have a RIR/Cochin cross that I think wants to go broody. I'm hoping she will, as she was raised by a hen so hopefully won't abandon the eggs like the hatchery bred hens do.
---
You want the truth? You can't HANDLE the truth!