Yearling
Join Date: Mar 2012
Location: Where the red fern grows....
Posts: 1,293
• Horses:
4
Re-enforcing chicken coop
---
In light of my neighbor feeding every slithering, flying, crawling or on 4 legged critter in our neighborhood, were rural, I had to reinforce our chicken coop fence today. This is what it looks like so far, minus the larger blue tarp, we are putting a roof on the inner chicken coop yard and redid a few of the rounds: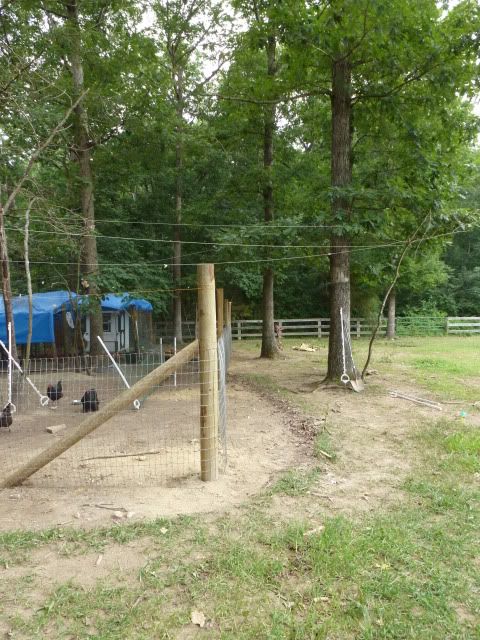 The fencing is heavy horse fencing, about 5ft tall, with rounds reinforced in concrete. Yesterday, while going out to feed a half hour early, was a fox attempting to grab and jerk one of my hens through the fence. In the haste of the other hens to get away, two of my pullets flew over the fence, which the fox then turned its attention on them. I bolted through the fence, screaming and yelling, as well as clapping my hands at the danged thing...one of the few times I didn't have a pistol with me. It stopped, turned and watched me run toward it till I was about 10ft from it, turned and trotted off. My son heard me and went after it, but it had circled around and came through another area!! Got another stick thrown at it!
Today my husband and I put up more wire, so now the fence is a good 6 1/2ft tall!! Everything is re-enforced, the bottom of the wire is wired to the top of this fence, so there is no gaps, like this:
I did call Wildlife, Fish and Game to ask if they could possibly talk to this neighbor. Unfortunately, while they don't care for people to feed the wildlife, if it is on her property, she can do what she wants. It has to be a "threat" to human's before they would consider doing anything at all. I have had a coyote last week come at me out of the dark when I did our last feeding of hay for our horses, now problems with foxes...they did tell me that in VA, foxes can be shot or trapped and euthanized, as long as it is on my my property, which it is. Same with coyote's as both are considered nuisance animals and several have had horrible mange.
It amazes me WHY people must feed the animals!! She will be in for a rude awakening come deer season as we gave a good friend of ours rights to hunt our 40 acres that goes around her property and she feeds the deer sweet feed. I have warned her on several occasions that we will let someone come hunt, she said I wouldn't dare...well, for fresh deer steaks, culling of the herd, my land...yes I would.
Anyone else have this problem with a neighbor???
The first photo, that was when we were building the chicken coop and the chickens were contained in a small quickly put up yard....those white stakes are no longer there.
---
Last edited by GreySorrel; 06-23-2012 at

02:09 PM

.
Have you thought about running a hot wire or some electronet around the outside? Might keep them from getting close enough to grab through your fence.

We are over-run with groundhogs & raccoons this year and they are bold too. They are coming way closer to the house than I have ever seen in the almost 40yrs we have lived here. All the building in our area isn't helping but I blame it on the neighbor behind us. His lack of manure management, poor animal husbandry, and very poor feeding and feed storage practices equal easy food for wildlife and predators. I definitely feel your frustration.
Yes, a hot wire at the top will keep raccoons and foxes from climbing over. Foxes can climb 8 foot fences.

My coop is chain link lined with chicken wire to keep raccoons from reaching through. It also has chain link roof. It has buried chicken wire bib all along the ground. My coop is the fort Knox of coops. Many vermin have tried to get in, but none have succeeded.....yet.

The down side is that I have to stay with them when they free roam. A friend has a day run for his flock made of electrified mesh fencing. It works for him and I will be looking into it in the future.

I also periodically trap and kill raccoons.
---
Last edited by Allison Finch; 06-23-2012 at

04:46 PM

.
Ugh!

I had a neighbor that not only fed racoons, she left her bedroom window open at night so if they ran out of cat food they would COME INSIDE so she knew to give them more! I was very happy to move.

Right now, due to lack of trees and places to hide or eat I don't have any wild animals other than Coyotes and a herd of Antelope that wander through. My neighbors have 9+ horses on 9 dryland acres, there isn't a single blade of grass on their entire property and they don't clean up manure, so not only do I constantly have their horses breaking out to come visit my place, I have 100000000000000000 FLIES! I can no longer find or use my front door as it faces their property, no matter how many traps, strips or gallons of fly spray I use. I sprayed the front porch today and then swept up an entire 5gal bucket of dead flies. I was tempted to go dump the contents over the fence.....
Quote:
Ugh!
I sprayed the front porch today and then swept up an entire 5gal bucket of dead flies. I was tempted to go dump the contents over the fence.....
Not sure I could have resisted the temptation!
My daughter & I are currently working on building a scratch pen for our BO since the farm a mile down raises bird dogs. 3 weeks ago a few of the dogs got loose & killed 36 chickens. now the dogs are making regular "visits" to the farm. we're also teacing her how to shoot a 22. We are using 2 old outdor dog kennels & wrapping them in chicken wire & chicken wire tops.
---
Cowgirl up!
I learned the hard way that dogs, racoons, foxes and skunks can go right through chicken wire. I tore my entire run down and re-did it with hardware cloth. So far, so good. Also we dug out around the run and put an apron of the hardware cloth around the bottom, put the coop up on blocks with a concrete slag underneath it and wrapped the bottom of the coop in hardware cloth. Cheaper than buying a new flock every year!
---