We used to have a Rhode island red. He was a jerk lol.
Got kicked quite often. He liked to go after the kids, jump on their heads. Was hilarious.

But the new one is shy. Never hurts anything
You certainly don't need roosters to have eggs and if they make you nervous or cause you to not enjoy your chickens with your children, get rid of them.

Advertise them for free on craigslist .. someone would appreciate a PR Roo ...

You should, first and foremost, feel comfortable and enjoy your chickens!
kait,

We went through the exact same thing and ended up with two Plymouth Barred Rock roosters. They stay sweet and gentle until at least one year of age; when they are sexually mature they CAN get a little agressive.

We kept one and gave one away, the one we gave away was kept by himself and spoiled rotten, at about a year of age he was threatening to flog or spur so he was found a home with hens. The one we kept we tried to breed so we could raise chicks from eggs, he stayed sweet and hand tame the entire time but we were not able to get chicks from him. Whether it was his fault or the hens not setting I can't say. When we got tired of the noise and the extra mouth to feed we sold him at a poultry swap.

I think whether or not they get agressive depends on whether they're kept alone, with hens or other roosters and how they're handled. I do think they're a bit of a nuisance unless you're trying to raise chicks, but I can completely understand people keeping barnyard roos as pets and for insect control.
Actually flock dynamics are similar to (horse) herd dynamics, except chickens have a harder time accepting new birds. IF they are raised together, ALL hens and ALL roosters will live peaceably, with the alpha rooster in charge. The only problem is if their enclosure is too small, and then there will be "hen pecking" stress to the birds lower down the pecking order. If you introduce a new rooster to an existing flock, the rooster in charge will fight him to the death. Yours are too young to fight another bird to the death, but they have already established pecking order. Here is my 2012 laying flock--I incubate eggs and "retire my old flock to freezer camp" at the end of every year--and the red rooster (Spawn of Satan, btw!!) is in charge, with the b & w rooster just hangin'.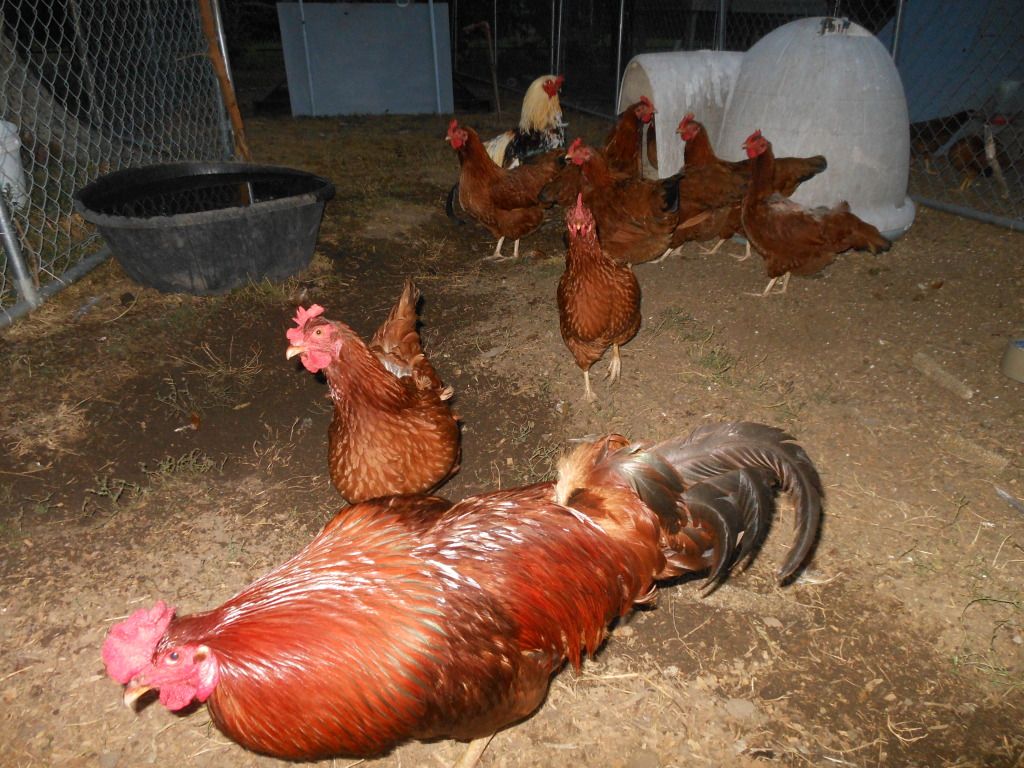 Here are my birds hatched 9 weeks ago and 5 weeks ago, all living together with no real fights. This flock will shrink as the oldest roosters get sent to the kitchen for dinner, LOL!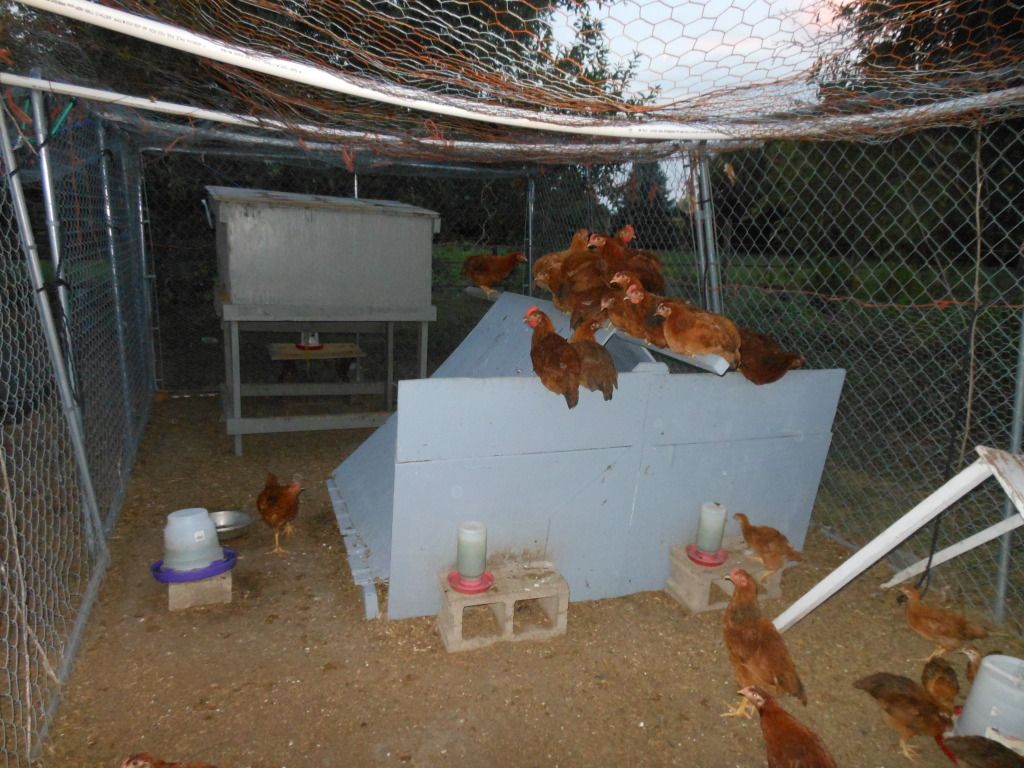 LOTS of free roosters from people who don't want them. RIR roosters and hens are notoriously mean, but people like the volume of eggs they lay. WE eat lots of fertilized eggs, which will develop for about 3-5 days, depending on the temperature, but then stop, so it never hurts to have a rooster on site.
---
Last edited by Corporal; 07-24-2012 at

03:16 PM

.
why would you eat a fertilized egg?? that just sounds gross..which is why i dont want roosters...

the amount of hens we have now is perfect we dont need more lol

as for the roosters they are free ranged and only put in during the night. they have fought each other a bit but they seem to be going back and forth on who is in charge...seems neither wants to give in just yet which is why i am thinking caging them and selling them asap :P

btw corporal beautiful flock you got there
kait .. fertilized eggs are no different from non-fertilized eggs. No embryo starts forming until 3-5 days of INCUBATION. If you gather every single egg every single day there is no chance of getting an egg that is 3-5 days incubated.
Quote:
kait .. fertilized eggs are no different from non-fertilized eggs. No embryo starts forming until 3-5 days of INCUBATION. If you gather every single egg every single day there is no chance of getting an egg that is 3-5 days incubated.
but it still sounds gross lol :P but then again it took me 3 months to start eating eggs again after i say the laying process
Seriously, kait, I think you'd be happier without a rooster.. they aren't for everybody..
haha same i am already sending the ad to our local farm magazine... hopefully i get somebiters lol..

otherwise my mom and dad are fending for themselves because i want nothing to do with roosters :P
I can tell you that more roosters hatch out than hens at any one time. Honestly, you cannot taste the difference between a fertilized and not fertilized egg, and we eat our eggs almost daily. You CAN tell the difference in chicken meat that you get from your backyard flock and the bland Cornish Cross birds that live their lives in tiny cages. Even my 2 week old chicks want company, room to scoot around and they start enjoying dirt baths and chasing moths at that age, too. The meat on my young roosters is tender, and gamey without being dry. I butcher them knowing that they're lived a happy life. Chickens CAN live about a decade, but mostly they live about 3-5 years. After the first year, the # of eggs from your hen declines, and then you're feeding a pet that occasionally lays an egg for you.