I raise and show Boer Goats. You usually take them in with a prong dog collar, or a choker chain for professional shows like ABGA (American Boer Goat Asco.) and square/box them. Usually they have to be Wethers (gelding) or Does (Mares/Nannies) Bucks (Stallions/Billies) are usually not for State/County fairs.

Tips; Always smile and keep your attention to the judge.Dont try to be funny, and be very polite.
Keep your hands off you animal, only touch them to square them.
Stay in you pen, and make sire nobody messes with your goat.
Dont get emotionally attached to a wether.
Get people interested if you are seling your goat.
---------
Any questions ask me, im like a goat guru to most of my friends, hehe.
I showed goats in 4-H as a kid. The "yearlings" are shown purely on meat conformation. You lead them in and the judge feels the groceries. They also have breeding classes to judge nanny goats and bucks. The babies do get sent off to slaughter at the end of some shows but not all. If you raise only nannies you can sell them to breeders afterward to save their lives.
Here is how you show a wether lamb. Not exactly the best, but you get the idea.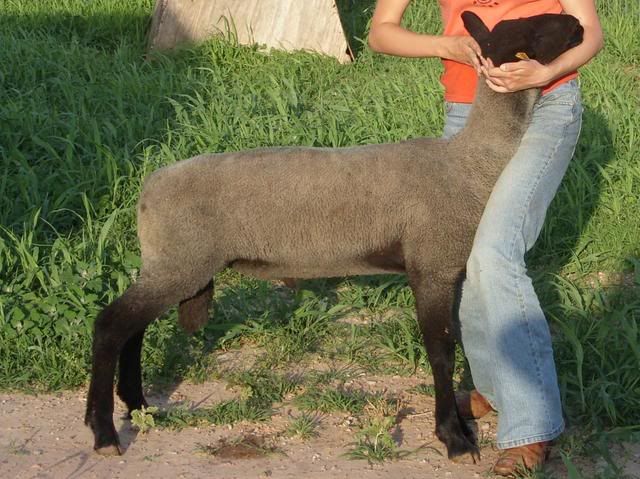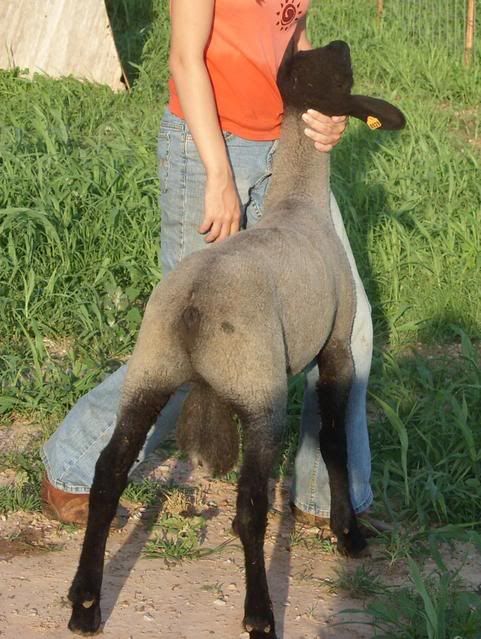 If we're talking Dairy goats I have those! Market goats are similar.
And then you make sure you leave plenty of space between the hocks for an udder like this!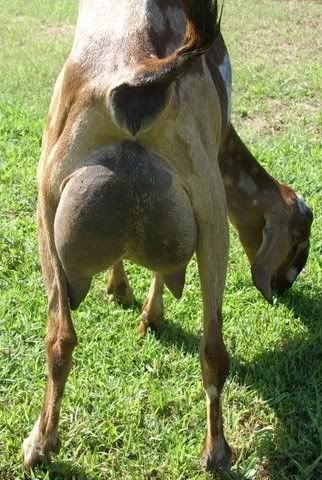 Hope this helps! =)
Show livestock is very rewarding. It is all about having an animal that is presentable and that looks like it has been cared for. While showing, like horse shows, show off your animal. If you are standing between your animal and the judge then the judge cannot see the animal.

I also forgot to mention that Dairy Cattle can be shown as well. Dairy cattle can be shown starting as young as 2-4 months of age and as old as 10 years of age. The older cattle are generally shown at open shows, breed associations shows, or state fairs.
I show all sorts of livestock. As a matter of fact I was the 1st guy to represent horse barn in Supreme Showmanship in almost 30 years 3 years ago in 4-H. I just finished up 4-H, except my last state fair, and have been showing livestock for several years now.

The easiest to show are pigs, sheep, and goats, in that order, imo. The only trouble with pigs are getting them to work with you. Sheep are simpler since you have control over them with your hands. Goats are shown VERY similar to dogs from what I understand (I don't show dogs). Goats are a hassle with what all you have to do with them. Training their heads up, working on a collar, etc. Cattle require a LOT of attention in the sense that for their health and looks, they must be washed every single day. Cattle are also very very expensive with equipment and feed. Pigs are also expensive on feed. Goats and sheep are similar in cost, but sheep CANNOT have any other food but sheep feed and what is approved for them (copper sensitivity).

Halter breaking is difficult with cattle in the sense that they are strong (like horses) and extremely stubborn. Most people I know that show cattle use tractors and trucks to work with their cattle. Sheep and goats are easier since they are smaller.

In the end, it is all a ton of fun. I love showing livestock. It is my favorite pasttime. If you have any questions though, just shoot me one.
Cows really dont have to be WASHED everyday. but in hot weather you need to rinse them off. especially long hair cows. makes their hair grow better and you need to train their hair forward. brush forward at an upward angle. no soap required. bad for their skin and hair. only use soap if they are really dirty or before a show. Cows are very hard to halter break. IMO get someone who knows what they are doing to help you or pay them to do it. you can get seriously hurt. I have been there before as I halter break all of mine and other peoples. Enter showmanship classes. they judge how you show mainly not the animal. it helps. now you must bond at least a little with your animal i would spend hours with my show steer tonka. I'd even take naps on him. lol. or I'd sit by him and he would lay his head in my lap. he was my sweety. But now he's someones meat. :(
---
When In Doubt Let Your Horse Do The Thinkin
Quote:
Originally Posted by spookychick13
What Lone said.