Tractor we picked up at auction, it's 95HP, so there isn't anything we can't do around here with it. Neighbors borrow it a lot, theirs is wimpy and they don't have all the attachments we do.
Polaris ATV, John Deere ride-on and our kiddy 4wheeler. The kiddy 4wheeler is now collecting dust and a matching set of 250cc 4wheelers have taken it's place.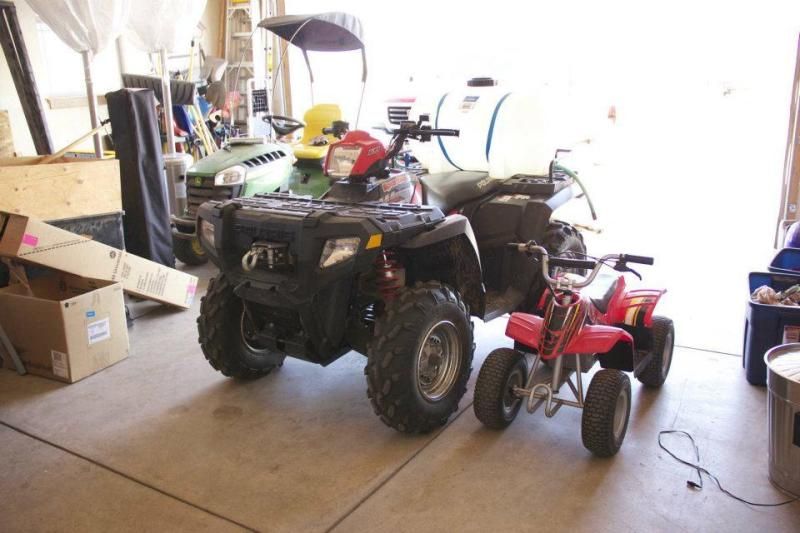 The 3 4wheelers are used the most often. Due to property set-up, animals are pretty far from the house and nobody wants to carry a 50lb sack of pig food a couple miles. The Polaris has a 35 gal water tank strapped to it's rear rack, we are short on water hydrants so we haul water to the chickens with it.
Heres my tractor. Its a Massey Ferguson 2605. I got it when my wife and I bought our place. I have a 5 ft southern bush hog, 6 ft scrape blade and a chain harrow right now. i'm planning of getting a disc harrow or a PTO drive tiller for it soon. I'd like the tiller but they are about twice the price of a disc and twice the maintenence so it will probably be a disc.
Foal
Join Date: Nov 2011
Location: Edge of Fla/Everglades(sw side)
Posts: 228
• Horses:
3
-----------------------------------------------------------
Foal
Join Date: Nov 2011
Location: Edge of Fla/Everglades(sw side)
Posts: 228
• Horses:
3
=================================================