Super Moderator
Join Date: May 2012
Location: CT USA an English transplant
Posts: 24,587
• Horses:
3
Once it snows here we don't see any green stuff that's worth anything until May - sometimes the end of May so it might be nice to have something 'fresh' to feed
I think the cost of growing organic feed for horses would make it very expensive to buy - keeping large scale field crops weed and insect free would be really labour intensive and in areas with high humidity problems the loss to fungal disease would be impossible to control
---
"Good things come to those who wait… greater things come to those who get off their ass and do anything to make it happen." - Unknown
Trained
Join Date: Sep 2011
Location: Hour and a Half from Town!
Posts: 6,324
• Horses:
2
Fodder!!!
So it took me forever to get started but now we are up and runnin!
My homemade setup: Cost $0. Bag of wheat: $12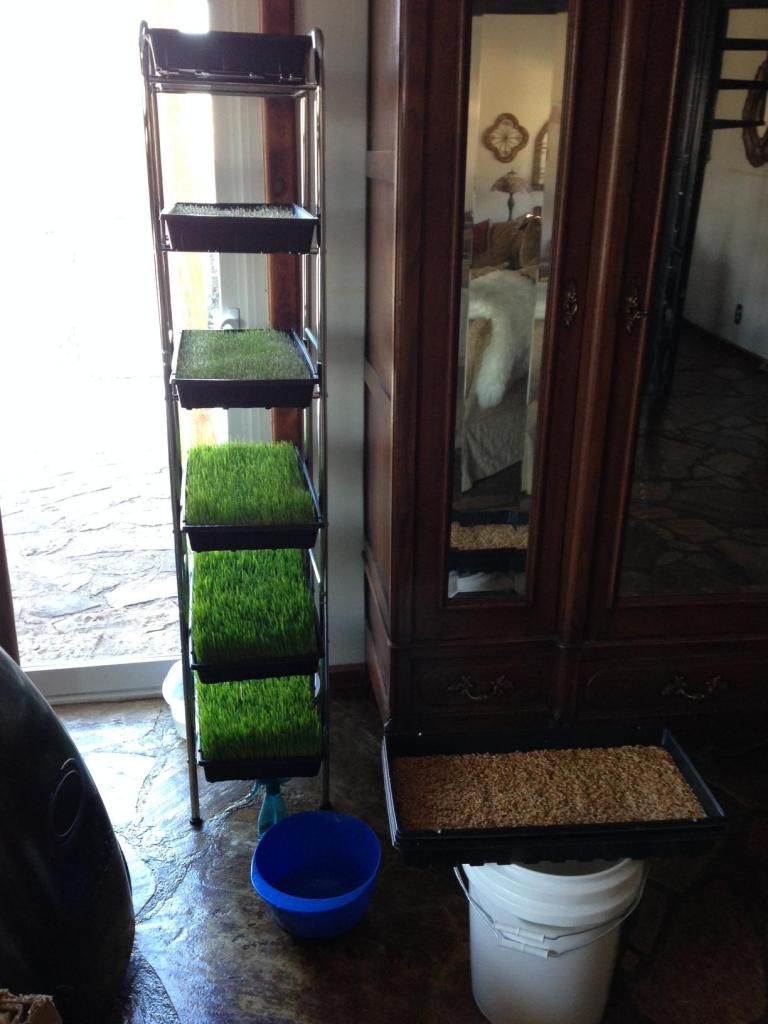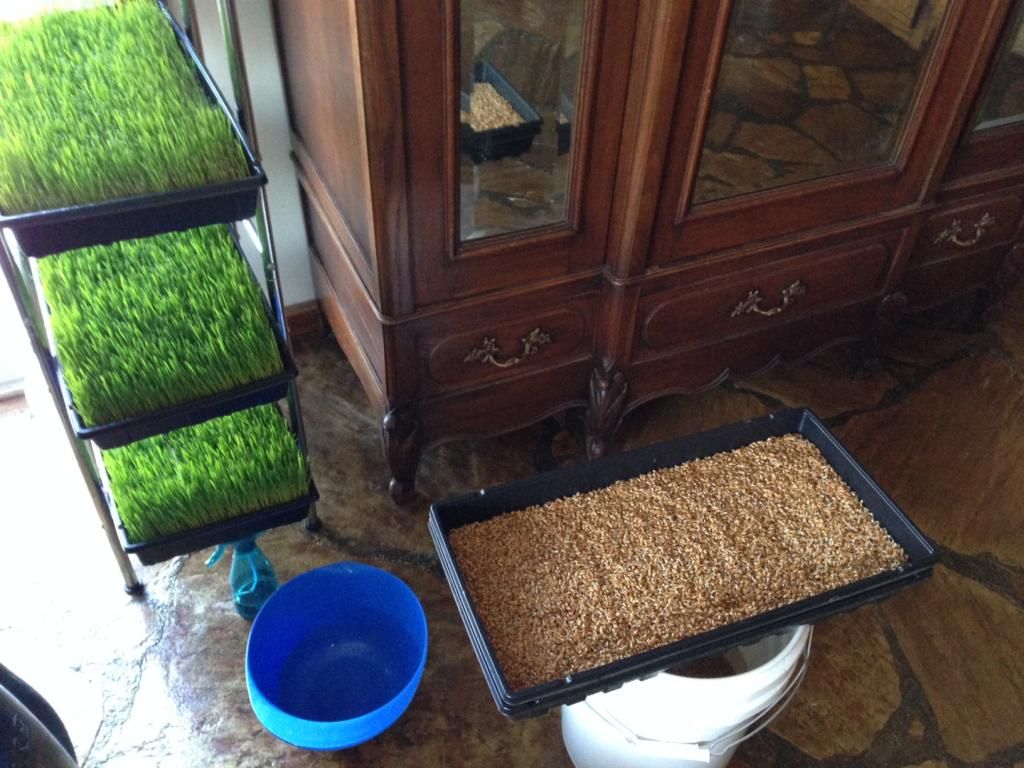 The "product" 8 days later:
I'm getting 9 lbs of fodder from 1lb 12oz of wheat seed. I tried barley but it molded and was tossed, I think I need to soak with more bleach added. The wheat has had no problems and is LOVELY.
Dash, the fatty, loves it! It took them a couple days to figure out.
The chickens DIG IT!
This is their first look at it: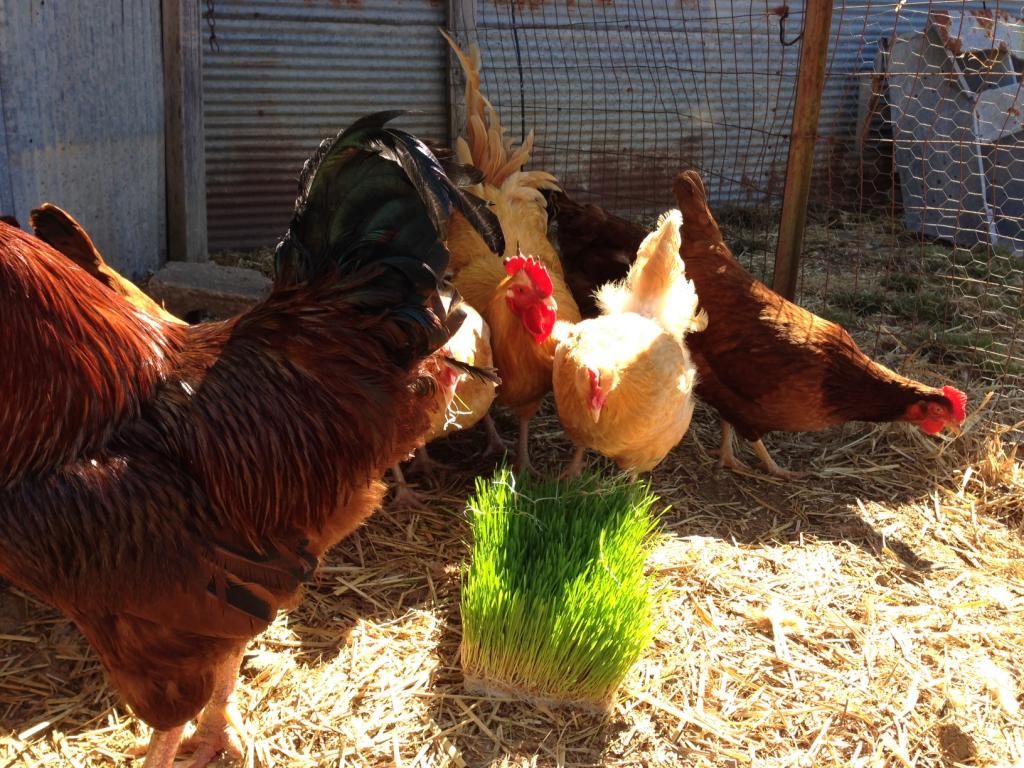 This Roo says ok ladies, it's good!
I'm expanding and doing a larger setup this week. It'll produce 30lbs a day, :).
---
You can get a lot further with a ladder than you can with crutches!!
What do you mean what do I mean?
Super Moderator
Join Date: May 2012
Location: CT USA an English transplant
Posts: 24,587
• Horses:
3
I wondered if you ever tried it out - I wonder why the barley didn't work. Looks like its been a success with the wheat though so worth the effort
Trained
Join Date: Sep 2011
Location: Hour and a Half from Town!
Posts: 6,324
• Horses:
2
:)

I think the barley just had more mold spores on the grain. I'm terrified of bleach and am using as little as possible so with three teaspoons a gallon in the initial soak it would do better, I'm only using 1 now for the wheat. It dissipates but I dispose using ANY chemicals in the house. I'm looking into using something better like peroxide or just oxide... Found mixed results.
With the weather getting warmer barley is the preferred grain, so I need to get it down. It'll be too warm to grow wheat successfully, it needs temps in the 65/70 degree range. Which is about as warm as I could get the house with all the bad weather....
Posted via Mobile Device
You and I seem to have the same enthusiasm for self-reliance, FlyGap. That's a big part of my interest in growing fodder.
You may be interested in the forum at BackWoodsHome Mag:
self-reliance | homesteading | canning | backwoods | magazine
a lot of good people with good ideas there.
In regards using grass seeds, as I said on the other thread, grass is grass and all grains are grasses. the nutritional differences from one type to the next is too small to make any difference.. We should go by cost and ease of germination.
Wheat & oats sell for about $0.25/lb. Fescue, & rye are over $2.00/lb. On-line sources of barley seem to be even more expensive- I guess they're trying to capitalize on the ignorance & wealth of the yuppies who want to eat organically at any cost.
Oh, I just notice the second page of posts.

Your matts of fodder look pretty much like mine. Our germination rates are pretty much the same. You may be layering the seeds out a little thicker than I do. I only go ~1/2 - 3/4 in thick.

You needn't worry quite so much about the diluted bleach- after all, you've swallowed swimming pool water and didn't die. That's all it is.
This probably won't help you because of your climate, but for anyone in a zone with a winter growing season and a summer drought, growing fodder trees like acasias and tagasaste as shelter belts is worth considering. Both are legumes and produce high-quality green summer fodder with a good protein content. Tagasaste is also called "tree lucerne".
Cows eat both. Horses eat tagasaste.
Here are some photos - click to enlarge:
This shows a three-year-old line of tagasaste in the background.
A horse in summer eating tagasaste.
Tagasaste completely sheltering the donkey paddock - we live in a very windy, summer-hot area. Our fruit and vegetable garden and house also are sheltered by tagasaste belts. These tagasaste will be cut off at 1.5m when summer feed is required, and will send vigorous new shoots almost immediately now that their roots are in the groundwater!
Three-year-old acacias growing along the driveway (not visible).
Same acacias seen two months earlier from a house window, when in full spring bloom.
All these were hand-planted with an adze after weed control. Tagasaste was obtained at 10c per bare-rooted seedling. We planted 800 and 95% took. Tagasaste also flowers profusely mid-winter, plugging up the usual winter feed gap for bees in this area, and giving our hives an early start on honey-making.
Plus the birds love these hedges.
Acacias were 80c per cell seedling.
Planting shelter belts of fodder trees has many, many benefits besides fodder!
More here:
Shelter belts