We have Malinois. They are great protection dogs, but I wouldn't recommend them. They need a lot of socialization.
Josey.jpg
I don't think they would do well if left at the property unattended.
I would imagine herding breeds like collies would do fine since that is what they are bred for.
---
So in lies the madness, the pursuit of the impossible in the face of the complete assurance that you will fail, and yet still you chase.
I have a Shih Tzu X Cocker Spaniel named Texass-Mickey, as well as an Australian Sheperd X German Sheperd named Boogaloo AKA Looie. Both are perfect in every way
lol they are my perfect companions at the barn. Texass is very respectful of horses, as he learned to watch their feet the hard way. And my little Looie is 6 months old and a perfect angel. She respects the horses naturally and quietly prances around the yard, making sure every animal is behaving well.
Nothing better then having a good dog by your side.
My barn has an Australian Sheperd (the mother of my Looie) and she tells us when anything is wrong. Like if coyotes are around, an animal is sick or injured, and protects all the animals. She also keeps the horses from fighting and if they get out (the mini stallion ducks under fences and one of the geldings always jumps out) she will make sure they stay safe in the yard. She is a great farm dog, and my dogs have learned some of her good traits.
Posted via Mobile Device
we've got a german shepard and a border collie/heeler
---
All it takes is all you got
I have an Italian Sheepdog, a Mareema, called Bear. He looks after all the livestock, including us!! He is big and white and friendly,but if we needed protection, he'd be it! Loves hanging out and playing with other animals, especially baby animals.
cowboy bowhunter
- "I have a black lab X golden retreiver. She is trained to not let horses off the property if they get out and not to let other animals on. And She wont let my neighbor on my property she is a very good dog."
SAME!!!! Our black lab X Golden retreiver is a very good dog and is almost too protective of horses!!! we have cyotes around our place and she's chased so many off I probably couldn't even count them...
---
To ride or not to ride? What a stupid question!
You want an intelligent dog with a work ethic, and bigger is better. Herding breeds that also guard are the best choice. Watch out for purebreds bc the genetics are producing scads of dogs with genetic physical problems, and you want a healthy specimin.
My dog, "Xena" (1998-2008, RIP), a GS/Collie cross was a very good choice.
After owning a BC cross ("Rose," b. 2007, Husky/GSxBC) I like this, too. Rose is TOO brave for her average height but 60 lb frame. She runs a minimum of 2 miles/day--we know bc we put a pedometer on her--but it's mostly playtime with her friend, "Pygma", and scouting the property for rabbits. She barked for 45 minutes at the coyotes one night when she and I were sleeping in the tent by ourselves (and the horses) and there was a large company of coyotes in the park (at a CW event.) When we ride our north 3 acres, the dogs come along with us, and I like that, too.
Here are the dogs:
Xena, 1998-2008, RIP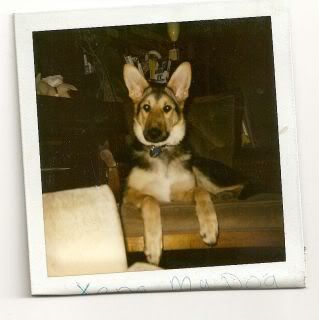 Rose, 5yo Husky/GSxBC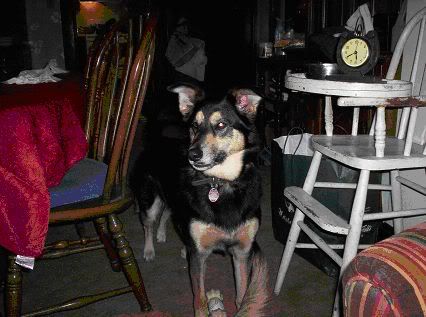 Pygma, 4 1/2yo Lab/GSxPitbull (good watchdog, poor guarding dog, but GREAT Velcro dog)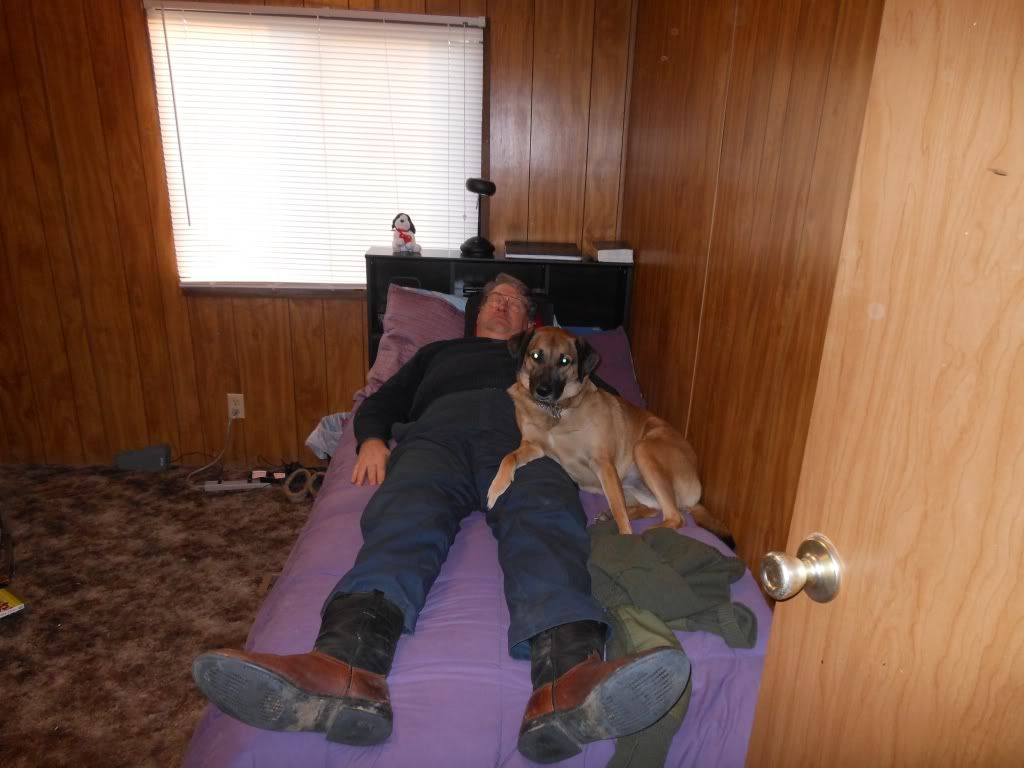 Rose and Pyg "Wolfing"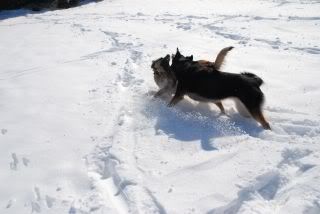 Rose & Pyg Tandem Chicken work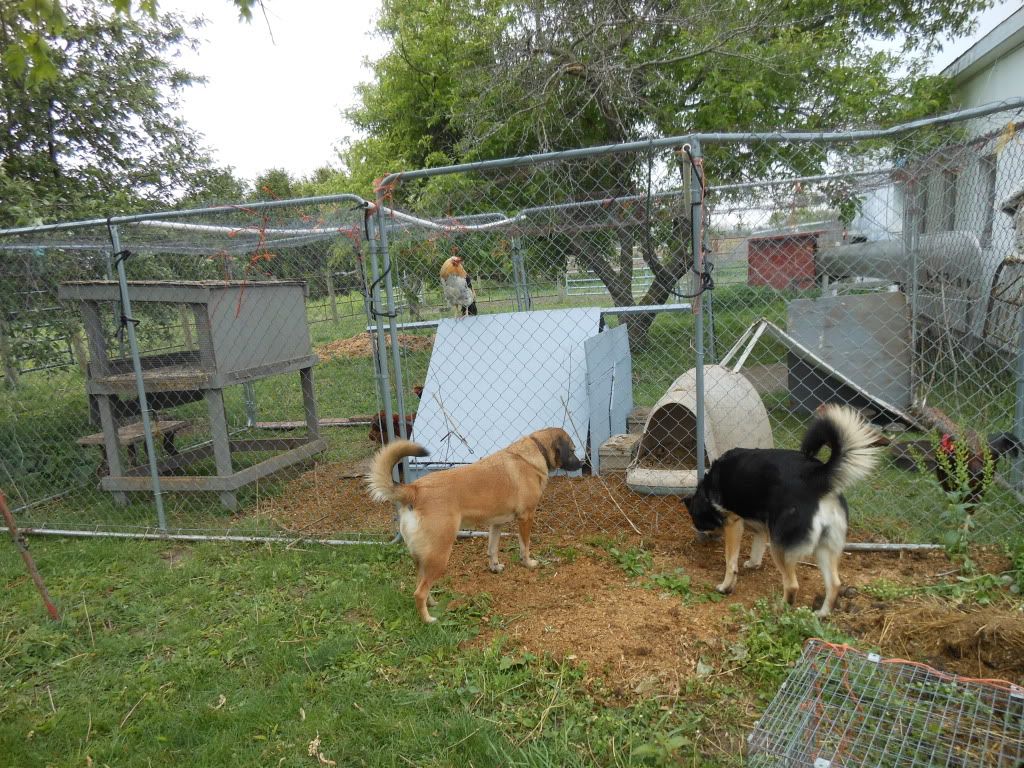 My australian shepherd/st bernard mix is probably the best guard dog I have ever had. He is VERY protective of his property and anything that goes with the property, including people and other animals. He's not a great dog to have around horses, but that's because he hasn't really been around them (I took him to meet my old gelding once and he nipped my gelding's nose...funny thing was, my gelding nipped back lol). If he had been raised around horses, he'd be wonderful with them. He does love cows, though, and has a good herding instinct/high prey drive.
He's not huge (about 60lbs), but he's big enough to be intimidating. A couple of Jehovah's Witness missionaries tried to come through the gate at my old house when I wasn't home one day and learned that the big red and white dog with the wagging tail was NOT to be taken lightly. My mom was walking her little dog down the road by my house when it happened and saw the whole thing. She said they petted Cash over the fence (it was a little 4ft chainlink fence that he could have cleared without touching had he wanted to), then one of them grabbed the latch on the gate to lift it so they could go in. Cash went from friendly to Kujo in a split second and nearly caught the guy's hand. Funny thing is, if I'm there (unless he feels I'm threatened directly), he's a big lover with just about everybody.
First time he'd ever seen snow and he LOVED it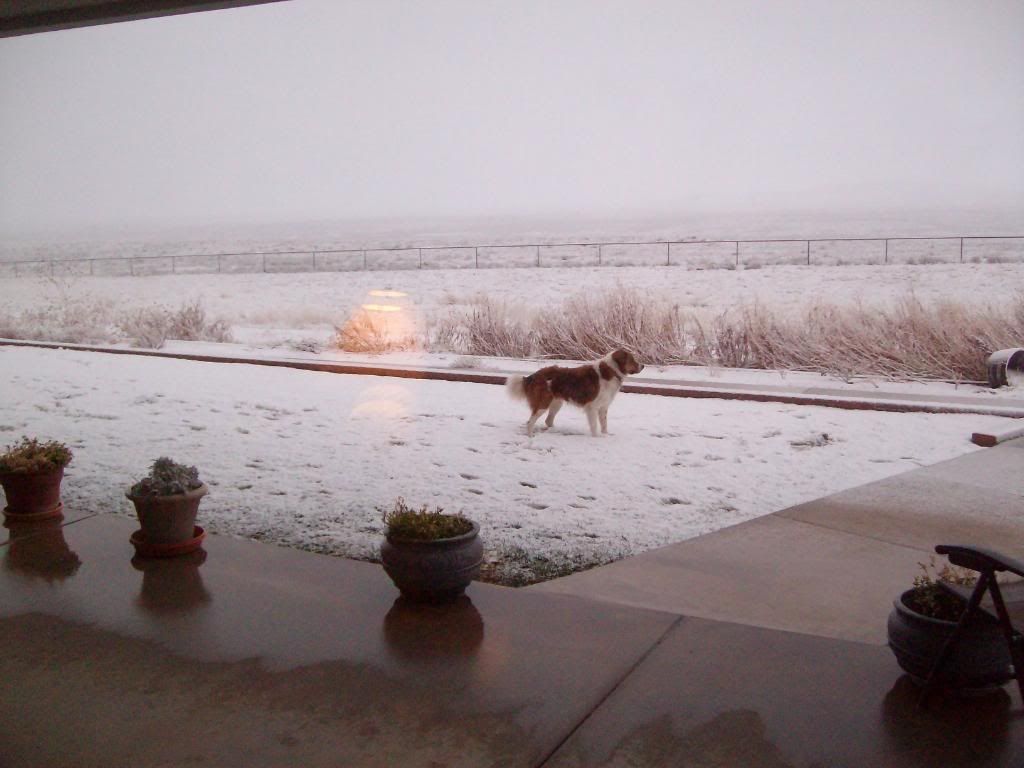 First time he'd ever seen a cow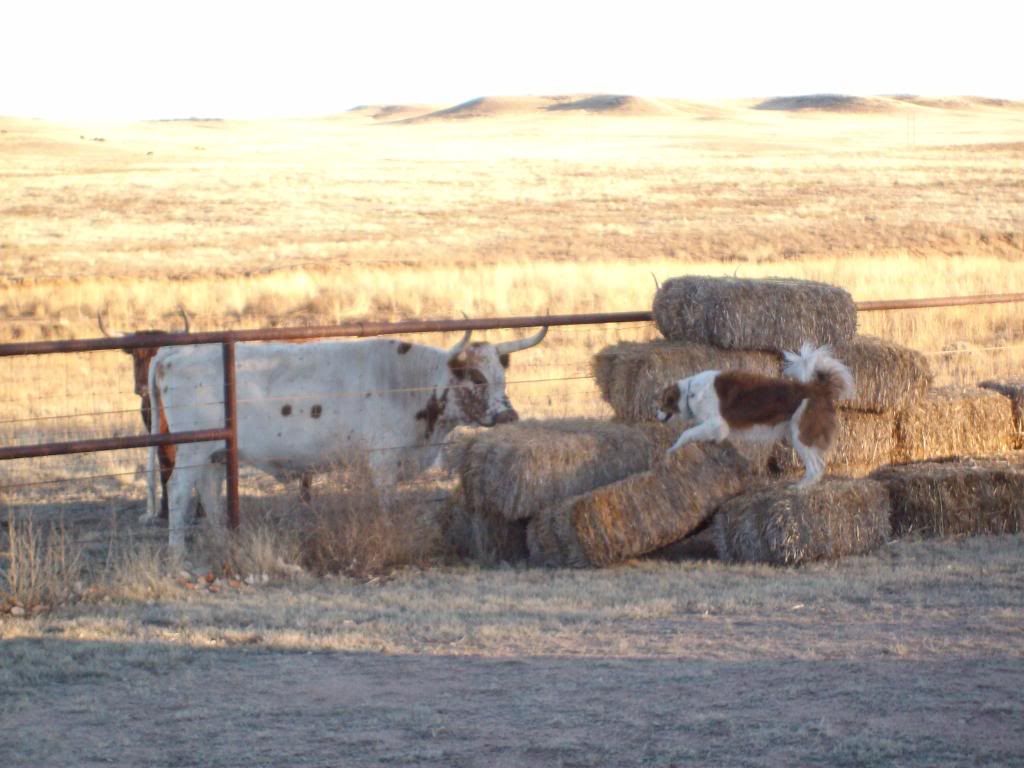 He's not necessarily a "farm dog" right now, but whenever I get the chance to move and can have my own place where I can have Aires on my property and some other livestock, he will become one.
---
Do not tell me I can't...because I will
show
you that I can.
If you need a dog to protect property with no people there, you're going have a hard time. Mabe you should stick with breeds that are bred for just guarding. Dobermans come to mind. Have you thought of just getting an alarm system? It might be cheaper in the long run than a dog that may or may not stick around a place with no people.
I have a Rotwieller mix that a neighbor got to protect property with no people. She kept coming over here every time they left for the day. Finally they just told us to keep her. Even if they had chained her, what good would that do for protection?
She's a good watch dog but loves her people. I also have 3 Scottish terriers that are great watch dogs and rodent killers. They could care less if I was here so not big people dogs but I also wouldn't trust them around small children. I think an alarm system is your best bet.
---

"Until one has loved an animal, part of one's soul remains unawakened..."
- Anatole France
@ DraftyAiresMum. We had a Shephard/St. Bernard mix that looked exactly like your Cash. She was the smartest bestest dog we ever had. We lost Izzabelle many years ago and I still miss her so much. Best dog ever.
---

"Until one has loved an animal, part of one's soul remains unawakened..."
- Anatole France
Yearling
Join Date: Jan 2012
Location: In the middle of NOWHERE! (seriously...)
Posts: 861
• Horses: 0
I have a Rhodesian Ridgeback mix.
He is amazing with kids, small animals, and my horses! (and the neighbor's cows...
) Ridgebacks are very protective over their families, and will jump between you and anything if they think that they are in danger... My boy jumped in between me and the neighbor's stallion when I was out riding and the stud got loose... but, unless he feels like I'm in danger, he wouldn't hurt a fly. When there's have an 80 pound dog sitting on the porch staring at you, I guarantee you won't want to get any closer! lol I don't have pictures of him right now, but I'll post pictures later!!
---
Strength
lies within the heart
but the strength to trust
lies between the horse and his rider.