building stalls, fencing and general noobie questions
---
My cousin, daughter and I are about to begin building stalls and fencing on our land for our horses. I hate to come here and ask dumb questions, but none of us have any experience with this and I would like to go ahead and spend my money wisely the first time.

What size and kind of boards should I go with for the stalls. Obviously first and foremost is safety for my horses (my horse has been known to take a bite out of his stall), but secondly I am looking at durability and getting the most out of my money. Right now I am looking at what Lowes has to offer, but am not limited to them as there are other lumber yards in the area.

I'm going to have to brace the wood to cement blocks and a cement floor. How do I go about doing that? Also, somebody was telling me that horses will kick right through cement blocks. I for the life of me can't figure out why a horse would kick a block wall, but I thought I'd ask about that just to be on the safe side. If necessary, I can build wooden walls in front of the blocks. It'd be a heck of a lot easier to replace wood than blocks.

T-posts. I'm assuming the 6' posts will do the job just fine, but if I'm wrong, feel free to speak up.

Sorry for all the noobie questions. I just don't want to mess things up and wind up wasting time and money trying to fix mistakes.

Thanks!
I hope y'all aren't reading this and thinking 'this girl is to dumb to help'
I did find out that horses can bust block while trying to get up and kicking it. I guess I will make a wooden wall in front of the blocks.
Some people suggested using 2x6 for the boards and 4x4 for the posts. I still don't know what kind of wood is safe for horses, though. My horse does chew on his stall occasionally. Not bad, but I don't want to take any chances.
It's really hard find info, because most sites just want to sell you barn kits. I don't need big fancy stalls, just safe ones.
You should call and go to you NC University Extension office that closest to you. Universities have free plans for building for livestock. IF you put posts in cement blocks horses will knock them over...1st day. My suggestion is to start with 3 regular round pen sections and one round pen gate section, like this~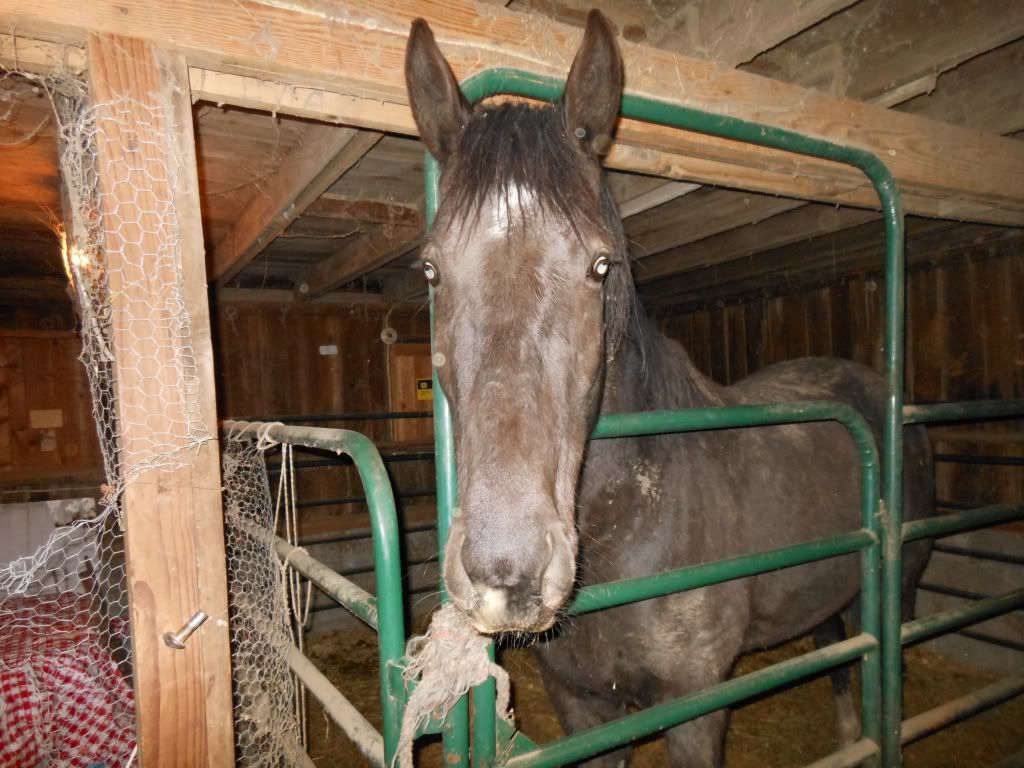 My gelding has a 12 x 12 stall from this. In addition he has a lot of ventilation, which more and more experts suggest. They are instant stalls and, if you build from wood later you can get more panels and create a round pen for training from these. IF I ever get to build my indoor arena--I have the room, just not the $--I intend to use them for a round pen.
For Fencing, pretty much all fencing uses either 8" diameter, 8' tall posts OR you go electric. A farm supply store can sell you what you need, and probably help you decide that, too.
LOL, Sandy. Our old barn, that actually had stalls in it, basically consisted of walls made from treated 2x8s stacked on top of each other and they had a metal strip going down the middle of them that connected them together and made them stronger/more secure.

Are you looking to build solid walls like an actual prefab stall kit would be or are you looking more toward having it the way you would build a fence, with gaps between the boards?

About the block wall, I would want to build a wood barrier in front of that because wood is, like you said, easier to replace and it actually has some give so it's less likely to hurt the horse if they kick it.

I'm honestly not sure how much of a health risk the treating on treated lumber poses to horses. Though I do know that there are these little 3 sided angle iron things that you can put over the top of the top boards to keep them from chewing the wood.

Plus, a can of pepper spray works miracles on wood chewers, just spray it on the board and they stop chewing LOL.
Thanks, Corporal, for suggesting the NC university extension office. I did not know that.
Is there not a way I can brace the posts to the cement blocks, then attach the boards to the post?
Robs, I'm looking to build stalls with solid walls like in the kits. I'm not interested in the grills or fancy sliding doors like those in the kits, though.
Good point about the wood having more give to it. I had not thought of that. I'm definitely going with the wood barrier. I don't want any unnecessary lameness issues.
Thanks for the suggestions on stopping the wood chewing. He doesn't do it often and only in one spot, so I bet the pepper spray would work great.
Thank you both for the help. Trust me when I say I could use all that I can get
I forgot to add that my fencing will be electric.
Read everything you can about electric fences, about making a good connection, lots of grounding if you'r not sure add any other grounding rod, it I have to put in electric again I am using bi polar fence so I don't have to worry about grounding, their website is also great for info on installing and has a calculator to figure out everything you need. We put in the fence posts by hand (ours were wooden) pry bar and sledge hammer, not sure about t posts but you probably can find some teenager that will put them in cheap per post because after a dozen your shoulders want to fall off.

When comes to building my mom and I did most of the work other than framing because we wanted that strong and not waste materials ( we made a 10 by 10 run in for less than $500 materials including wooden, stain, shingles, and all). Good luck
That's exciting Sandy!
It's been ages since we built ours but did them ourselves. We did solid high walls (we have studs) 6x6 posts for the frame, used treated 2 x 8 boards on the lower part of the walls but not treated on top. Fronts have panels inserted to see out. I can get some pics later if you'd like.
I'd think you could lag your posts into the block. My hubby does mainline work for the cable company but when he still did installs, he had a giant concrete bit to go through foundations in houses, they were probably close to 2 ft long, something like that would do it. Pre-drill the concrete and posts and then use a lag type bolt with a sinking head. Just a thought, I'm not the construction person at our house...I decide what needs built and the hubby does the rest
---
Life is like a camera. Focus on what's important, Capture the good times, Develop from the negatives and if things don't work out, Take another shot.
Quote:
I forgot to add that my fencing will be electric.
You mentioned T-posts (metal?). These will work fine provided you get proper insulators for them and cap them as the tops are very sharp. You will need by buy insulators that are made for the type of fencing you choose (i.e. rope, wire, tape, braid). There are lots of electric fencing options out there that work very well. Be sure to follow the manufacturers instructions regarding tightening and anchoring the ends. If your fencing is too tight of too loose, it won't last as well.
Buy extra fencing materials including wire, end anchors, tighteners (if required) insulators and wire. That way if something breaks or if you want to add some fencing, you have what you need. I also recommend keeping 10-20 step-in posts on hand just in case you want to cross fence an area, or graze an area outside of your fence. These are also great to keep horses away from an unforeseen hazard like a tree fallen over your fence line.
Most electric fencing power units are made for the outdoors, but an inverted ice-cream pail over top will offer the unit good protection from the elements. If it is indoors, it's not an issue. Also, be sure to follow the manufacturers instructions re: grounding.
Electric fencing is very effective and cost efficient. If properly installed, it requires minimal maintenance.
You can rubber mat the concrete walls to add cushion and if you get used conveyor belts, it will be much cheaper than wood.