Oh and due to the heat my lettuce all kicked the bucket but my SIL who has more shade than sun at her place has it coming out her ears. I am trading chicken eggs for lettuce, green beans (as something ATE every single leaf on every single plant... about 150 of them) and brussel sprouts.

Kids are not happy about the brussel sprouts and I think had a chat with my chickens..... dang things are either not laying at all, hiding their eggs or something, I got a measly 2 eggs today! Grrrrr
Quote:
I hear you MHFQ-
I''ve been going back to the spring and hand carrying buckets of water to the plants again.
Can I have a slice of pie too?
(Don't be offended by my puzzed face when I see it. I've never had that kind of pie before.)
Oh, it's a must try Lockwood! If you like any kind of cream pie, you'd like it. One would never know it was made with veggies! It's a big hit with my fam & friends, pretty much a mandatory for me to bring to any get together. Enough so that I vacuum pack & freeze tons of pre-cooked zucc just for pies.
Here's the recipe, I promise you won't be disappointed.
Zucchini Cream Pie
1 1/2 cups zucchini - peeled, seeded and sliced
1 cup evaporated milk
2 cups white sugar
1 egg
3 tablespoons margarine
3 tablespoons all-purpose flour
1 teaspoon vanilla extract
1 pinch salt
1 recipe pastry for a 9 inch single crust pie
1/2 teaspoon ground cinnamon
1/4 teaspoon ground nutmeg
Directions
Boil zucchini until tender. Drain and let stand in cold water for about 5 minutes, then drain.
Put the zucchini, evaporated milk, sugar, egg, margarine, flour, vanilla and salt into a blender and blend until smooth.
Pour into unbaked pie shell. Sprinkle with cinnamon and nutmeg. Bake at 425 for 5 minutes. Reduce heat to 325 and bake until set.
---
Life is like a camera. Focus on what's important, Capture the good times, Develop from the negatives and if things don't work out, Take another shot.
Zucchini pie.
Sounds like some vegetables that even a kid would eat.........
---
Celeste
Carpe Diem!
That kind of recipe has danger written all over it....."its so healthy, another slice can't hurt me!". :)
---
There is just as much horse sense as ever, but the horses have most of it.
Lol Missy! My mom did try making it healthier once with Splenda instead of sugar and it was GROSS. My kiddo is a big veggie eater anyway but my nephews who aren't love zucchini pie. They'd probably change their minds if I told them what was in it though
I also like using zucchini in lasagna instead of noodles, another easy way to sneak some veggies in on the kiddos.
---
Life is like a camera. Focus on what's important, Capture the good times, Develop from the negatives and if things don't work out, Take another shot.
I just spent the last hour cutting up and fixing the last of the apples from our one little tree. I coated them with a ton of sugar with cinnamon and put them in the dehydrator. I did another batch last week. They were really tasty. The kids came home for the weekend and they wiped them out.

For that matter, they wiped out most of the edible substances in the house..........
---
Celeste
Carpe Diem!
Trained
Join Date: Sep 2011
Location: Hour and a Half from Town!
Posts: 6,324
• Horses:
2
Hi! Hope you all are doing good!
Last night I dug up the potatoes, they were toast and we only doubled what we planted.
They are super YUMMY though!
E saved all the tiny ones and I boiled them up for her in butter and salt, she couldn't get enough.
The tomatoes are so good I have sores in my mouth, breakfast, snack, lunch, and dinner!
MUST STOP!
Onions and jalepenoes taste like they've been baked, which they have, LOL!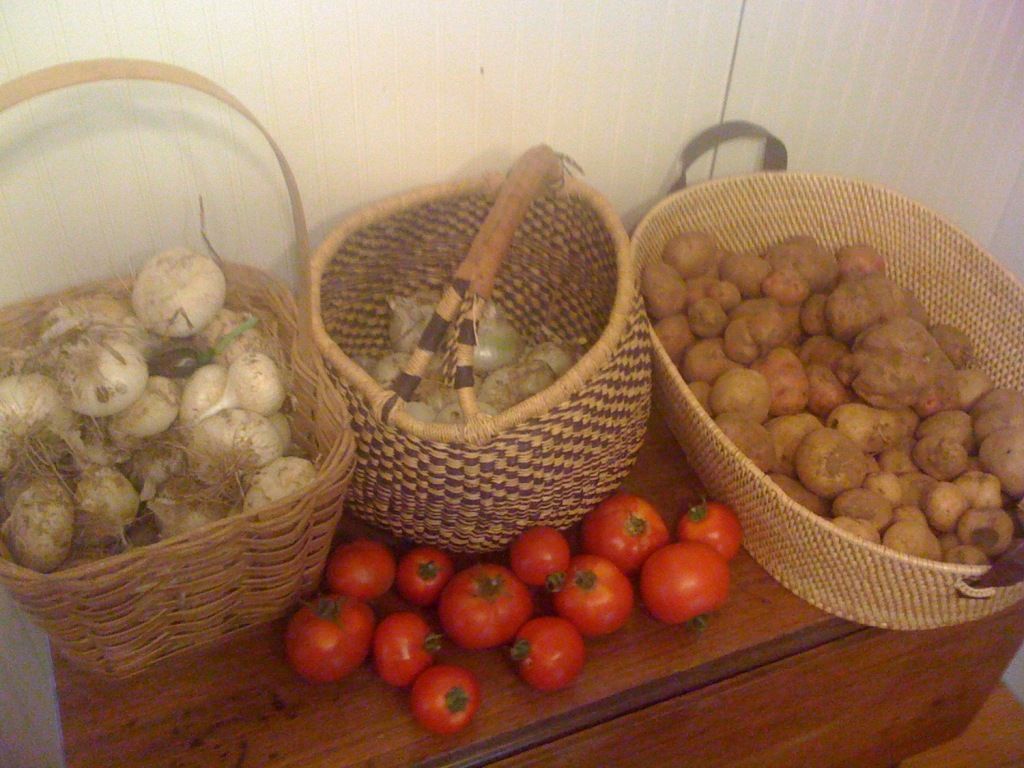 And now for the drought...
My corn,
I'm laughing so I don't cry.
Poor tomatoes, lost all the romas, but somehow these guys keep producing! Magic no water needed tomato plants!
Poor fruit trees, nothing is going to pan out. All hard as a brick and falling, just hope the trees don't die.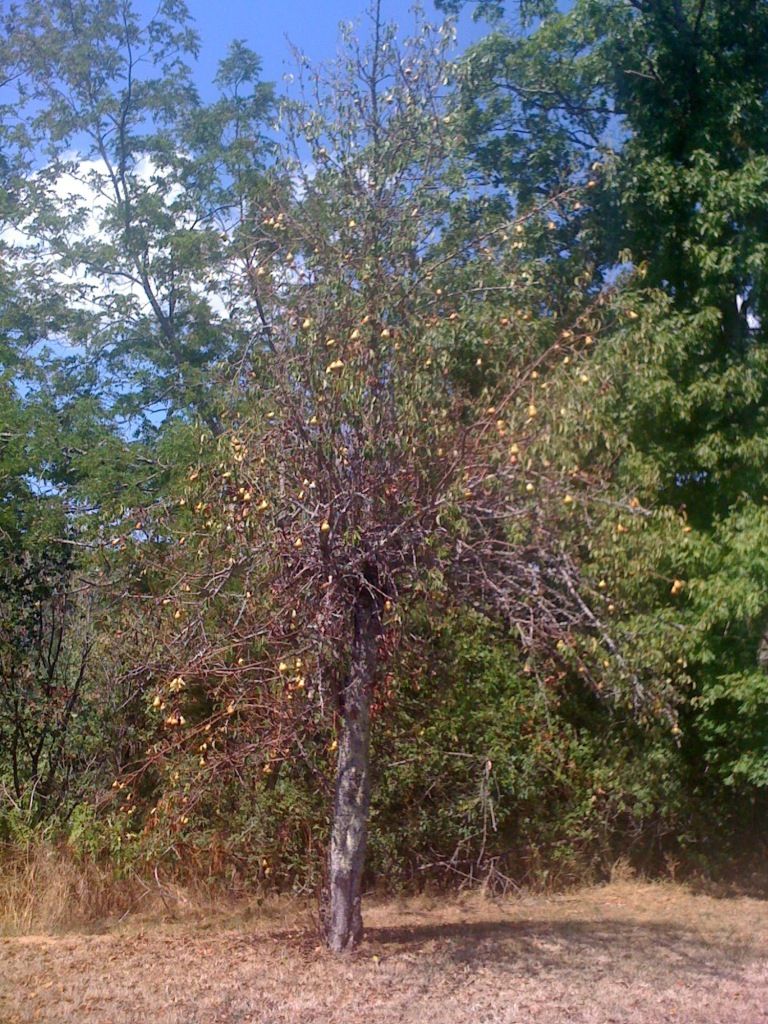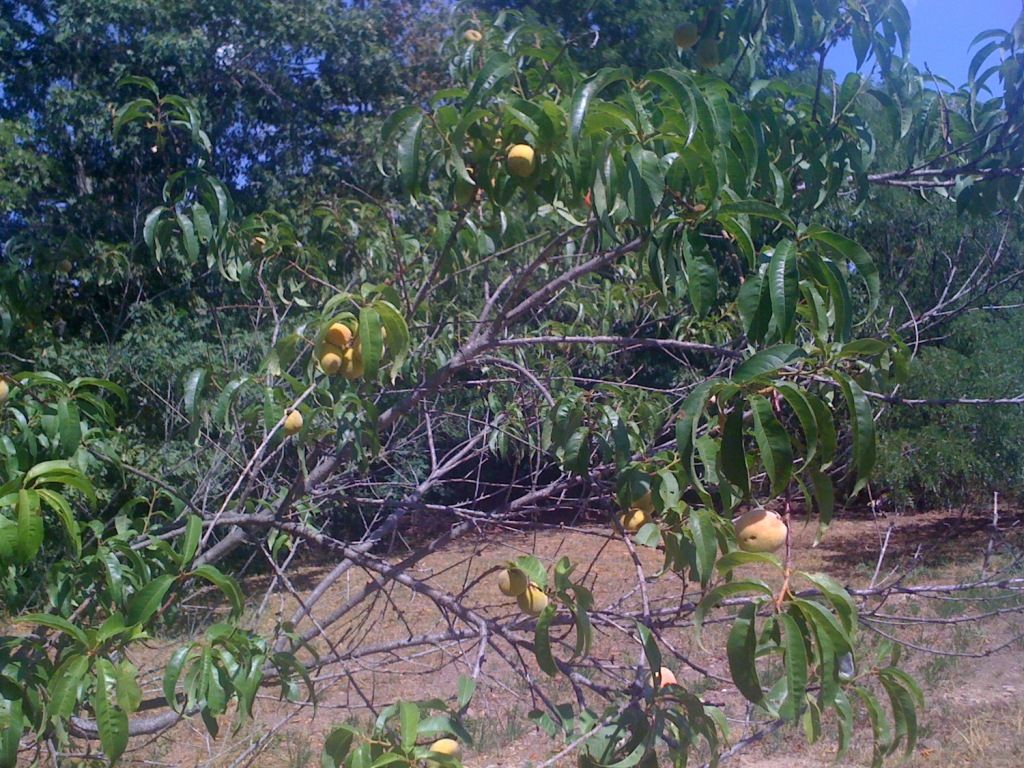 My pasture...
And my yard, so depressing I don't even want to go outside.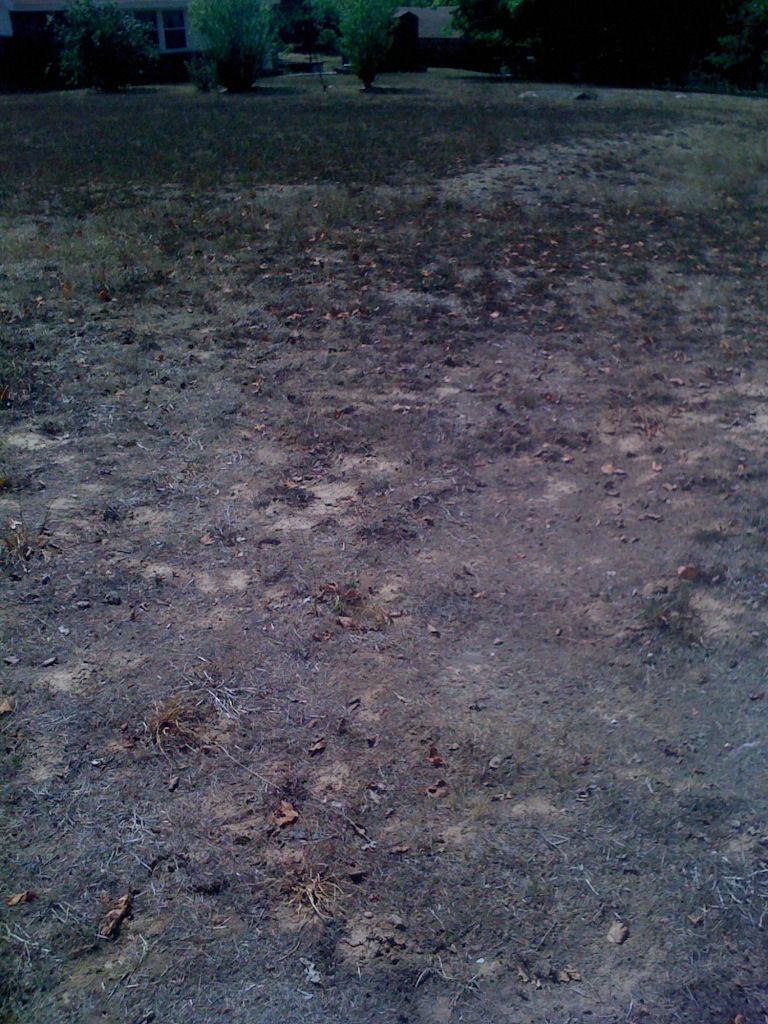 ---
You can get a lot further with a ladder than you can with crutches!!
What do you mean what do I mean?
Fly, I'm feeling your pain. It's so hot & dry that everything is turning brown and crunchy :( Garden is still doing somewhat okay but it's getting watered.

Me & the little monster just picked a bunch of green beans to go in our dinner, cukes to go in vinegar & oil dressing and a bunch of zucchini that we are going to shred and then make up a bunch of muffins to freeze. They freeze well and then my hubby & daughter can take a couple out & nuke them for warm breakfast that I don't have to fix! Gotta love that!
---
Life is like a camera. Focus on what's important, Capture the good times, Develop from the negatives and if things don't work out, Take another shot.
Mmm....the little egg sized potatoes boiled up w butter! Those are yum!

You have a lovely place! Sorry you're having a dry summer. I so miss farming. We irrigated....and I do not miss that part! But, I guess it would be handy on a "when needed" basis in otherwise wet areas.
---
There is just as much horse sense as ever, but the horses have most of it.
I'm sorry I haven't been back to this thread in a while.

The dry weather had me spending about 3 hours hauling water every day, which meant many other things had to be ignored as I didn't have three extra hours a day. When we finally got some rain I though things would get better and I would catch up.
Then the severe weather hit…. Downed trees, power outages, tornadoes, and general chaos. We are ok now and had no major damage, save for some tree damage.

My kiddo is down with the flue right now, so I've been forced to be on bucket duty… L which has given me a little time to resize some pics.

For the most part, the hard work of hauling water for the garden paid off and I only lost a few things. Well until the storms flattened everything. Lost a few more things from those too but all in all not bad. The biggest losses were the hardwood trees and some of the fruit trees.
I also have big dead patches of grass and pasture, but at least it isn't crunching under my feet as much.

Anywho, the swiss chard is thriving, beans are growing, squash is recovering, carrots are still with me. The kohlrabi is trying to plump, the garlic and onions are done, tomatoes are finally turning colors, the cauliflower is still limping along, have more potatoes coming into flower and the broccoli is incredibly tasty. The herbs haven't decided if they are going to die or not, and the flowers have burst like a second spring.

It is time to get busy and get the fall crops started… more lettuce, greens, spinach, carrots, kale, choi, and garlic again in the fall for next year.

And... drum roll.... the duck finally hatched out her eggs! 35 days is a long time in this heat, but she stuck it out.
That makes about 40 different chicks/ducklings hatched this year.


Pics are below, and the dead looking tree is a plum tree by the house. Not sure it will come back and it is a shame… the pinkish white blooms in the spring are beautiful.

MHFQ-
The Zucchini pie… hmm sounds very interesting and something I think I will try to make as soon as I can catch up (as if.)
Thank you for posting the recipe! It is copied and pasted in my cooking files.
It looks a lot like sweet potato pie (which I love almost as much as cheesecake!) and I should be able to tweak it for my son's allergies so he can try it.
He likes anything I can grow in the garden and happily tells his friends how much better homegrown stuff tastes and how store bought fruit and veggies are tasteless.
I have one of those rare kids that telling him "It is good for you" makes him gobble it all up.


Fly-
It looks like you were able to salvage quite a bit! How are things going lately?
Like you, the acid in the tomatoes does a real number on my mouth too. I now grow the low acids along with yellow and orange tomatoes with my regular tomatoes and it really helps. When I make something I'll use part normal acids for the bold flavor and part low acids to tame things and I have noticed a lot less problems, without sacrificing flavor.