Finally my garden is about 75% put to bed for the winter.
I still need to add horse manure to the beds in the ground and add compost to the raised beds.

The tree fell this summer and landed on my garden sink, half the shed and part of a raised bed, it was a huge tree.
Trained
Join Date: Sep 2011
Location: Hour and a Half from Town!
Posts: 6,324
• Horses:
2
Way to go Taffy! Love your beds! Too bad about the tree, I hate losing the big ones.

I have yet to compost or till, today was gorgeous but spent it with the chimney sweep and messing with the horses. I really need to clean out the barn... maybe tomorrow...

Missy a chocolate vine is cool! Has purple flowers that smell like chocolate and it makes pods filled with tapioca like pudding! But I killed it.... So funny you are trying to kill your wisteria!! I'm trying to grow it on my front patio! Only thing I can get going is a trumpet vine, will have to do for now...
Posted via Mobile Device
I have not tilled yet, I wait till it is very cold, so I do not till up toads, I hate that.
I buy soil for my raised beds. St louis compost has a wonderful garden mix, PH balanced, and no weed seeds. Then every year I add some "Black Gold Compost" to the raised beds. Beds in the ground get river bottom soil and old horse manure.

One more day of great weather tomorrow. I hope I get to clean the barn tomorrow too.
maters did good this year. ;) 2 lbs 3oz. Cucumbers too
Posted via Mobile Device
Quote:
maters did good this year. ;) 2 lbs 3oz. Cucumbers too
Posted via Mobile Device
I almost bit the screen!
I take that as a competent ;) Thanks!
Posted via Mobile Device
Someone asked about fruit trees in containers, Stark Bros just sent this in my e-mail. Will send part 2 when it comes.
Getting Started
Growing Fruit Trees in Containers, Part 1
by Stark Bro's on 12/05/2012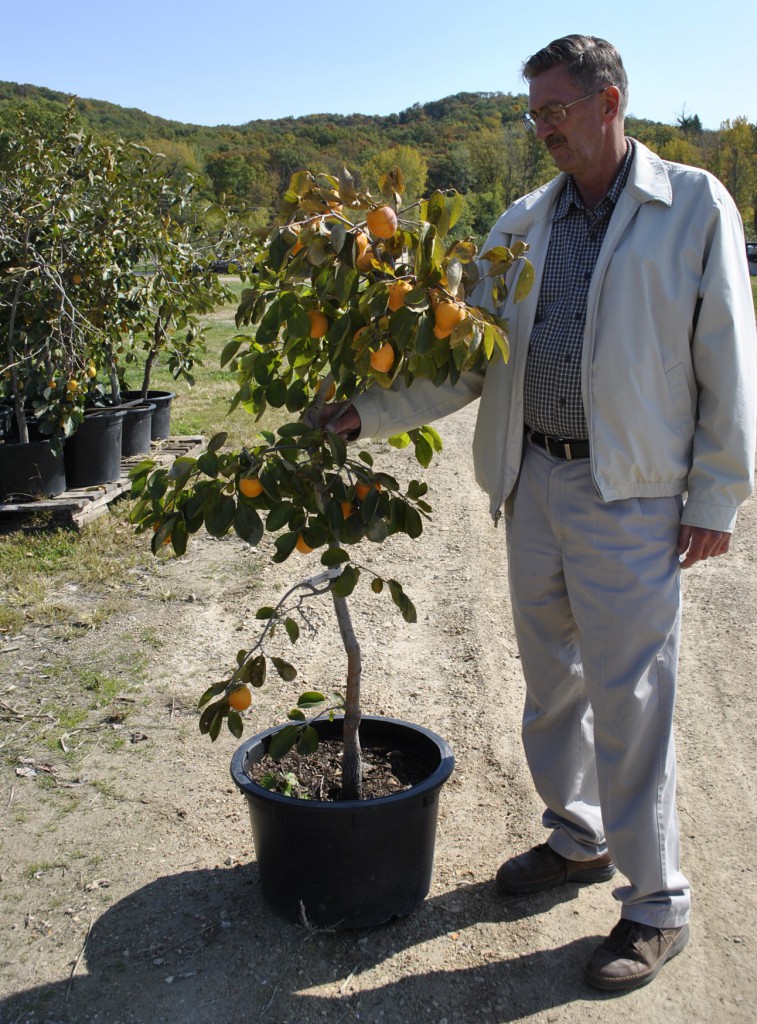 Getting Started
With the Grow Your Own movement rooting itself in our everyday lives, people everywhere are enhancing their yards (and their diets) by growing their own fruit. Some are lucky enough to have a large enough area to plant their own orchard, but others who don't have as much room might feel like they don't have a lot of options. Not true! If you're renting an apartment, have limited or no space, or just want something for your patio, you should try growing your fruit trees in containers. In this article, which is part one of a two-part series, we focus on what you need to know to get started with this fun and surprisingly easy process.
Choosing the Right Container
Most people choose to grow fruit trees in containers for easy mobility. For this purpose, the ideal container size is about 10-15 gallons — substantial enough to support a tree, but small enough to move easily. This size is perfect if you're growing in a window or on a balcony or patio, so you can bring the tree indoors for protection when the weather starts getting too cold. It also comes in handy if you need to relocate your tree to an unheated garage, shed, basement or cellar during winter.
And containers are perfect for growing warm-weather varieties, like citrus trees, banana plants, or fig trees you'll find at Stark Bro's, in areas where the climates are cooler than where they grow naturally.
If you want to start out smaller, then try a 7-gallon container. As the tree grows in a container of this size, it will eventually become root-bound. At that point, you can simply re-pot it into a larger container. You will be able to tell that your tree has become root-bound to its current container by its lack of vertical growth. It will still produce leaves and even fruit at this point, but you might want to start looking for something bigger to support continual growth and increased production.
No matter what size you choose, your tree won't grow at all for very long if it doesn't have adequate drainage. Make sure the container you use has holes (usually in the bottom and/or sides), so that any excess water can drain, and air can access the soil. This will help you to prevent potentially fatal diseases like root rot.
Planting in Containers
It is important to choose the right soil. Potting soil is best, since it is specially designed for container planting, and it is easy to find at your local garden supply store. You should avoid using top soil, since it is prone to becoming compacted, and it will eventually cause water to run down the inside edges of the container and out the bottom, barely reaching the tree's roots.
When you are ready to fill your container, you should first add a layer of gravel or rock to the bottom of your container to help with drainage. Then, add some of your soil mix for the roots to rest on, and place your tree in the center of the pot so that it is vertical and straight. After that, add the rest of your soil until the tree is properly situated in the container. Make sure to tamp the soil down around the tree in order to remove any air pockets, just like you would if you were planting your tree in the ground. Give it a thorough watering, and you're set!
Be sure to check out part two of our series on growing fruit trees in containers, which will focus on the care and upkeep of potted trees.
Thanks Taffy. It was me that asked, I inherited a bunch when my grandparents moved to FL. They could go in the ground but they look nice in the pots so I plan to leave them potted and put them on my decks.
---
Life is like a camera. Focus on what's important, Capture the good times, Develop from the negatives and if things don't work out, Take another shot.
Good luck! I am terrible at keeping things in a pot. I forget to water them, I will water everything else, I can blame it on my ADD.
Thanks! The ADD comment made me giggle, a friend posted this on fb this morning...I can totally relate LOL
ocdadd.jpg
---
Life is like a camera. Focus on what's important, Capture the good times, Develop from the negatives and if things don't work out, Take another shot.