Quote:
Very nice assortment!
So far I have 4 apple trees, 4 peach trees, 5 pear (itty bitty things)2 plum, and 2 cherry still alive.
I've killed (or let the draught kill) 3 cherries, two plums, and countless berries.
Are you in zone 6 over there in Missouri?
Is Stark going to work with you on the trees that died? Like the big box home improvement stores that give you a year to exchange/refund for dead things?
We are zone 5.
Starks does have a garantee on their trees, I dropped the ball on that one and did not tell them about my deaths untill after the warranty was up.
I can't remember what the warranty was it might be in the catalog.
Good news!!
A.M. Leonard, Horticultural Tool & Supply Co. Has free shipping today!!
www.amleo.com
use promo code SHIP12P at checkout....
Today only
.
My favorite things at AMLEO are the Felco hand tools, well worth the $$$$
-----------------------------------------------------------------------
Also Starks bros has free shipping till Dec 20th on orders of $75 or more, and
today only
has 12% off till midnight.
Just in case you are shopping.
.
Growing Fruit Trees in Containers, Part 2
by Stark Bro's on 12/13/2012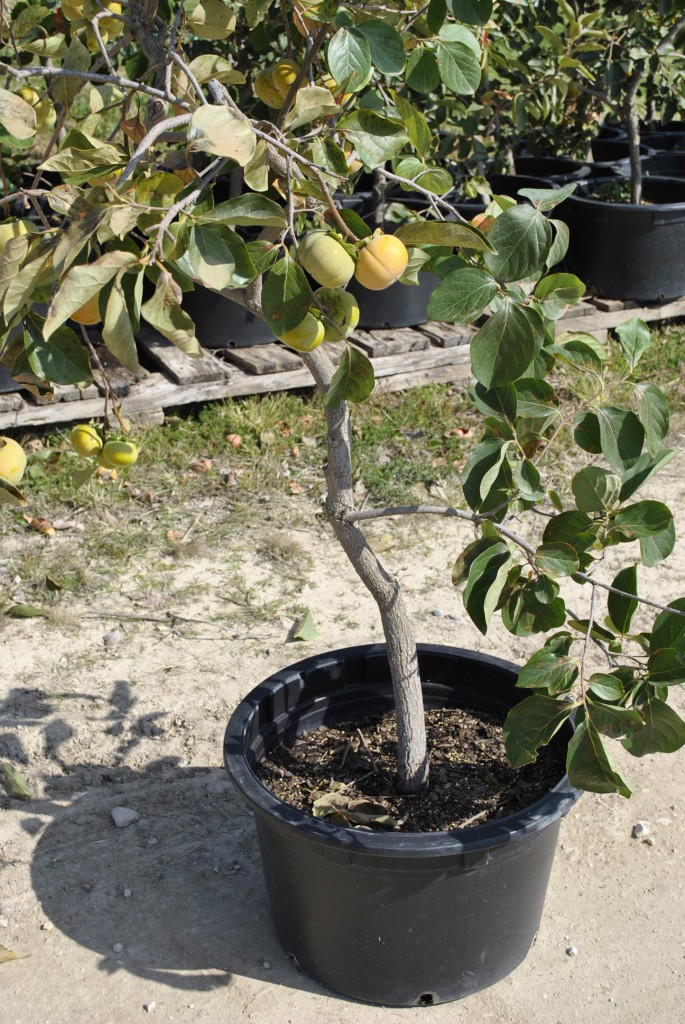 Caring for Potted Trees
In
part one
of our series on growing fruit trees in containers, we gave you some helpful tips for getting started. In this article, part two of the series, we focus on what you need to do to take proper care of your potted fruit trees, so they can stay healthy, grow and thrive.
Watering Potted Trees
One of the number-one threats to a young potted tree is overwatering. Once the tree is planted in the container, it is very important to keep a close eye on it and only water when needed. While you want to avoid letting the soil dry out completely, daily watering may not be necessary. You should water when the soil is dry to the touch a couple inches below the surface. The sun may play a part in drying it out, so be aware of exposure to the location of your tree. This can vary if the tree is moved at different times of year.
Note: Mature trees in containers outdoors, during the months where they are in full leaf (late spring, all through summer), can't get enough water. You might notice that water appears to run through the roots and right out the bottom of the pot. Your mature, leafed-out trees would benefit from daily watering, until the temperatures cool off and the trees begin to harden off for the winter again.
Fertilizing Container Fruit Trees
Many potting soil mixes come with fertilizer included. If you are using a mix like that, then you will not need to fertilize additionally at planting time. However, you may choose to fertilize during the growing season. If you do, be sure to use a water-soluble fertilizer, like
Stark® Tre-Pep®
, so that the roots are able to absorb the nutrients successfully.
Winterizing Trees in Containers
Just like trees planted in your yard or anywhere outdoors, trees in containers benefit from winter care and protection. After your tree becomes dormant in the fall, there are a few important actions you should take:
Pruning will give you the chance to remove any damaged, dead or diseased limbs, and it plays a key role in the survival, stimulation, shaping and production of your tree.
Watering the soil around the roots will help to avoid freeze damage if you have not yet prepared to bring your container indoors, and the weather calls for a cold snap.
Mulching over the surface of the soil helps to insulate the roots and protect them from the winter elements if your potted tree must remain outdoors for the winter.
For additional details or to learn more about winterizing, check out our article,
Fruit Tree Care: Winterizing Your Plants
. Be sure to check out winter-care information specifically for
fig trees
in our article,
Fig Trees on Wheels!
When it comes down to it, growing fruit trees in containers can be just like growing them in a backyard. With the same kind of care, you can have your very own container orchard on your balcony, patio, sunroom or wherever you want!
http://www.starkbros.com/blog/wp-con...containers.jpg
Trained
Join Date: Sep 2011
Location: Hour and a Half from Town!
Posts: 6,324
• Horses:
2
Great stuff!! Thank you!!
Posted via Mobile Device
Jung's Seed catalog came today, Yea! spring is down the hall and right around the corner.

I always start my onion seeds in the basement in January, They always die before I get them outside but I can't help but plant them. It is a sickness.
My catalog came yesterday along with a new one from RH Shumway. Not impressed with the latter, but have been studying the Jungs and making my "want" list to compare with other places.

LOL, my sickness is starting too many seedlings. I'll get the garden planted with my starts and not have enough room for all of them, but way too many left over to just toss. So I just stick them in little containers and let the sorry things jusy keep growing in their tiny little peat pot starter pots. I'm always amazed when one of these poor things actually blooms or produces an itty bitty weird something.

Now I'm practically watching the mailbox all day long to see when the mail lady goes by so I can rush out to see if any other catalogs have arrived.
Too funny ladies. The kiddo & I were looking through new catalogs today too. She asked to turn one of the pastures into sweet corn for her to sell...I'm pretty sure this plan is directly related to her desire to own every single thing in the American Girl catalog
---
Life is like a camera. Focus on what's important, Capture the good times, Develop from the negatives and if things don't work out, Take another shot.
Put Jade bush beans from Jumg's on your wish list. They are the best growers and they are not fuzzy, I don't care to pick or to eat fuzzy green beans.
They have Jade ll in this catalog, I hope they are as good as Jade. My other never miss favorite is the Kaleidoscope mix of lettuce.


I too was not impressed with Shumway. I do like Territorial and Johnnie's catalogs. They are pricy but have wonderful information in them, I love reading the growing facts and tips.

Do you have any favorite seeds that are an every year order order.
---
Last edited by Clayton Taffy; 12-29-2012 at

06:39 AM

.
huh... my entire post, which was quite long, just went poof!
I'll have to re-write it later.
Sorry guys.
Trained
Join Date: Sep 2011
Location: Hour and a Half from Town!
Posts: 6,324
• Horses:
2
:( I hate that. I'll be waiting for it...

I've been back and forth here getting ideas... DH was the one that dented the credit cards on seed! OY! How cruel to take away a girls fun!

I have a huge list made over at Johnnys, thank you for clueing me in. Love that site! Their prices are about .75 lower than Burpee and higher seed quantities. Need to hurry up and get those monster sauce seeds from B's, have you seen them, Super Sauce? I'm so excited about them!

Working on DH to get a small green house, we may put in a hoop house this spring but I am so jumping the gun. I want dirt in my nails like yesterday!
---
You can get a lot further with a ladder than you can with crutches!!
What do you mean what do I mean?